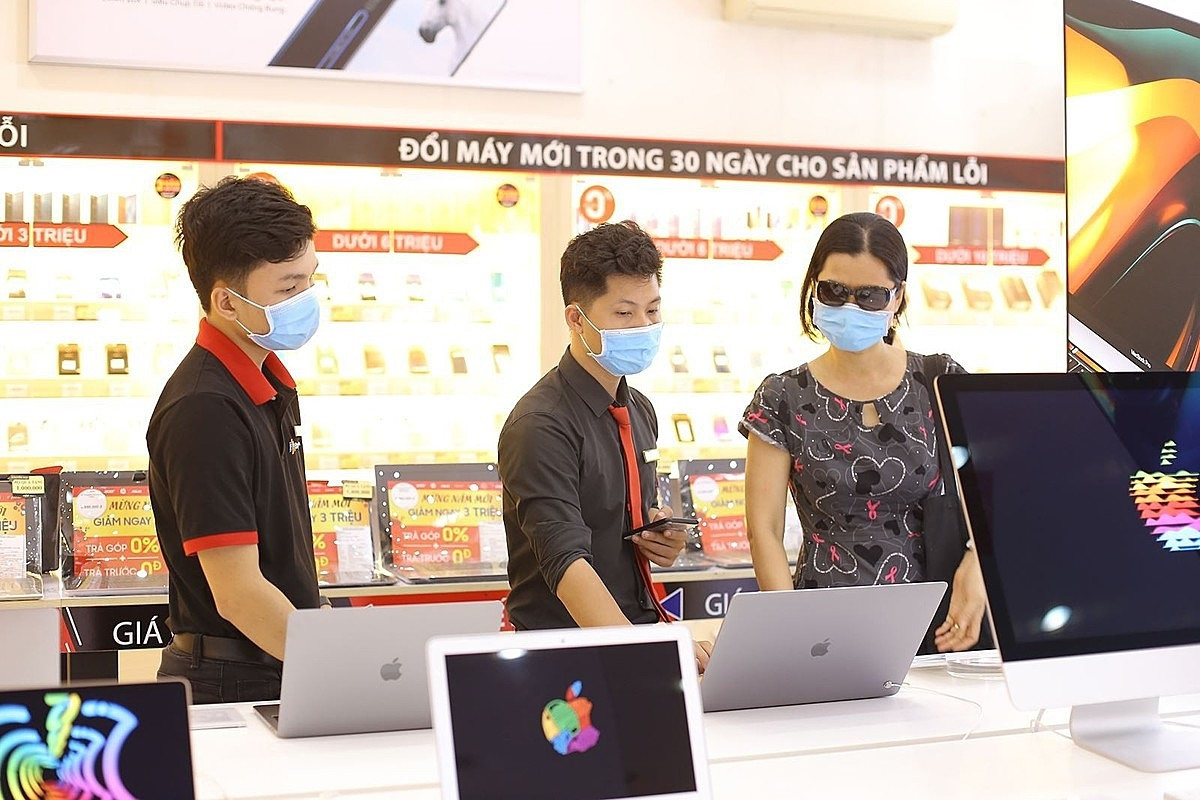 Sales are hit hard
Many retail giants, including Mobile World Investment Corporation (MWG), FPT Retail and Digiworld, saw a sharp decline in business performance in the first quarter of the year as consumers tightened their belts amid the prevailing economic uncertainties.
A consolidated financial report of MWG shows that the company's net revenue dropped by 26% year-on-year to VND 27,106 billion in the first quarter of this year, marking its lowest level in 18 months and two consecutive quarters of negative growth. The poor business performance resulted from weak consumer demand for electronic appliances and phones.
MWG also saw a 36% decline in gross profit to VND5,214 billion between January and March. Despite its efforts to reduce business management expenses, MWG's after-tax profit slumped 98.5% year-on-year to only VND21 billion. This was the lowest first-quarter profit since the company went public.
FPT Digital Retail Joint Stock Company (FPT Retail) brought in VND7,753 billion in revenue in the first quarter of 2023, unchanged from last year. However, the company's pre-tax profit stood at VND2 billion, plummeting by 99% year-on-year. The after-tax profit of the parent company was negative VND5 billion, a stark contrast to the profit of VND165 billion in the year-ago period. The decline in sales at FPT Shops was the main cause of the poor results, as they contributed only 58% of the parent company's revenue, down 20% year-on-year.
Digiworld Corporation (DGW) was in the same situation with poor business performance in the first quarter of this year. The retailer earned only VND79 billion in net profit, down 62.6% year-on-year, falling short of analysts' estimated VND128.3 billion. DGW's net revenue dropped by 43.5% year-on-year to VND3,960 billion, according to the company's financial statement.
The BVSC Securities Company predicted that DGW's net profit this year would dip by 34.7% compared to 2022 due to weaker-than-expected demand prospects. Additionally, analysts have lowered their forecast for DWG's net profit in 2023-2025, with an average decrease of 29.6%. The downward revision of the estimates was attributed to the assumption of decreased revenue and profit margins, especially from sales of mobile phones and laptops.
Most leaders of electronics retailers expressed similar concerns at the recent shareholders' meeting, as the economic downturn began to take a toll on their business. FPT Retail aimed for a 13% increase in net revenue at VND34,000 billion, the highest since the firm began trading its shares on the HCMC stock exchange in April 2018.
However, its pre-tax profit target fell by 51% to VND240 billion. After the first three months, the company achieved nearly 23% of its full-year revenue target and less than 1% of its profit target for 2023.
Sharing with shareholders recently, Hoang Trung Kien, CEO of FPT Retail, stated that business was expected to be worse off due to unfavorable factors emerging in the fourth quarter of 2022, such as a sharp decline in consumer demand for technology products, increasing financial costs, high inflation and a bleak installment payment market. The retailer will likely face formidable challenges ahead and when it can get back on track remains uncertain.
Nguyen Duc Tai, chairman of the Board of Directors at MWG, also predicted that the outlook would remain gloomy in the next few quarters. The decline in consumer demand is primarily concentrated in the mid-range and low-end segments for mobile phones and electronics, with the mobile phone segment being more affected.
Macroeconomic situation matters
Consumer demand for electronics, particularly high-end products, has fallen more sharply than expected in the year to date as consumers are cautious in purchasing durable and high-value products. Even among middle- to high-income customers, their worries about economic challenges have partly resulted in the decline. The sector's rebound will depend on various external factors, particularly the pace of macroeconomic recovery.
Many retailers are weighing how to restructure their scale or products, with some even selling other items besides technology devices to increase revenue.
FPT Retail has taken a prudent approach towards expanding its FPT Shop network in anticipation of business difficulties in 2023. The company's leaders aimed to boost gross profit by selling household items in their chain and increasing the number of FPT Shop stores offering such items from 300 to 600 by the end of 2023. Additionally, the company is considering selling motorcycles to offset potential losses in core business areas.
According to documents from the company's annual shareholder meeting, FPT Retail is weighing venturing into new business fields to take advantage of its space and improve revenue.
These fields include motorcycles, spare parts and accessories for them, as well as bicycles and related accessories in specialized retail stores. The firm is also considering offering repair services for bicycles, watches and other personal and household items.
Meanwhile, DGW's shareholders accepted a significant 43% year-on-year reduction in net profit targets to VND400 billion during the recent shareholder meeting. According to Doan Hong Viet, chairman of the Board of Directors of DGW, the macroeconomic situation and the market in Vietnam are expected to recover slightly by around 10%. However, 2024 is likely to be a year of growth for the company in its current and even new business lines.
Regarding MWG, Nguyen Duc Tai stated that the negative macroeconomic situation has recently impacted the company's business activities. The revenue from consumer loans, which used to account for over 35% of MWG's total revenue, has now fallen to under 10%. The company used to have three or four installment payment partners, but now only has one. In addition, the approval rate for consumer loans has dropped sharply, from a previous rate of 60-70% to just 20%.
MWG benefits greatly during favorable market conditions. However, in difficult times as now, MWG is more heavily impacted than other companies, which may only account for 5-10% of the market. MWG has lost up to 35% of its revenue due to market shrinkage, according to the company's leaders.
Most businesses expect to see a better situation in the second half of the year due to positive signals in the macroeconomy. However, it takes lots of time for the macroeconomic policy to affect consumers. Whether major electronics and technology retailers can return to their double-digit growth path is something that cannot be done overnight. Instead, these retailers hope for a rise in demand for product replacement from consumers after 2022.
During an economic downturn, companies need an optimal competitive strategy for selling their core technology products to bounce back quickly. If successful, there is a huge opportunity to gain market share when the market recovers.
Source: Saigon Times