A strict drink driving law has left some small businesses feeling the pinch, with many claiming customers are shunning bia hơi fearing they will fall foul of the tough new regulations.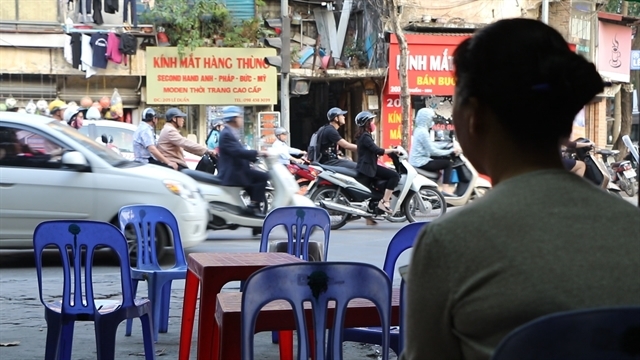 Nguyễn Thị Hằng waits for customersat her empty bia hoi on Lê Duẩn in Hà Nội. — Photo Paul Kennedy
At the beginning of the year, a law was passed threatening heavy fines and lengthy bans for motorists caught driving under the influence of alcohol.
The shake-up means anyone caught on the roads, even if they have only drunk a small amount of alcohol, will be fined millions of dong and banned from driving for up to two years.
While many bar owners agree drink driving needs to be stopped, some feel the punishment is too strong, and could even force them to close.
Nguyễn Thị Hằng has been running a bia hơi on Lê Duẩn for more than 30years. She said the past few weeks have been the worst ever since she started the business.
On one day alone this week, she made just VNĐ300,000.
"The restaurant used to be full of customers," she said. "After the law took effect, the number of customers has reduced to as low as one per cent compared to the past."
But she does understand a change to the law was necessary.
"I have two sons who often drink," Hằng added.
"As a mother, I think the new policy is reasonable. Wives and mothers will feel more secure as their husbands will go home directly after work every day."
Restaurant owner Nguyễn Việt Cường agrees. He said his profits have plummeted since the start of the year, and said officials need to rethink the amount of money people are fined.
He said: "The number of customer has reduced by 70 per cent. Those still coming are people living nearby who can come here on foot. Customers are reluctant to drink now as the fine is too high and their incomes are low. Restaurants like us are suffering from heavy financial losses.
I hope the Government will reconsider. For example, setting a certain alcohol level above which drivers will be fined. Now, any presence of alcohol in one's breath leads to a violation."
But not all businesses have seen a dramatic drop in revenue.
New York Sports Bar on Bà Triệu says their takings have not been affected, and instead are seeing fewer customers driving home.
General Manager Rory Price told Việt Nam News: "The number of people who die on the roads in Việt Nam is appalling and any action taken by the authorities to reduce this number is necessary and must be done.
"Bars too have a responsibility and must play their part in helping reduce the number of people who drink and drive.
"From a business perspectives, we have not seen any real reduction but what we have noticed is far fewer people are travelling here by motorbike and the amount of bikes parked outside has been seriously reduced which is a massive step in the right direction."
According to new regulations, car drivers will be fined up to VNĐ30-40 million (US$1,297-1,729) and have their driving licences revoked for 22-24 months if they are caught driving under the influence of alcohol.
Motorcyclists may face a VNĐ6-8 million (US$259-346) fine and have their driving licences revoked for 22-24 months for the same offence. 
Each year, thousands of people are killed on Việt Nam's roads. Statistics show there is almost one fatality every hour, with alcohol a leading cause of road accidents.
Since the Law on Alcohol Harm Prevention and Control took effect, police have fined more than 1,500 motorists.
On Wednesday, HCM City revealed plans to reduce the number of accidents, fatalities and injuries by between 5-10 per cent.
People's Committee chairman and head of the city's Traffic Safety Board, Nguyễn Thành Phong, told the workshop even though the situation has been improving in the last three years, the numbers remain high, and relevant agencies should focus on bringing them down further. — VNS
Paul Kennedy/Hoang Ho

Though it could be sad news for business owners, it promotes the safer environment for Hanoi citizens as risks may be derived from just a beer glass.

Fermented fruit lovers can breathe a sigh of relief now police have confirmed that blood-alcohol levels fall rapidly after consumption, meaning it's fine for them to drive home without being over the limit.