Thirty artworks by Bui Quang Thang and Nguyen Vinh Thinh depicting different shades of traditional art are on display at an exhibition titled Vóc & Dáng (Lacquer panel and Posture) in Hanoi.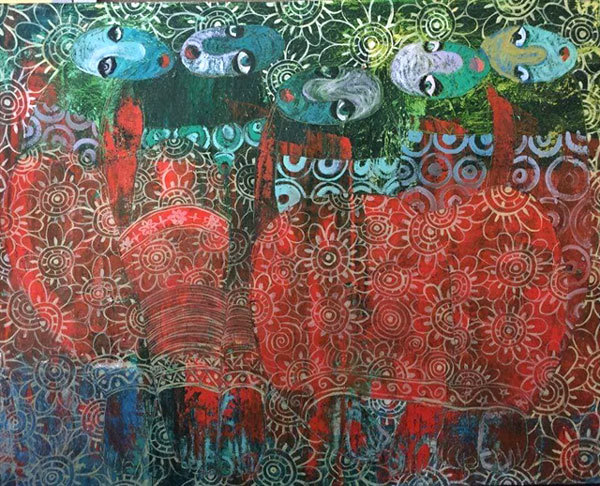 Kitten Girls, by Nguyen Vinh Thinh, 70cm by 90cm, 2019.
Thang, director of the Viet Nam National Institute of Arts and Culture Studies (VICAS) Art Studio, is an experienced painter, specialising in carved lacquer while young artist Thinh follows traditional lacquer techniques. Both of them use lacquer panels as the foundation for the artworks.
Thang carves shapes onto the lacquer panel then paints on the surface, while Thinh paints on lacquer panels or, sometimes, canvas. He follows the steps of traditional lacquer art such as forming; inlaying gold and silver leaves, eggshells and mother of pearl; sanding; shining and polishing.
"Some people consider lacquer panels as the material for a lacquer artwork, like paper, canvas and silk, while some people value it as an inseparable part that constitutes the quality of artworks," said Thang.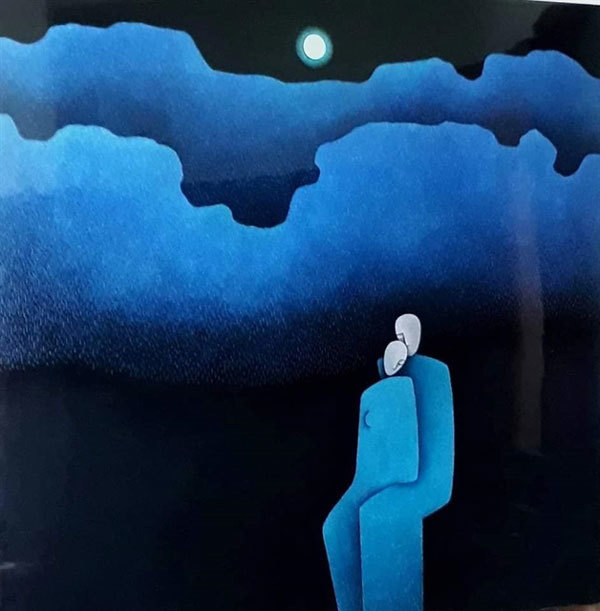 Moon by Bui Quang Thang, 100cm by 100cm, 2018.
"To me, wooden lacquer panels play a decisive role in making a perfect lacquer painting, and if I don't have a good panel, I don't want to paint."
"In an effort to modernise lacquer art, many artists have tried to reduce the weight of wooden panels, change the graphic style and renovate the colours used in lacquer," said Thang.
"I highly appreciate that effort, because lacquer plays a role as Vietnamese cultural identity in contemporary fine arts."
While Thang stays loyal to traditional slender, shy and discreet postures, Thinh shows a different social and aesthetic view on modern women. Thang's paintings include the romantic love that seems to echo from the old days. Thinh's paintings evoke rapid rhythms and more fiercely sensual emotions of today's love.
"We started with traditional lacquer and wanted to develop it to adapt to the new era. We are not all conservative and are willing to change painting materials, to change the way of shaping and drawing to have contemporary feelings," said Thang. "That is our contribution to the development of Vietnamese lacquer art in the context of contemporary fine arts."
The exhibition will run until August 11 at VICAS Art Studio, 32 Hao Nam Street, Hanoi.
VNS