Energy cooperation high on the agenda of Crown Prince Frederick's visit
Crown Prince of Denmark Frederick is eager to discuss renewable energy and the efficient use of energy projects with Vietnamese officials during his visit to Hanoi from November 1 to 3, according to Danish Ambassador to Vietnam Nocolai Prytz.
Vietnam is one of the fastest growing economies in the world that requires high demand for energy to fuel its growth, and energy will therefore be high on the agenda of the Crown Prince's visit, Ambassador Prytz told media workers in Hanoi on October 26.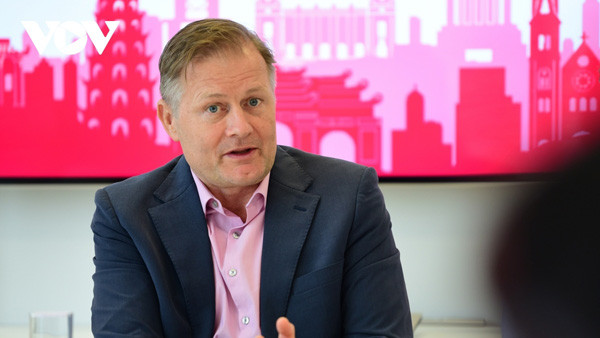 The diplomat noted that Denmark went through an oil crisis in the 1970s, meaning it can draw from this experience to help Vietnam develop renewable energy sources and use them in an efficient manner.
He revealed that Denmark has outlined a long-term vision aimed at diversifying and developing more fuel sources other than fossil fuels, and this is the primary reason why it has a number of renewable energy sources today.
With regard to renewable energy, Denmark is particularly interested in offshore wind power, he said.
How to use energy efficiently will also be one of the main topics to be examined during the Crown Prince's visit, according to the Danish diplomat.
Despite their different levels of development, both countries share a common goal of becoming carbon neutral by 2050, said Ambassador Prytz, adding they are both discussing a co-operation strategy for green growth. Indeed, this is a document that Denmark has signed with India, the Republic of Korea, South Africa, and some other countries throughout the world.
The press briefing also saw Troels Jakobsen, commercial counselor of the Embassy of Denmark, reveal that Crown Prince Frederick is scheduled to attend a groundbreaking ceremony for the Lego-invested plant worth more than US$1 billion in Binh Duong province on November 3.
Lego is currently the largest Danish investor in the country after it announced late last year that it would pour more than US$1 billion into a toy plant in Binh Duong.
Furthermore, another Danish investor, Pandora, the world's leading jewelry manufacturer, has recently decided to build a plant next to Lego's plant in Binh Duong province. Pandora is one of the 36 Danish businesses that will accompany the Crown Prince during the upcoming visit.
Jakobsen agreed that Vietnam represents an attractive investment destination thanks to its favouable geographical location, political stability, and investment incentives on offer.
However, one problem is that Vietnam should strive to attract high-quality investment projects that mainly focus on sustainable values such as the environment or people in Vietnam, he said.
Crown Prince Frederik visited Vietnam in 2011 when both Vietnam and Denmark celebrated 40 years of diplomacy between the two countries.
His return in November 2022 marks the 50th anniversary of the establishment of bilateral diplomacy.
Source: VOV