Here are some of the great opportunities available around the capital.
Hanoi lures tourists with its rich cultural heritage, historic sites and great food, but that isn't all the capital can offer.
Surrounded by mountains, rivers and forests, getting out into the great outdoors has become more and more popular. Here are some of the great opportunities available around the capital.
Trekking up Ba Vi Mountain
Located around 60km to the west of Hanoi, Ba Vi National Park covers a total area of almost 11,000ha and is a mountain range.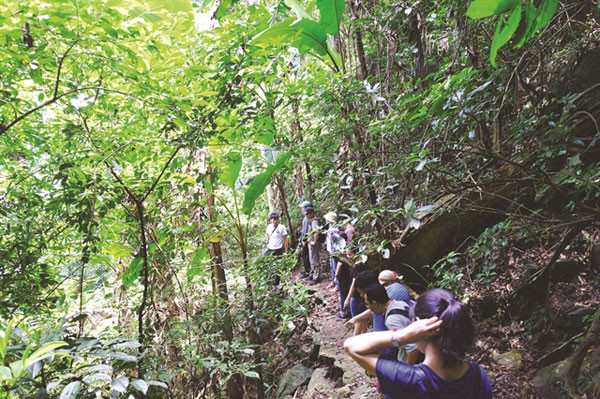 Among the attractions at the National Park are a cactus garden, relics dating back to the French colonial era and Thuong Temple, which sits 1,227m above sea level. Visitors can challenge themselves along various trekking paths to the summit of the mountain.
Nguyen Phi Hung, director of the Centre for Environment, Education and Service, said the management board has opened more short trekking routes suitable for both amateur and professional trekkers.
The easier routes take around two hours, from 1,100m elevation down to 400m. Participants can also trek various distances, such as 5km, 10km, 20km or more.
"Our guardians are also guides along trekking routes and support participants," Hung said. "Trekkers don't have to worry about getting lost or other risks along the way."
Hung said that while trekking in Ba Vi, visitors will see French colonial relics, many of which are now in ruins, including a church and a windmill. They will also understand more about rare plants in the park.
Viettrekking company offers a one-day tour that starts in Trung Temple at the altitude of 350m and enters the forest from the temple after visiting magnificent Buddha statues.
The trekkers will stop for lunch at noon and finish their route at around 4pm at 1,100m.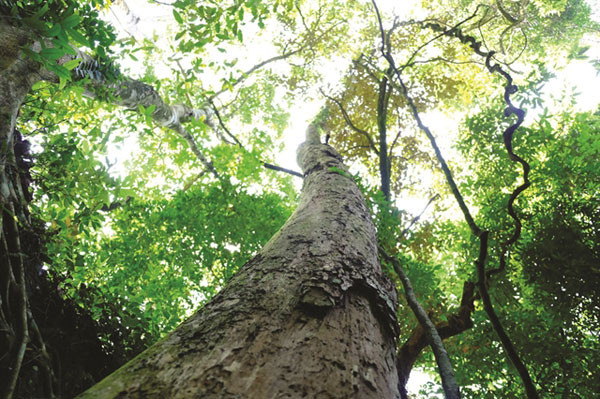 "I'm just a beginner, so this route is suitable for me," said Mai Van Phi, 52, from Hanoi. "I love the wild nature along the route and it's not too dangerous for us to trek through the forest here. There are many big trees and not dense bushes that may hinder trekkers."
Camping on Ham Lon Mountain
Ham Lon Mountain stands over 460m tall and is part of the Doc Ton Mountain Range in Soc Son District, around 40km to the north of Hanoi.
The area is covered with lush and pristine bushes and trees.
Visitors are advised to avoid rainy weather, though the area is reachable all year round.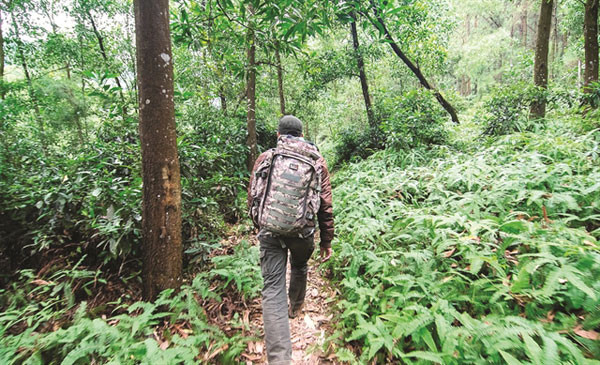 Trekker Nguyen Thanh Trung said that in summer, there are beautiful purple rose myrtle carpets along the hills, mixed with various wildflowers.
"In autumn, wattles come into full golden bloom and in winter the area has romantic white reeds," he said.
People can trek here and then camp at Bàu Lake (Ham Lon Lake). The area is much more crowded during weekends.
"I often come here at the weekend," said Trung. "The area has cooler and fresher weather than in the city and I can relax with mountains, lakes, and nature after sweating through a trek, which I like."
Trung said even if you don't prepare in advance, you can buy wood, hire tents and borrow saucepans from locals; the price is reasonable.
"I often come here early in the morning, trek up to the peak within four hours, then have a light lunch," he said. "I can swim in the lake in the afternoon and camp and barbecue late in the afternoon."
Flying over Bu Hill
Bu Hill, in Nam Phuong Tien Commune, Chuong My District, some 40km to the west of Hanoi, is another favourite spot to watch the sunset, take romantic photos and experience paragliding.
If you choose a package with a shuttle bus service, you will be picked up from BigC Thang Long, from where people can reach Bu Hill in just 15-20 minutes.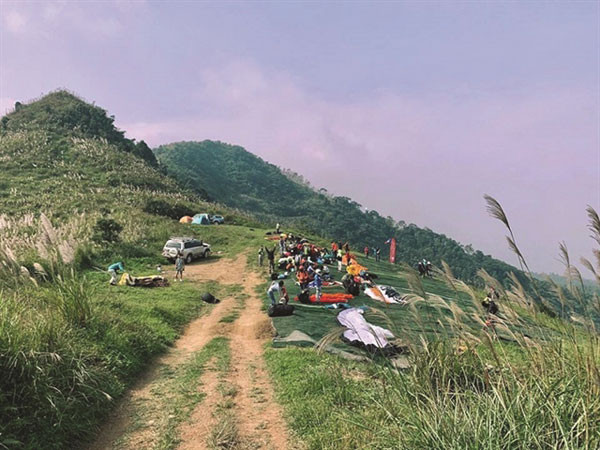 Visitors receive a ticket with a number and wait for their turn to get to the tip. A two-way bike service costs around VND100,000 (US$4.3) per person.
Flying much depends on the weather conditions; if the wind is strong, the flying time will be longer and guests can return to the peak of the hill after the paragliding trip.
Various authorised clubs for this activity include Mebayluon Paragliding, Vietwings Hanoi, and Hanoi Paragliding.
According to experienced paragliders, between October and November is the best time to fly here as the weather is optimal and the nature is beautiful.
A paragliding trip costs VND1,200,000 ($51) per person, including flying costs and essential equipment.
The price at weekend rises to VND1,490,000 ($63) while a sunset flight costs VND2,000,000 ($85).
The sum is for a flight time of 15-30 minutes, including insurance fees and a drink.
Nguyen Thi Bich Thao could not hide her excitement about flying for the first time – with an experienced pilot.
"From above, the scenery is so beautiful," she said. "Hanging in the sky, all my worries and tensions seemed to be blown away with the wind."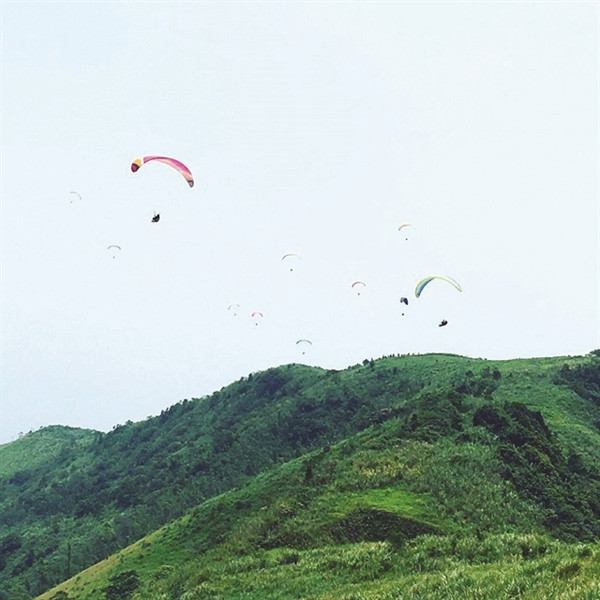 The Hanoi Tourism Department is cooperating with localities to develop more outdoor activities, capitalising on Hanoi's natural resources to diversify the tourism products.
"Ourselves and the Long Bien District People's Committee are proposing a hot air balloon service after a successful trial at the recent Hanoi Tourism Festival," said Nguyen Hong Minh, an official from the department.
Source: Vietnam News