Exhibition: "Hào khí Thăng Long" | The Epic Spirit of Thăng Long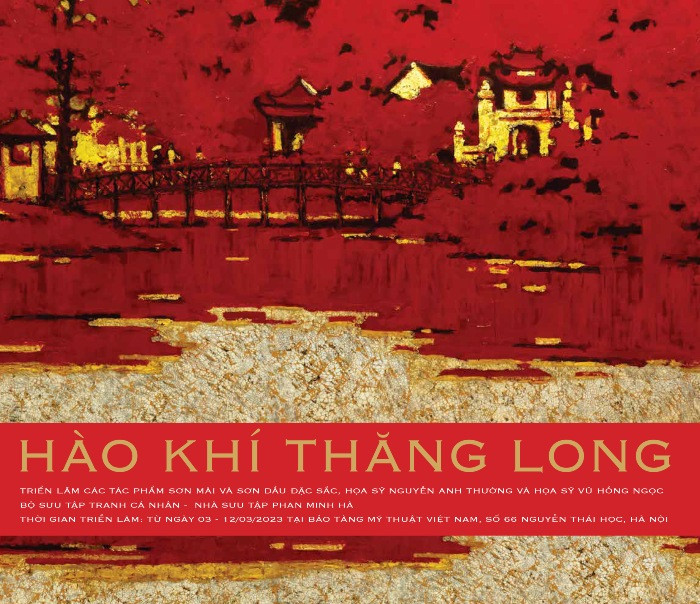 Opening: Fri 03 Mar 2023, 05 pm
Exhibition: 03 – 12 Mar 2023
Vietnam Fine Arts Museum
66 Nguyễn Thái Học, Hà Nội
The exhibition "Hào khí Thăng Long" presents to the public for the first time 24 large-scale lacquer and engraved lacquer paintings of artists Nguyễn Anh Thường and Vũ Thị Hồng Ngọc, with a diverse array of subjects ranging from the epic and legendary history of the nation and revolutionary anthems to the splendid Vietnam's scenery and people.
Following the generation of Indochina's painters in the years 1925 – 1945, the Vietnamese visual art landscape continued with a talented generation of artists trained during the resistance wars, and after peace was restored in 1954. Nguyễn Anh Thường (Nguyên Vũ) is one of them. Born in 1930, Nguyễn Anh Thường was among the most excellent students in the 1955 – 1957 class of Tô Ngọc Vân at the Vietnam College of Fine Arts. He joined Bắc Sơn resistance fighters, the army and served on the Upper Laos battlefield. In 1959, Nguyễn Anh Thường participated in a delegation of artists led by the then-Deputy Minister of Culture Cù Huy Cận to Quảng Ninh to conduct in-depth field research on the life of labourers in the mining area. He was assigned to lead the first painting class on the mining workers in Cẩm Phả, which laid the groundwork for the widespread development of the art movement in Quảng Ninh mines in later years. From 1959 to 1990, Nguyễn Anh Thường worked at a film studio, creating more than 150 painting films on building and protecting the socialist homeland.
Nguyễn Anh Thường was twice awarded the First Prize for painting films by the National Committee for Youth. In 1990, Anh Thường's solo exhibition of a series of ink on dó paper paintings about Ha Long Bay received acclaim for his master techniques in Oriental visual art. Among these works, the piece "Bến trăng" (Moon Harbour) won the Bronze Medal at the 1990 National Fine Arts Exhibition.
Vũ Thị Hồng Ngọc (born 1945) graduated from the University of Industrial Fine Arts in 1978. Her art leans toward simplicity and genuineness, which are Impressionist emotions about the relics of ancient temples and pagodas, the street corners full of leaves changing colour as the season turns, the river wharfs where people evacuated to during the war, and the peaceful bamboo groves in the countryside… All represents an artful, kind, innocent soul that holds dear nature and humans.
The exhibition "Hào khí Thăng Long" is a celebration of Nguyễn Anh Thường's and Vũ Thị Hồng Ngọc's art practices and their works, and thereby spreading the art and cultural values of their art to the community.
Hopefully, the vibrant message and the romantic, positive and life-loving spirit of the art pieces in Phan Minh Hà's collection can deliver the wish for a new year of peace, joy and luck to art enthusiasts from all walks of life in Spring 2023.
Birds of Paradise Lost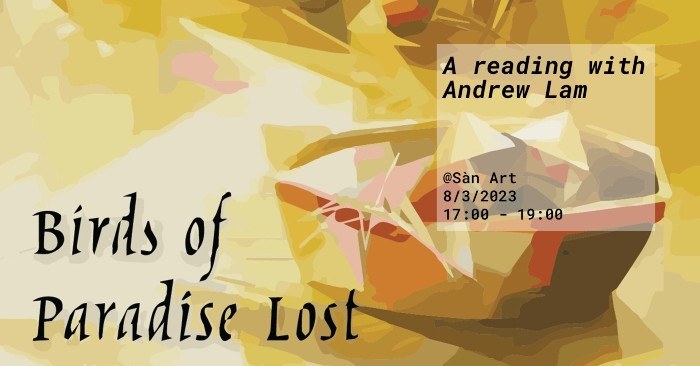 Mar 8, 05 pm – 07 pm
Sàn Art, Units B6.16 and B6.17, 6th Floor, Block B Office, Millennium Masteri
Ward 6, District 4, HCMC
Sàn Art is pleased to host the reading session with Andrew Lam on his book, Birds of Paradise Lost (*).
(*)Finalist for the California Book Award

The thirteen stories in Birds of Paradise Lost shimmer with humor and pathos as they chronicle the anguish, joy, and bravery of America's newest Americans, the troubled lives of those who fled Vietnam and remade themselves in the San Francisco Bay Area. The past—memories of war and its aftermath, of murder, arrest, re-education camps and new economic zones, of escape and shipwreck and atrocity—is ever present in these wise and compassionate stories. It plays itself out in surprising ways in the lives of people who thought they had moved beyond the nightmares of war and exodus. It comes back on TV in the form of a confession from a cannibal; it enters the Vietnamese restaurant as a Vietnam Vet with a shameful secret; it articulates itself in the peculiar tics of a man with Tourette's Syndrome who struggles to deal with profound tragedy. Birds of Paradise Lost is an emotional tour de force, intricately rendering the false starts and revelations in the struggle for integration, and in so doing, the human heart.
A special series of screenings & talk – MORE THAN HUMAN #1 | The Understories
Thurs 02, 09 & 16 Mar 2023, 07:30 pm
Manzi Art Space
14 Phan Huy Ích, Ba Đình, Hà Nội
A special side-event series, part of the on-going 'MORE THAN HUMAN #1 | THE UNDERSTORIES'Thurs 02 Mar 2023, 07:30 pm
The first screening: Experimental Short Films of 'Animistic Apparatus'
Animistic Apparatus is a curatorial project exploring affinities between contemporary artists' moving image and animistic practices, based on research by May Adadol Ingawanij, who co-curates its various exhibitions with Julian Ross. The project grew from May's experience of researching ritual uses of itinerant film projection around Thailand and neighbouring territories since the Cold War period.
"What if contemporary film screenings and installations were reimagined as if they were rituals offered and addressed to nonhuman beings? What if artists were precarious makers of offerings, rather than authors of work or producers of self-expression?" These are the provocative questions that sits at the centre of Animistic Apparatus, offering new interpretation about the "relationship between mediation, conceptions of life, and historical, cosmological and ecological imaginaries".
List of film:
LULLABY – Pathompon Mont Tesprateep
<2019 / 8min. / 16mm transferred to digital, b&w>
Based on Pathompon Mont Tesprateep's research in the deep south of Thailand, a Malay-Muslim majority border region historically annexed by the absolutist Thai regime during colonisation. Pathompon collaborates with a retired Buddhist-Thai teacher on four new renditions of lullaby tunes sung in Chehe, a dialect locally spoken in parts of this borderland connecting Thailand and Malaysia.
DRAMA – Riar Rizaldi Tellurian
<2020 / 26 min. / digital, colour>
May 5th, 1923, the Dutch East Indies government celebrated the opening of a new radio station in West Java called Radio Malabar. March 2020, the local Indonesian government announced plans to reactivate the station as a historical site and tourist attraction. Tellurian Drama imagines what would have happened in between those years: the vital role of mountain in history; colonial ruins as an apparatus for geoengineering technology; and the invisible power of indigenous ancestral. The narration is based on the forgotten text written by a prominent pseudo-anthropologist Drs. Munarwan.
THE JUNGLE KNOWS YOU BETTER THAN YOU DO – Juanita Onzaga
<2017 / 20 min. / digital, colour>
Colombia is a land of ghosts. Two siblings roam these mystical landscapes in search of their dead father's spirit. Their journey takes them from Bogota to the Colombian jungle, through realms of thought and deep into their haunted dreams. Here they will find some answers and attract unexpected company.
MOUNT SONG – Shambhavi Kaul
<2013 / 8 min. / digital, colour>
Shambhavi Kaul assembles fragments of old Hong Kong films that nostalgically evoke ancient times. "In my work, the effort is to pull back and make apparent whatever lies underneath that nostalgia, what appears to me to be more like anxiety. Removing the actors and focusing on the sets and backdrops is a way to subdue the dominating narratives of the source material to find out what was being unintentionally stated. What happens through this process is also the reconstruction of an imagined place." Shambhavi Kaul interviewed by Nandita Raman, The International Centre of Photography.
MARS IS THE WELL – Trương Minh Quý & Freddy Nadolny Poustochkine
<2014 / 19 min. / digital, colour>
Truong Minh Quý and Freddy Nadolny Poustochkine's humorous fable is set in the year 2048. Vietnam is under water and Vietnamese people must travel to Mars. "It is clear that all of our futuristic musings have their roots in the reality of the past and the present. For example, the journeys to Mars in Mars in the Well were reactions against the New Economic Zones program of Vietnam's government from the 70s to 90s, where parts of Central Highlands and other remote provinces in Vietnam came under more direct political control and were exploited for profits. The conquering of Mars here might be interpreted as a forced implementation of a delusional utopian politics, and the combination of these false politics ideal and the soon-to-be-flooded reality of Vietnam is as contradictory as it is ironic." Truong Minh Quý interviewed by Graiwoot Chulphongsathorn, Antennae summer 2021.
Exhibition "Introspection"
Until Mar 18, 09 am – 02 pm
11:11 Espace, 39 Nguyen Duy Hieu Street, Thu Duc District

For this February, 11:11 d'Artistes is promoting self-reflection, especially through one's own emotions and mental processes through the idea of "Introspection" with a solo exhibition from Mzung Nguyen.

Mzung Nguyen – a Vietnamese multidisciplinary artist is establishing her grounds in the Visual Art scene through her latest interdisciplinary form of art. With a background in Films and Journalism, Mzung elegantly carried her powerful message and feelings about the environment, ecological philosophies, and contemporary social issues to her artwork in this exhibition.
Documentary Exhibition: Repurposing Industrial Heritage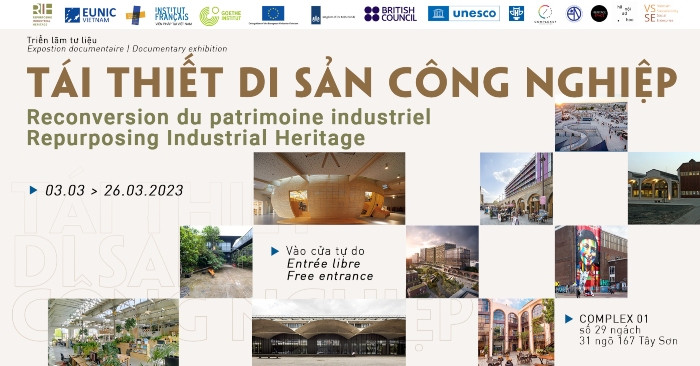 03 – 26 Mar 2023
COMPLEX 01
No. 29 alley 31 lane 167 Tây Sơn, Đống Đa, Hanoi
Following the series of events "Repurposing Industrial Heritage 2022 – Innovation & Sustainability", as part of the EUNIC project "Repurposing Industrial Heritage", the "Repurposing Industrial Heritage" exhibition seeks to provide perspectives on the possibilities of transforming industrial facilities by presenting examples of industrial heritage transformation in countries such as France, Germany, the Netherlands, and the United Kingdom that are at the forefront of transformation trends in Europe. As a result, it raises the question of "what future is there for industrial production facilities in Hanoi in light of the city's official decision to relocate 09 old industrial facilities with significant cultural and historical values".
Through this exhibition, we hope the community will gain an objective understanding of industrial heritage value, as well as practical and theoretical evidence for urban reconstruction based on successful transformations of industrial heritage throughout the world.
Exhibition "Fate"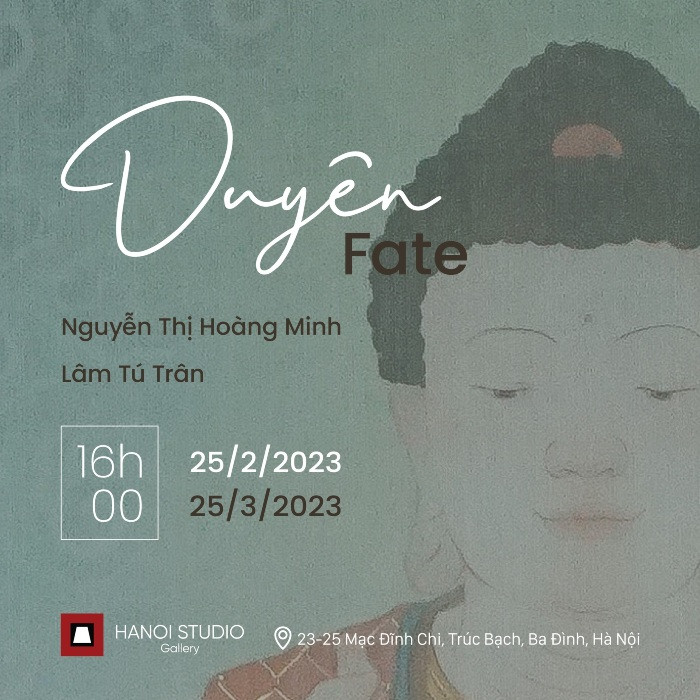 Until Mar 25, 10 am – 06:30 pm
Hanoi Studio Gallery, No. 23-25 Mac Dinh Chi Street, Ba Dinh District

There is something that echoes in the voice of the painter, and her lit up face.

"I have finally been able to draw the face of Buddha.
In fact, I have been praying that he would let me draw his face.."

The way a young female painter opens her heart after countless failures, facing her own difficult challenge to draw a face from her own imagination- the face of the Buddha. A face that has been framed by concepts of ancient aesthetic and convention.

Travel down the thousands years road of history, generations of artists have been receiving their inspiration from the scared ones. We wonder, from which auspicious breeze of wind, did the female artists receive their inspiration to recreate Buddha portraits again for themselves and for their generation?
artVISION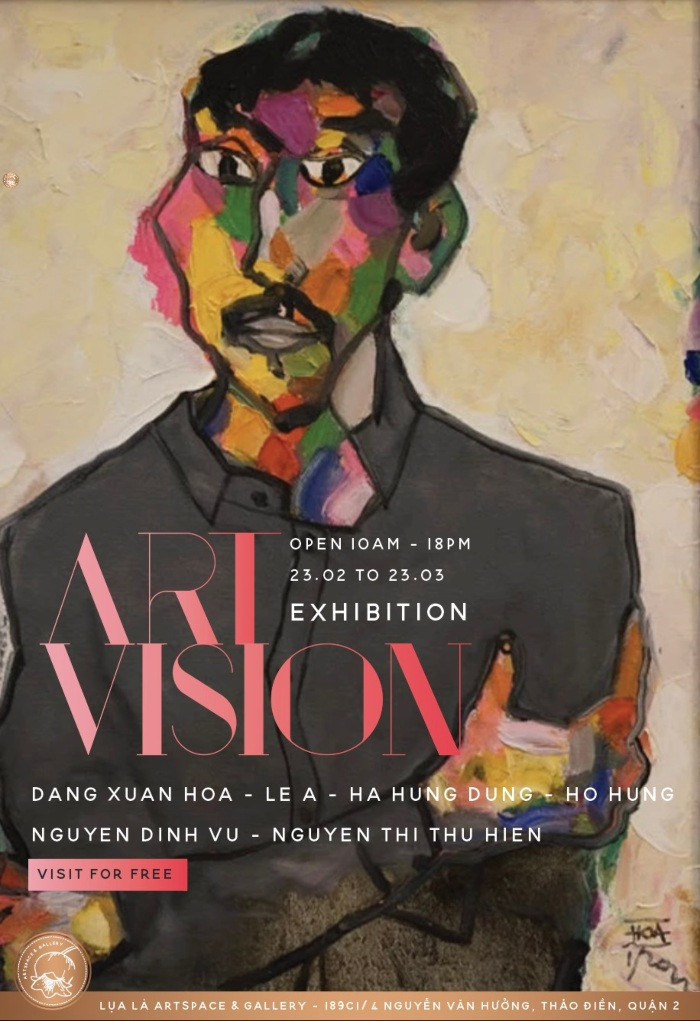 23 Feb – 23 March 2023 (except Monday), 10 am – 06 pm
Luala Art Space & Gallery
189C/4 Nguyễn Văn Hưởng str, Thảo Điền ward, D.2, HCMC
Luala Art Space & Gallery pleased to announce the opening of an art exhibition featuring the works of five talented artists – Dang Xuan Hoa, Le A, Ha Hung Dung, Nguyen Dinh Vu, and Nguyen Thi Thu Hien – at Luala Art Space & Gallery.
Luala Art Space & Gallery invite everyone to join us in celebrating the artistic talents of these five individuals and to appreciate their unique styles and expressions. This exhibition is a testament to the power of art to inspire and engage people from all walks of life.
Luala Art Space & Gallery is committed to providing a platform for emerging artists and showcasing their work to a wider audience. We hope that this exhibition will be a success and inspire many others to pursue their creative passions.
Resonate State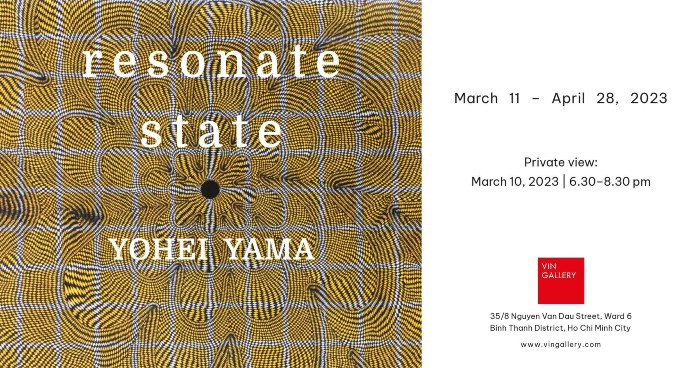 Opening: Fri 10 Mar 2023, 06:30 pm
Display: 11 Mar – 28 Apr 2023
Vin Gallery
35/8 Nguyen Van Dau, Ward 6, Binh Thanh District, HCMC
Vin Gallery proudly present you 'Resonate State', a solo show by Yohei Yama. He puts focus on the process of growing up. In 'Resonate State', Yohei Yama wanted to convey his reflection on the growing process and the energy of life.
Born in Saitama, Japan in 1977 and currently based in Ho Chi Minh City, Vietnam. Yama's works have been exhibited widely across the international platform as well as featured in Sotheby's and Christie's Hong Kong's Asian Contemporary art sector.
Yohei Yama's works consistently invite us to explore and question our surroundings, especially our relationship with nature. He puts focus on the process of growing up. In 'Resonate State', Yohei Yama wanted to convey his reflection on the growing process and the energy of life. Inspired by his daily life, seeing his own son growing up and how the flower sprouts its petals, Yohei Yama absorbed the true essence of energy in life.
Exhibition "Buscando México"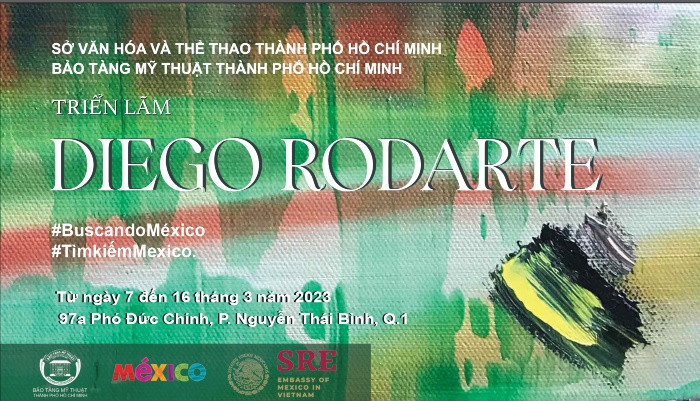 07 – 16 Mar 2023
Fine Arts Museum HCMC
97A Phó Đức Chính, Nguyễn Thái Bình ward, District 1, HCMC
The Embassy of Mexico in Vietnam and the Museum of Fine Arts of Ho Chi Minh City (Viet Nam), announce the exhibition #BuscandoMéxico by the great Mexican painter Diego Rodarte
#BuscandoMéxico is made up of 32 small-scale oil paintings (30x40cm). These oil paintings portray symbolic or imaginary places in each of the 32 states or regions that make up Mexico. The exhibition also presents 3 large- scale banners and various objects.
The renowned Mexican critic Santiago Espinosa de los Monteros has written: "the heart of the #BuscandoMéxico exhibition is to verify the images of the idyllic landscapes that are offered to us in the most important places in Mexico: beaches, mountains, archaeological remains, squares of the big cities… #BuscandoMéxico is an inside look at the external dimension of the country, its geography and what inhabits the superficial limits of the skin of the Mexican territory".
The vietnamese artist and photographer Viet Van says that "Mexico is a large country with a beautiful and rich culture… and the feeling of Mexican culture is deepened with the exhibition #BuscandoMéxico… The paintings of the artist Diego Rodarte are like emotional and colorful dialogues with the viewer, which require a calm and open attitude to appreciate art and receive new ideas".
The Embassy of Mexico in Vietnam informs that, in recent years, the relations between Mexico and Vietnam have grown remarkably, especially the bilateral trade. On this basis, the both countries are currently negotiating a so-called Comprehensive Partnership, which will imply different agreements and conventions and bring the both countries closer in all areas.
The Ambassador of Mexico in Vietnam, Alejandro Negrín, explains that "this is the most important exhibition that Mexico has presented in Vietnam in the history of our diplomatic relations." It is also "a magnificent invitation for the Vietnamese public to get closer and find out about Mexico".
The exhibition, says the Ambassador, "is a fresh and contemporary vision of current Mexico". The Vietnamese, he adds, "are interested in the Mexico of ancient civilizations; of great biodiversity and natural beauty; of at least 35 impressive historical and natural sites declared by UNESCO as world heritage of humanity; of a unique gastronomy based on original products from Mexico such as corn, chili, tomato, avocado and chocolate".
Exhibition "Harmonize"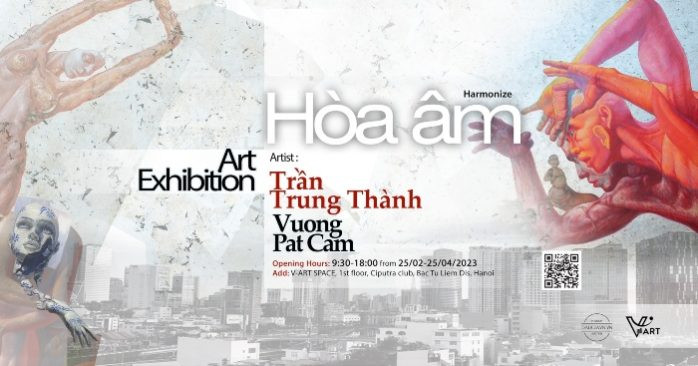 Until Apr 25, 09:30 am – 06 pm
V-Art Space, Floor 1 Ciputra Club, Bac Tu Liem District

After the success of two solo exhibitions "It" (2005) and "The Corner to See" (2014), visual artist Tran Trung Thanh remarks on another decade of hard work with the "Harmonize" exhibition. The artist's journey in search of answers to questions about history, the development of society, and the intersection of life, science, and art is recorded via more than 30 oil paintings. Accompanying the exhibition is artist Vuong Pat Cam and his impressive works about Hanoi.

Meticulous, persistent, and profound are what we can say about the process of Tran Trung Thanh creating his artworks. Since the Jeunes Regard competition for young artists in 2004, Tran Trung Thanh's painting style has become more and more bold.

Neither surrealism nor hyperrealism, Tran Trung Thanh encodes his notions of life into unique characters. Each painting presents a social issue of Vietnam or the world along with questions about history, international diplomacy, and the intersection of life – science – art.

"Harmonize" is the third solo exhibition of artist Tran Trung Thanh.

Exhibition "All Aboard"
Until Apr 1, 10 am – 07 pm
Galerie Quynh, 118 Nguyễn Văn Thủ, Đa Kao ward, D1,
An adherent of Buddhist philosophy, Nguyen Manh Hung proposes that death is a journey and karma is its luggage filled with good and bad deeds as one goes about one's daily life. Some prepare for their post-life with sophisticated funeral rituals; others fill their luggage with only good karma hoping to arrive at a place that may not exist. In his characteristically playful adaptation of everyday scenarios, Nguyen Manh Hung's latest series of work in the exhibition 'All Aboard' conjures up a highly contrasting and absurd pairing: a frenzied crowd hurriedly and narrowly holding onto a sacred gate, which leads to the unknown. While poking fun at the living's obsession with heaven — a realm that exceeds the comprehension of earthly beings, this series reminds us that death is highly personal and unique: how we live reflects our preparation for this journey. Like a command, 'All Aboard' urges us to contemplate the meaning of human existence as characterised by our own subjective understanding of what lies on the other side of the gate.
Exhibition 'No more, not yet'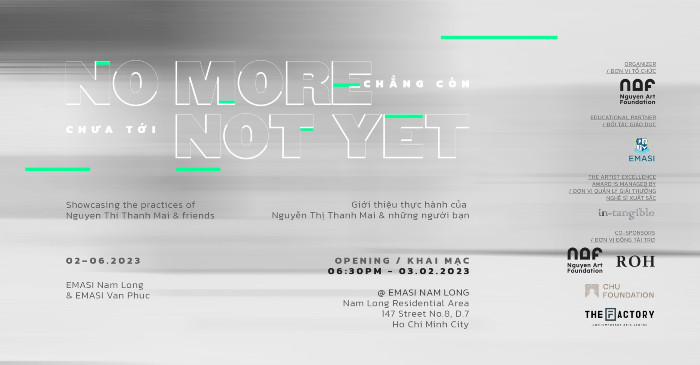 Display: Feb – June, Wed & Fri, 10 am – 04 pm
EMASI Nam Long (D.7)
Tues & Thurs, 10 am – 04 pm
EMASI Vạn Phúc (D.Thủ Đức)
*and every last Saturday of the month
Nguyen Art Foundation (NAF) proudly invites you to the opening of 'No more, not yet', an exhibition that looks back on Nguyen Thi Thanh Mai's shapeshifting artistic practice in all its multiplicity. Winner of the Artist Excellence Award (inaugural edition, initiated by The Factory Contemporary Arts Centre and managed by in-tangible institute), her work is presented here alongside nearly 20 artists whom she calls her colleagues and friends. The exhibition will be on display from February to June 2023 across the campuses of EMASI Nam Long and EMASI Van Phuc.

Exhibition "This is not A Dream"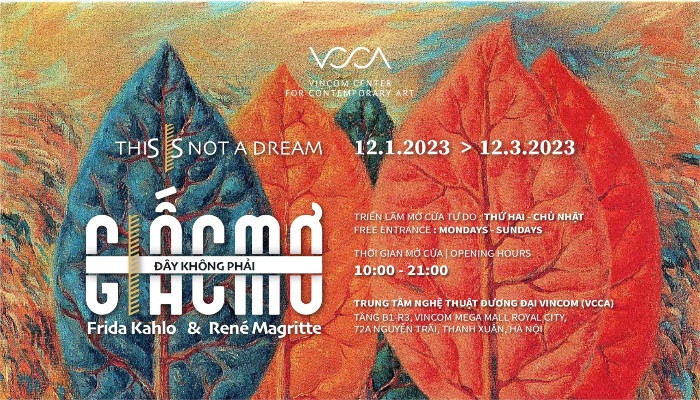 Until Mar 12, 10 am – 09 pm
Vincom Center for Contemporary Art (VCCA), B1 – R3, Vincom Mega Mall Royal City, 72A Nguyen Trai, Thanh Xuan District
Featuring nearly 100 classic works in digital versions of two great Surrealists Rene Magritte and Frida Kahlo.
Rene Magritte (Belgium, 1898-1967) and Frida Kahlo (Mexican, 1907-1954) can be seen as the two extremes of Surrealism and the negative. If Frida – who always paints his own reality, Rene paints everyone's reality – with a twist somewhere. Magritte's works, from murals, magazine covers, to classics, are all aimed at an audience. To interact with the audience, Magritte is interested in creating puzzles, unknowns, and visual tricks. He wanted to paint the impossible as a form of realistic expression, thus free from coincidences and coincidences, which was the opposite of contemporary Surrealist painters.

Exhibition "Tết Art 2023″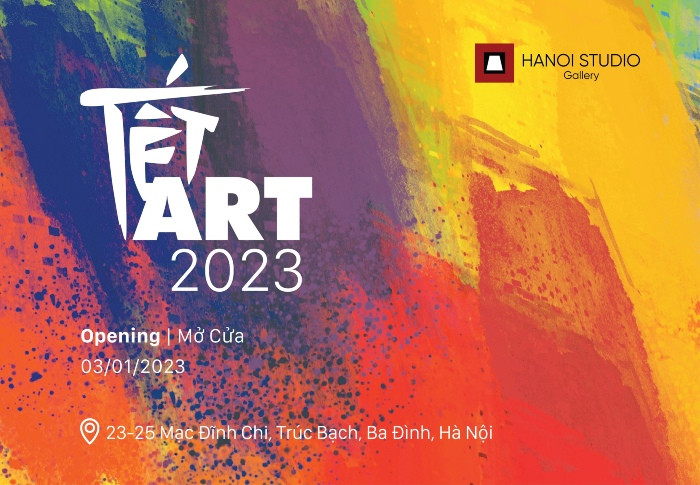 10:00 – 18:30, Until Mar 31,
Hanoi Studio Gallery, No. 23-25 Mac Dinh Chi Street, Ba Dinh District
Tết Art – an annual event that we, along with painters and sculptors, always want to bring to the public every Spring.
The nostalgic north wind, the crowded street, and the year-end hustle. The season of busyness, the "walking", the "watching", the "sightseeing", and moments of family reunion.

Photographs by Thomas Billhardt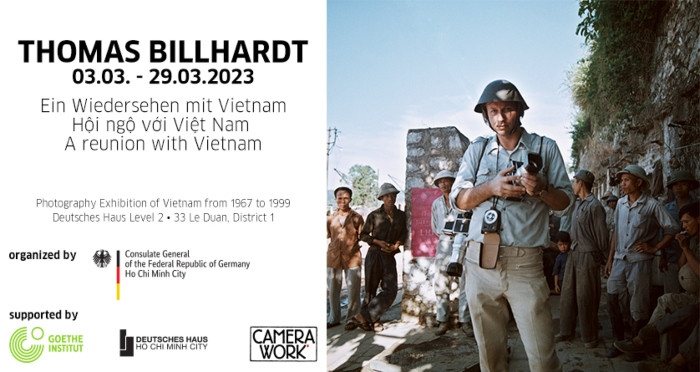 Mar 03 – 29,
Floor 2 – Deutsches Haus, 33 Le Duan District
33 Lê Duan Street, D1,
Thomas Billhardt (*1937 in Chemnitz) is considered one of the most important documentary photographers in the GDR. He was a freelance photojournalist and became world famous through publications in international magazines and through exhibitions in numerous countries. His pictures documented the horrors of the Vietnam War for the first time, especially in the faces of the children he photographed.