Entertainment and cultural events of the week (September 19-25)
Upcoming entertainment and cultural events in Vietnam's major cities on September 19-25.
Screeing & talk with Asian Artist Moving Image Platform (AAMP)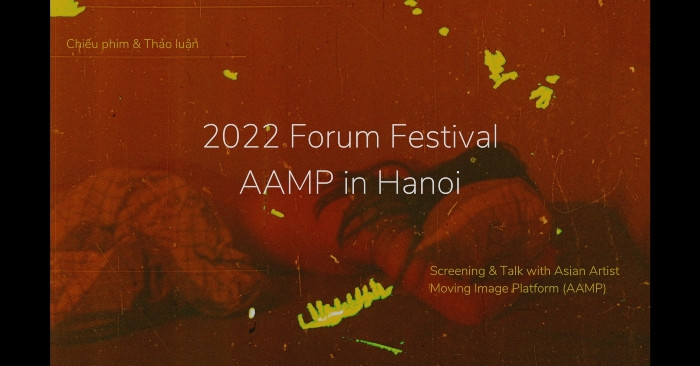 Tues 20 Sep 2022, 07 pm
Manzi Art Space
14 Phan Huy Ich, Ba Dinh, Hanoi
For this event, Inhan Cho and Rhee Hun from Seoul-based AAMP will present 60 min of recent Korean experimental films and moving images, and will present what AAMP is and how it works explaining previous editions.
AAMP is a curatorial platform for Asian moving images. AAMP's aim is to build an open network for individuals and institutes in Asia that research and produce moving images and to foster new discourses on contemporary art practices. Invited participants collectively circulate critical ideas and experiment curatorial practices on moving images through shared research materials and artistic projects. AAMP operates as a platform for these activities.
*Free admission. Limited seats.
Program
#1: The Lovesick Serpent (2022)
Chae Yu
Korea / 2022 / Color / Stereo / 9min 33sec / 16mm to digital transfer
Tales of the lovesick serpent "Sangsabaem" is a Korean folklore about a protagonist who dies from the pain of unrequited love and turns into a snake to express their suppressed emotions to the object of affection.
#2: Graeae: A Stationed Idea (2020)
Jeong Yeoreum
Korea / 2020 / Color+B/W / Sound / 33min 5sec / DCP
There is a U.S. military base near. The place cannot be seen. In the AR, there are infantries just like me. They are wandering around the symbols of violence with no passages or fences. The film starts with staring the mirage of U.S. and U.S. military which relies on self-fulfilling prophecy. Then it gazes covertness about rise and fall of a place. As the silent ascension of birds shows the air current, some omens can overtake visible things.
#3: Die Resistenz (2019)
Jungwoo Lee
Korea / 2019 / Color / Sound / 12min 55sec / 4K
Here is a frame of a statue of a person in the sculpture workshop of an artist*. The building of the sculpture was stopped two years ago when the scandal of ex-president Park Geun-hye and her friend Choi Soon-sil became exposed. The five-meter high frame was built to represent feelings of awe and respect that the people who planned the statue had felt. In other words, time has not completely said goodbye to the figure. I planned to capture the scene in a video and present this as a funeral, an act of leaving her to rest. I hired a drone and a professional drone operator to make more of a spectacle for the video creating a situation where the person's scale is being defied just as she has been heroized.
#4: Playing time played (2022)
Jieun Wang
Korea / 2022 / B&W / optical sound / 8 min 27 sec / 16mm to digital transfer
The work(ing device) that resembles a clock does not allow the fixed time to be fixed, in order to perceive the actual time sense. It is not a sort of clock that assumes and measures the absolute time, but the image itself which arises from the power operating under the film and the relationship with the power. The image, which is the reality itself, cannot be divided by a membrane of celluloid. Which exists as being real oscillates between the area of the virtual and the realm under the physically acting film.
Showcase: "Meetings"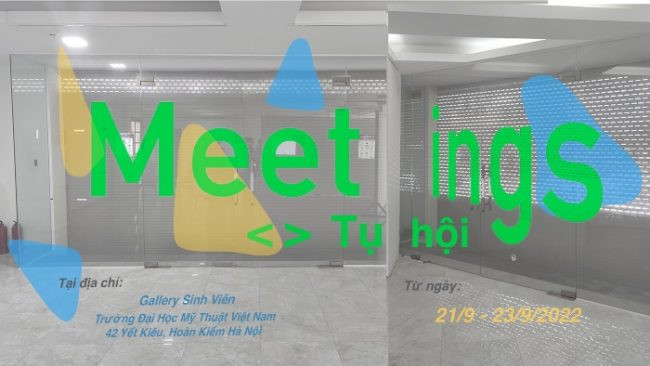 Opening: Wed 21 Sep 2022, 05 pm
Display: 22 & 23 Sep 2022, 08:30 am – 05 pm
Student Gallery, Vietnam University of Fine Arts
42 Yết Kiêu, Hoàn Kiếm, Hà Nội.

Public space is full of people and thus full of uses, demands and requirements. Accordingly, a place in the city is never a white canvas of free possibilities, but confronted with expectations and also conflicts. Over the past 6 weeks, the students of the final year of the sculpture department of the Vietnam University of Fine Arts have faced this clash of different interests in public space and developed artistic projects that deal with this complexity and bundle it into a specific quality. 9 proposals for public art in the city squares of Hoan Kiem are presented.
The course is also the meeting of different teaching forms. Unit 7 – Interior Sculpture taught by Lê Lạng Lương and Đoàn Văn Bằng and Unit 8 – Exterior Sculpture taught by Nguyễn Ngọc Lâm and Hoàng Mai Thiệp together with DAAD guest lecturer Prof. Ingo Vetter, who teaches art in public space at University of the Arts Bremen. Formal sculptural strategies met conceptual and performative interventions and as with a successful encounter, it was great fun and gave rise to something new.
The students involved are Trần Hoàng Giang, Lê Quý Đức, Lương Quang Hậu, Nguyễn Ngọc Long, Hà Chí Duy Phương, Đào Ngọc Thịnh, Nguyễn Quốc Tuấn, Mailae Phonsavanh and Tran Hoan.
Showcase "Now – Here – After" – NHA Theatre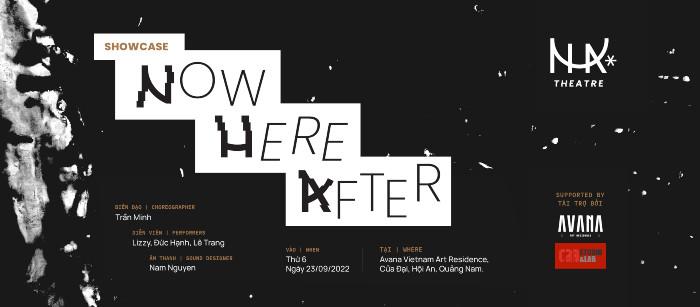 Sep 23, 06 pm – 09 pm
AVANA Art Residence, Cua Dai, Hoi An City, Quang Nam Province

Showcase "Now – Here – After" – NHA Theatre is an experimental arts group project, initiated and choreographed by performance/video-art artist Tran Minh, working together with the members to build the first foundation for NHA Theatre in which there are 3 female actors and 1 music artist/sound designer working with the features of security camera equipment (CCTV) at a fashion design studio in Hoi An.
"Now – Here – After" is an experimental theatrical work with the feature of security camera equipment, 3 actors can choose to "escape" and become observers in the performance at any time. Installation is exploited when actors 'play' with objects, they observe and arrange themselves through the point of view of live streaming devices (phone, television, projector, …) in existing Space-Time. The interplay between Space-Time and actors opens up a hypothetical theatrical concept known as a space created by people or objects, light, sound, or occupied through a distinct perspective, and this space is constantly changing, contrary to the stable nature of conventional traditional theater.
A Conversation on Spatial Audio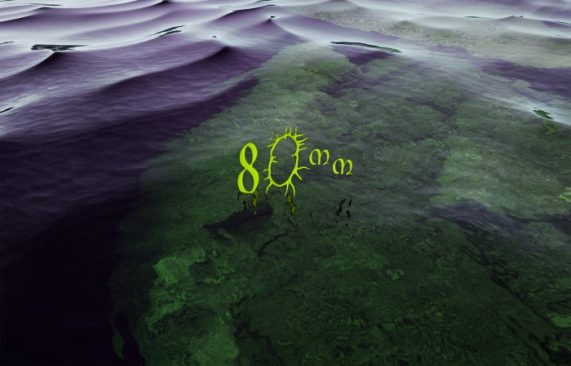 Sun 25 Sep 2022, 02 pm – 03 pm (BST) | 08 pm – 09 pm (GMT+7)
Live-streaming via Gossamer Fog's Twitch channel and Rắn Cạp Đuôi Collective Facebook page
Gossamer Fog and Rắn Cạp Đuôi invite you to an introduction on the use of spatial sound within physical and virtual spaces with sound artist, producer and researcher Tom Slater, followed by a discussion with 80mm residency artists Diane Edwards and Rắn Cạp Đuôi.
80mm, a digital residency and interactive programme where Rắn Cạp Đuôi Collective (VN) and Diane Edwards (UK) are engaged in collaborative research and development towards new work which explores sea-level rise and sinking cities through spatial audio and virtual worldbuilding.
80mm is funded by the British Council's International Collaboration Grants, which are designed to support UK and overseas organisations to collaborate on international arts projects.
The conversation will be in English. Vietnamese subtitles will be added to the video recording which will be published at a later date.
SiaM vol. 17: Classic through the lenses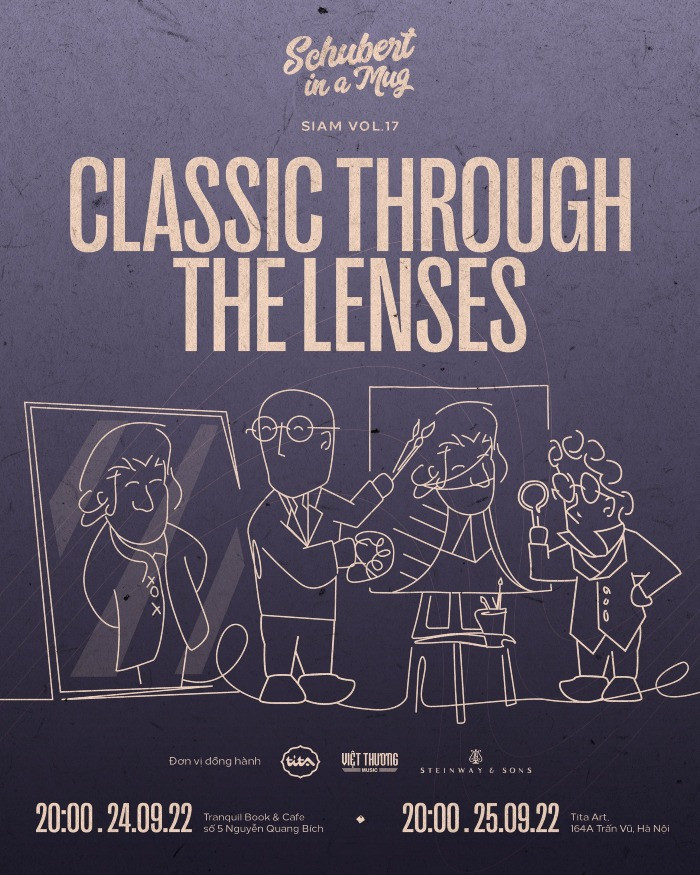 Night 1: Sep 24, 8 pm
Tranquil Cafe, 5 Nguyen Quang Bich Street, Hoan Kiem District
Night 2: Sep 25, 8 pm
Tita Art, 164A Tran Vu Street, Ba Dinh District, Hanoi

As its name suggests, Neoclassical music (around 1750 – 1820) harks back to the structured, balanced, and moderate beauty of classic art. If you were at SiaM Vol. 2: Classical Viennese School, you probably remember the elegant and graceful melodies composed by Mozart, Haydn, and other musicians representative of this period. Refined and cultivated through discipline, their music reaches a level of beauty as close to perfection as can be, and is considered a high standard for later generations to aspire to.
With the theme "Classic through the lenses", SiaM vol. 17 invites you to feel and "see" this virtuous beauty through various lenses, from Mozart's compositions from the 18th century to 20th-century perspectives, through the works of Russian composer Prokofiev.
SiaM vol. 17 will happen at the following time and venue:
Night 1: Sat 24 Sep 2022, 08 pm
Tranquil Cafe, 05 Nguyễn Quang Bích, Hoàn Kiếm, Hà Nội
Night 2: Sun 25 Sep 2022, 08 pm
Tita Art, 164A Trấn Vũ, Ba Đình, Hà Nội
Ticket price: 300.000 đ/person.
Vietnamese artworks through the ages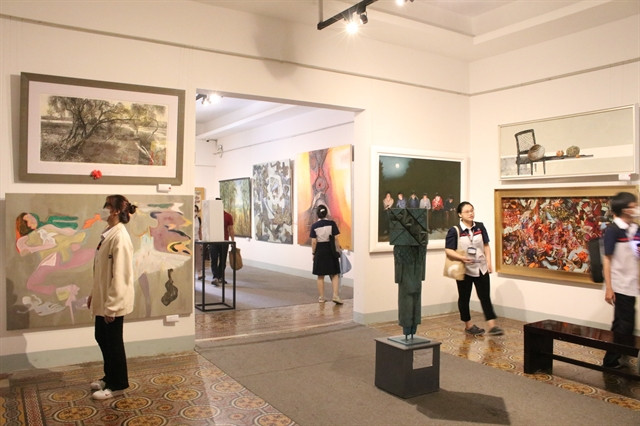 Until Oct 2,
HCM City Fine Arts Museum
An exhibition of 152 artworks such as ceramic pieces, art sculptures and paintings that the museum has collected and preserved for the past 35 years.

The ancient artworks are shown in 49 pieces of ceramic with a variety of enamel colours and pattern designs from the 12th to the 20th century. In addition, each item serves a purpose, such as for household usage (wine jugs, tea pots), for religion (censers, incense burners), or for decoration (Nghê statue). Each of them reflects the vitality of ceramic art through the ages.

The modern art artifacts include 103 works of art in sculpture, painting, and sketches, from 1939 to 2021, through notable artists of many generations, which represent a variety of art styles.
Applied fine art works on display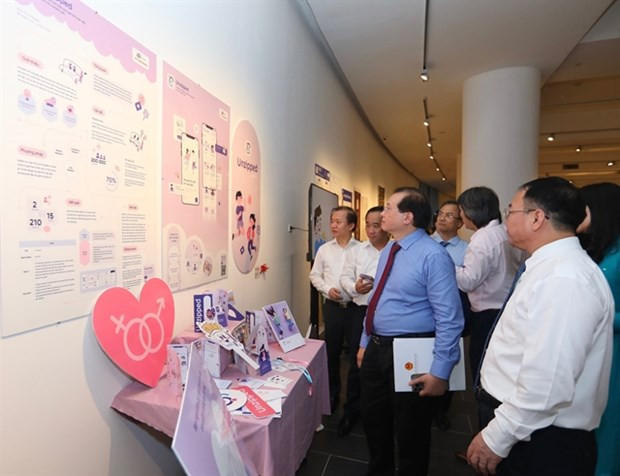 Until Sep 27
Vietnam Museum of Ethnology

Featuring over 200 modern and traditional designs of applied fine art works by 138 authors throughout the country.

The works are finalists selected from 538 entries to a competition launched more than four months ago which saw the participation of 183 authors from 25 localities in the country.
Mới/Seeing New(s)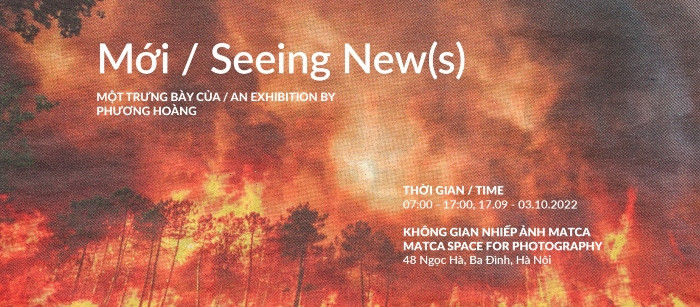 SDIS 33/Handout L'Humanité
Until Oct 3, 07 am – 05 pm
Matca Space for Photography, 48 Ngoc Ha Street, Ba Dinh District

2021 has seen the French news agenda sandwiched between COVID lockdowns and President Macron's re-election. A Reuters' report from late January to early February 2022 shows most news brands have decreased static news consumption and trust.

"Seeing New(s)" by Phuong Hoang constructs a visual dialogue, combining images from local media and her own photographs with a touch of humour. She questions the importance of delivering messages via pictures in newsrooms when audiences are visually flooded by social media daily.
Phương Hoàng is a visual narrator who grew up during the 1990s in Hanoi, Vietnam. She uses photography and multimedia approaches to document and share stories about social and environmental issues, focusing on the underprivileged. Adopting techniques from her journalism background, Phuong Hoang explores her subject matters conceptually and critically.
Hoang's work has been exhibited in European Month of Photography, OFF Bratislava Photo Festival (Slovakia), "The Long Night at The Museum" Hamburg (Germany), CONTACT Photography Festival (Canada), Goethe Institut Hanoi (Vietnam), and Ada Slaight Gallery in Toronto (Canada).
Eco Film Production 2021-2022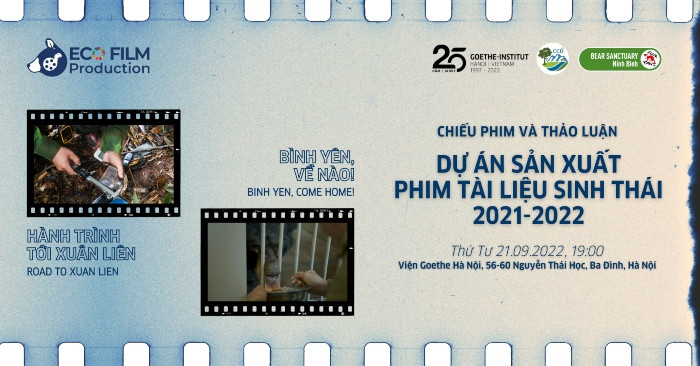 Wed 21 Sep 2022, 07 pm
Goethe Institut
56-58-60 Nguyen Thai Hoc, Ba Dinh, Hanoi
On September 21, 2022, the Goethe-Institut in collaboration with the Center for Nature Conservation and Development (CCD) and the FOUR PAWS Viet/ BEAR SANCTUARY Ninh Binh hosts a screening of the two documentaries "Binh Yen, come home!" and "Road to Xuan Lien" on the topic of biodiversity conservation and animal welfare in the framework of the project "ECO FILM Production" 2021-2022. In addition, there will also be a conversation with the project-involved organizations and filmmakers as well as a display of "behind-the-scenes" to give the interested public a better overview of the stories in the films and the messages conveyed.
"…Even though we were well prepared for this 'exploration', wearing knee-high boots, somehow, leeches were still able to get inside and suck blood. Crossing deep streams, and dangerous slippery sections were all new experiences for us. Even when we were not in the forest but at the ranger station, we could still feel the poor living conditions of the forest guards…"
"…On a stormy afternoon, I was informed that the car would bring two rescued bear cubs to the sanctuary, and we immediately went out to wait. Two bear cubs were brought back by the rescue team after a failed trade. Emily – the bear's direct caretaker just lifted the bears out of the cage when the two immediately sucked her hand as if sucking their own mother. It was so impressive to me. I felt at the same time the loss of a bear family that had just happened right here, and a human affection as compensation…"
The collaboration between NGOs and filmmakers over the past year has, to some extent, bridged the gap between the "lack of diverse and professional forms of media" and met the demand of "enhancing the effectiveness of communication activities" on biodiversity conservation and animal welfare protection. It is also a process of mutual learning and exchanging experiences among stakeholders.
The two films are the result of effective cooperation between CCD as well as FOUR PAWS Viet and their Vietnamese filmmakers. These document the stories and reflect their work at their important project sites.
"Binh Yen, come home!" vividly recreates the lives of bears and their caretakers at BEAR SANCTUARY Ninh Binh. These are the footage that authentically reflects the pain of bears who have been victims of bear farming for bile, their recovery journey at the conservation facility, and the thoughts of their caretakers. The filmmakers, through evocative and emotional images, wish to arouse viewers' sympathy with particularly animals and nature.
In another space, "Road to Xuan Lien" will "make the audience forget the sense of time". The film shows the value of nature and follows the joint efforts to harmonize conservation and development and connect people with nature in Xuan Lien, Thuong Xuan district, Thanh Hoa province, where there is dense biodiversity. This area is also significant to the life and cultural identity of the Thai ethnic community in the west of Thanh Hoa.
Exhibition features dialogue between calligraphy, graffiti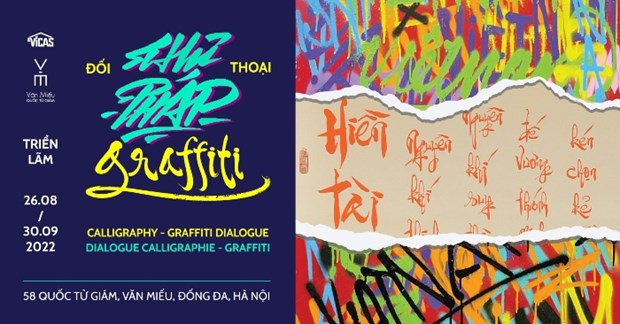 Until Sep 30,
The Temple of Literature,
An exhibition named "Calligraphy – Graffiti Dialogue" featuring 39 works of calligraphy and graffiti by Vietnamese calligraphers and graffiti artists across the country.

The works are arranged like a story about two people with different personalities and the dialogue which brings them together to empathise and share with each other.

Len Lỏi Exhibition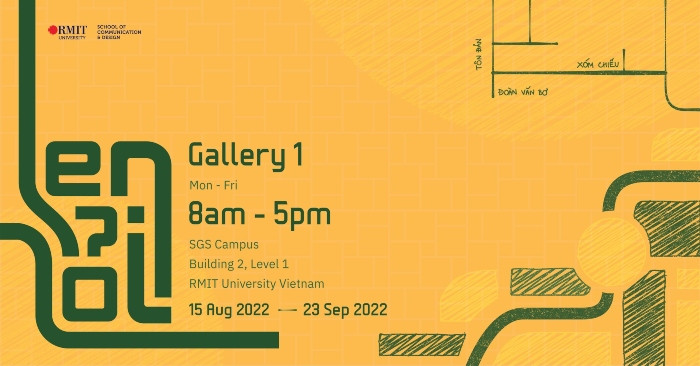 Until Sep 23, 8am-5pm
Gallery 1, Building 2, Level 1, Saigon South campus, RMIT University Vietnam, 702 Nguyen Van Linh Street, HCMC

Len Lỏi Exhibition is a speculative spatial design project which intentionally challenges one's perception and understanding of hẻm (alley) in District 4, Ho Chi Minh city. Drawing from students' multiple research approaches, engagement with locals and place experiences, a series of multifunctional adaptive reuse commercial spaces designed by students in Interior Stream – Design Studies at RMIT University is finally ready to be showcased.
Inspired by the characteristics and identity of the area, 'Len Loi' project honours the community's original values while tackling the challenge of designing small scale multifunctional spaces that fit in with the local architectural landscape. The design of our projects is not only keeping with the heritage of District 4, but also contributing to place with spaces having commercial value for local people and businesses.
The name Len Lỏi in Vietnamese was chosen to deliver a strong message that the spaces are designed to be woven through and constructed in a compressed and complicated area where numerous narrow alleys exist. The designers' intention is to show how their designs could harmonise with the general architecture of District 4 by modernising and utilising the area to the maximum potential while honouring the local people who make the area special and unique.
Exhibition: Illuminated Curiosities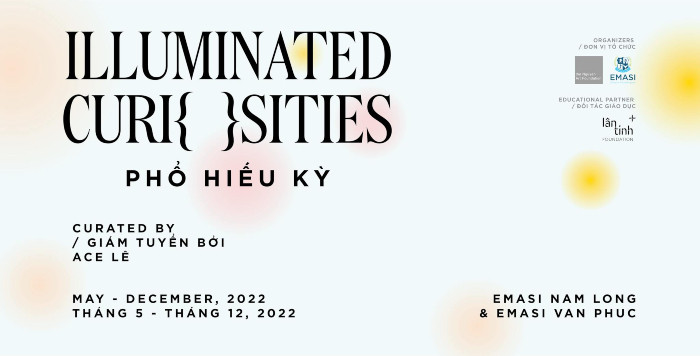 Until Dec 2022
EMASI Nam Long
147 Street No.8, Nam Long Residential area, District 7,
EMASI Van Phuc
2 Street No.5, Van Phuc Residential City, Thu Duc District,

Nguyen Art Foundation (NAF) proudly invites you to the opening of 'Illuminated Curiosities', a group exhibition with 26 artists featuring 46 artworks from within and outside NAF's Collection. Curated by art researcher Ace Le, with the curatorial assistance from Duong Manh Hung and Tam Nguyen, the exhibition will take place simultaneously across the campuses of EMASI Nam Long and EMASI Van Phuc, over the course of six months from May to December of 2022. 'Illuminated Curiosities' is a collaborative effort between NAF and Lan Tinh Foundation.

Le Ha (Hanoigrapevines)