Hanoi-LiveSpace Vietnam 1st Concert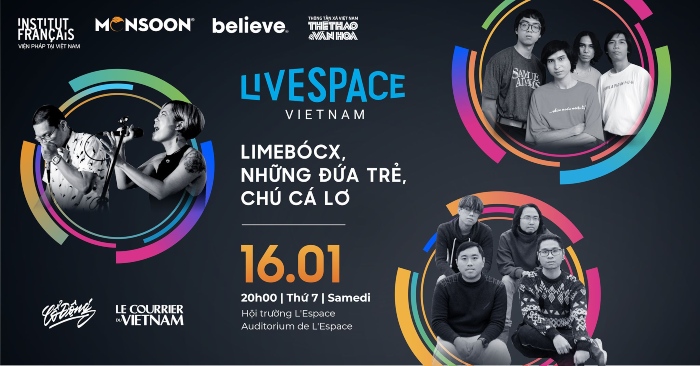 Jan 16, 8 pm
L'Espace, 24 Trang Tien Street

The first LiveSpace Vietnam concert will bring together Limebócx, Chú Cá Lơ and Những Đứa Trẻ on the stage of Institut français de Hanoi-L'Espace. This unprecedented meeting of the three talented bands promises to bring a colorful musical journey with multiple landscapes, ranging from rock to electro through the delicate touches of traditional Vietnamese music.

Ticket can be bought at: https://ticketbox.vn/event/livespacevietnam1-81441

Standing place: 250.000
Sitting place: 300.000
________________________________________________________________________________
EXHIBITION
Hanoi-Exhibition highlights Hanoi's traditional trade streets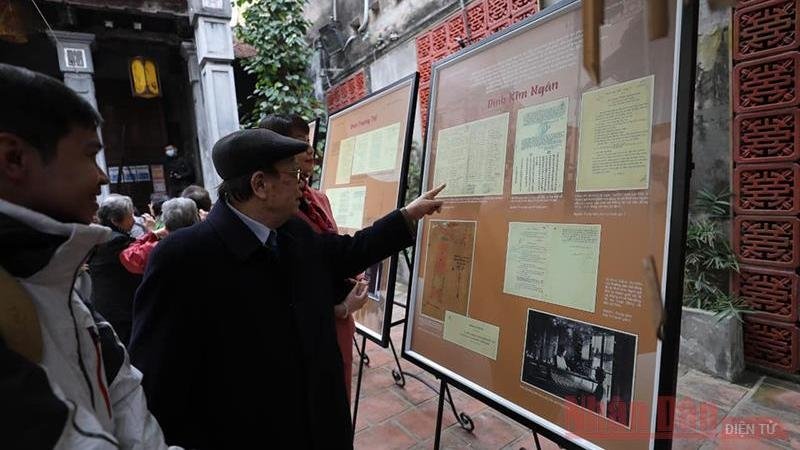 Dec 18-Jan 15, 2021

Kim Ngan Temple,

Featuring hundreds of photos and artefacts showcasing the formation and development of trade streets of Hanoi (Thang Long in the past).

Hanoi-Dreaming about Landscapes
Until Jan 23, 2021

Mo Art Space, B3, Apricot Hotel, 136 Hang Trong Street

Featuring 27 artworks from 22 Vietnamese and foreign artists.

The artworks were created with various perspectives and stories, providing a panoramic view of landscape painting, a long history in Western and Eastern art.
Hanoi-Online exhibition featuring shared culture of Vietnam, Australia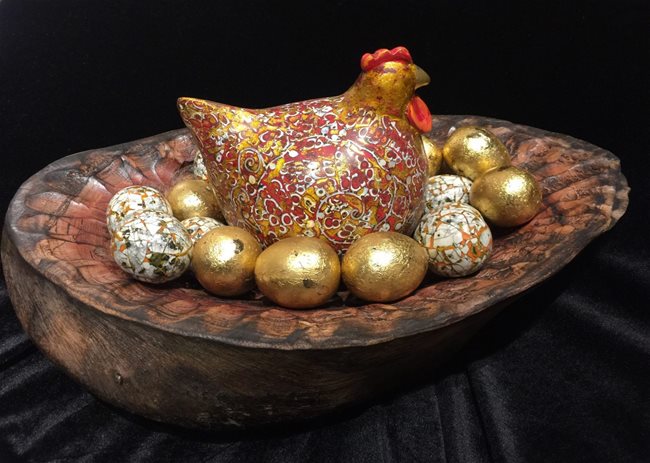 Until March 12, 2021

An online exhibition, the "Skilled Hands, Shared Culture" featuring 20 contemporary Vietnamese and Australian designers, artists and artisans whose work contributes to supporting vibrant and sustainable communities.

The Vietnamese artists joining the exhibition comprise Le Giang, Nguyen Tan Phat, Nguyen Thi Dung, Nguyen Van Loi, Pham Thi Ngoc Tram, Vu Kim Thu and Van Ngo Trong, while their Australian counterparts consist of Claire Tracey, Grace Lilian Lee, Lindy de Wijn, Michelle Hamer, Muhubo Salieman, Slow Art Collective, Vermin, Vicki Couzens, Vipoo Srivilasa, Yu Fang Chi and Kieren Karritpul.

The exhibition runs until March 12, 2021, at https://rmitgallery.com/exhibitions/skilled-hands-shared-cultures.


Hanoi-Exhibition "The Yuendumu Doors"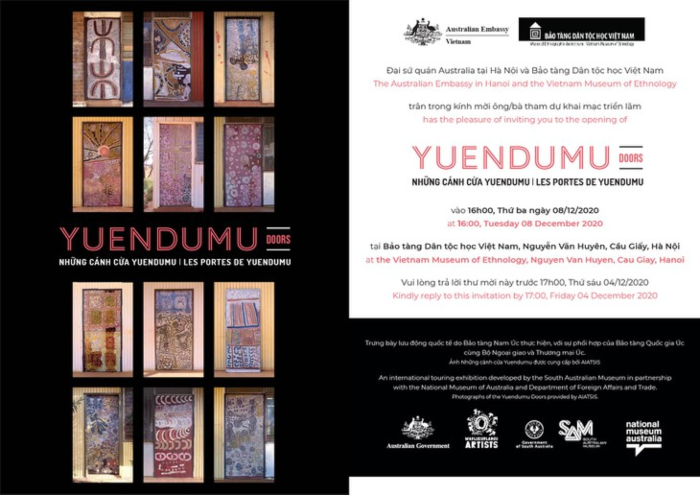 Until Jan 20, 2021

Trong Dong Building, Vietnam Museum of Ethnology, Nguyen Van Huyen Street,

Featuring one of the most important cultural and artistic collections in Australia.

It brings Australia's unique Indigenous culture to a Vietnamese audience and deepens the people-to-people links between the two countries.
HCMC-Exhibition traditional Japanese dolls


Jan 8 – 27, 8 am – 5 pm
Ho Chi Minh City Fines Art Museum
97A Pho Duc Chinh, District 1

From Japan Foundation Center for Cultural Exchange in Vietnam:

From the very beginning of new year 2021 The Japan Foundation Center for Cultural Exchange in Vietnam will organize for the first time ever the exhibition of "Traditional Japanese Dolls" at Ho Chi Minh City Fines Art Museum.

This exhibition features 32 traditional dolls depicting the gracefulness of Japanese ladies in kimono, popular characters in Japanese Noh and Kabuki plays, babies, children, teenagers royal dolls and clay dolls.
Free entry.
_________________________________________________________________________
CINEMA

Hanoi- Japanese Film Festival
Dec 25 -Jan 22,

National Cinema Centre, 87 Lang Ha Street

Introducing four Japanese films in different genres such as comedy, family, crime, anime, documentary, musical, and science, including: "Not quite dead yet", "One Night", "All Amok" and "Stolen Identity". Dtinews/Hanoigrapevines