Every year, the Easter holiday kicks a vibrant week off at many restaurants and hotels in Vietnam. 
If you're looking for a perfect place to celebrate your Easter Day, take a look at these top restaurants that serve a great variety of Easter Brunch in Vietnam.
Despite only 10% of population following Christianity, you still can immerse in the festive vibe of Easter Day across Vietnam. Add to that, many travel companies do special promotion for Easter holiday; then you can easily get the best deals of Vietnam touron this holiday vacation. Instead of celebrating Easter Day in the cold weather, you will have an opportunity to enjoy the warm and cozy atmosphere of an Easter feast at a delightful restaurant in Vietnam.
Most European and fine dining restaurants as well as 5-star hotels provide special services and activities to welcome customers during Easter holiday in Vietnam. There're plentiful options for you to enjoy either a fulfilled Sunday brunch or a fancy dinner with appetizing Easter dishes. Read on this article for the 5 most amazing restaurants to taste the flavor of Easter Brunch in Vietnam.
Hanoi Daewoo Hotel
Address: Café Promenade – 360 Kim Ma Street, Ba Dinh District, Hanoi
Price range: VND 750,000 per adult and VND 300,000 per children for Easter Brunch
On every Easter Day, the Café Promenade at Hanoi Daewoo Hotel celebrates Easter Brunch with savory dishes including grilled meat and seafood. You also have the chance to enjoy different international dishes nearby the top outdoor swimming pool in Hanoi.
In addition to the great diversity of main Easter dishes, the chefs at Hanoi Daewoo Hotel prepare adorable chocolate bunnies and colorful Easter eggs for children coming to the restaurant on Easter Day. Especially, your kids will be attracted to Children's Corner, where a plenty of amusing activities such as Easter egg hunting, statue coloring, Easter egg decorating and cotton candy making are held on Easter Sunday.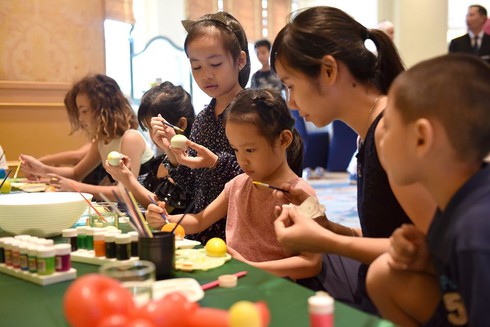 Little kids are decorating Easter eggs at Hanoi Daewoo's Sunday Brunch
Hilton Hanoi Opera
Address: Ba Mien Restaurant – 1 Le Thanh Tong Street, Hoan Kiem District, Hanoi
Price range: VND 650,000 per person or VND 800,000 per person for the free flow of sparkling wine, house wine, beer and soft drinks
FREE for kids below 18 years old! (Maximum of two kids accompanied per paying adult)
Another must-visit restaurants for Easter Brunch in Vietnam is Hilton Hanoi Opera, where your family will be treated a lovely Sunday Brunch and not-to-be-missed egg-painting and egg-hunting competition. There is no better occasion than Easter to encourage your little kids' creativity and detection.
Ba Mien Restaurant at Hilton Hanoi Opera serves a variety of flavorsome dishes for Easter Brunch, ranging from fresh seafood, Canadian oysters, creamy roasted carrot soup, roasted leg of lamb with garlic and rosemary, grilled Australian beef tenderloin, lemon grilled Norwegian salmon to Easter cupcakes, chocolate eggs and bunnies. Definitely, the Easter Brunch at Hilton Hanoi Opera will give you a favorable taste of Easter Day in Vietnam.
Pullman Danang Beach Resort
Address: Restaurant Epice – 101 Vo Nguyen Giap Street, Ngu Hanh Son District, Danang
Price range: VND 650,000 per person (buffet only) or VND 950,000 per person for free-flowing bubbles, wines, beers and soft drinks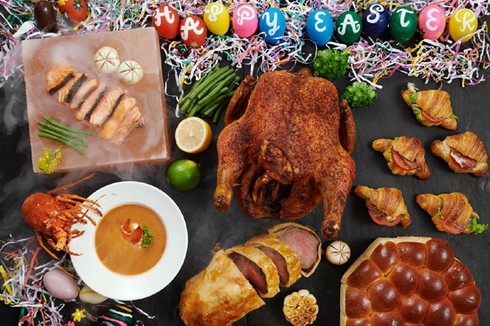 A wide range of Easter dishes is served on Easter Day in Vietnam
On Easter Holiday, Pullman Danang Beach Resort gives away many special gifts including complimentary one-night stay to their clients. At Restaurant Epice, you will have a delicious Easter Brunch with an array of breakfast favorites as an eggs benedict station and French toast, a seafood station, spring salads, pastas, as well as roasted beef, lamb and honey-glazed ham. Beside the Easter dishes for dessert, you can try their famous liquid nitrogen ice cream.
Like other Sunday Brunch event at many restaurants in Vietnam, Easter Brunch at Pullman Danang Beach Resort creates a perfect family moment with exciting activities like egg hunting, face painting and egg painting.
The Reverie Saigon
Address: Café Cardinal, 22 – 36 Nguyen Hue Boulevard, District 1, Ho Chi Minh City
Price range: VND 1,688,000 per person or VND 2,188,000 for the Prosecco Brunch including free flow Prosecco, white and red wine, draught beer, tea and coffee or VND 2,688,000 for the Champagne Brunch including free flow Champagne, white and red wine, draught beer, tea and coffee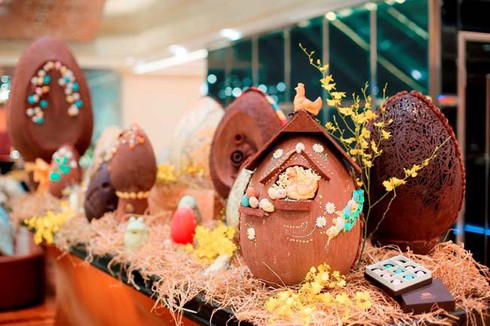 The festive egg decorations for Easter Brunch in Vietnam
The Café Cardinal gives you one of the most luxurious experiences of Easter Brunch in Vietnam. The Easter festive menu at Café Cardinal features authentic French delicacies, a wide selection of fresh seafood, imported cold cuts, healthy salads and delicious chilled dishes from the buffet counters. Also you can have the taste of Easter favorites like hot cross buns, roasted lamb and mince pies.
On this occasion of Easter Brunch, your kids will have a chance to receive a lucky draw with great prizes while winning the painted egg competition at The Reverie Saigon.
La Brasserie Buffet Restaurant
Address: 235 Nguyen Van Cu Street, District 1, Ho Chi Minh City
Price range: VND 950,000++ per person for a free flow of wines, beers and soft drinks
The La Brasserie Saigon is famous for buffet dinner served from 6:00 p.m. to 10:30 p.m. On Easter Day, the menu diversifies into a great number of Easter dishes such as toasted meats, tamarind lobsters, garlic butter tiger prawns, French oysters, sushi, sashimi and many tasty desserts.
Every kid coming to La Brasserie Restaurant on Easter Day will be given a lovely chocolate bunny. Also the Easter meal will be much more exciting in the live music performance.
Let's celebrate your Easter Day by visiting these recommended restaurants for a memorable and homey Easter Brunch in Vietnam. VOV
Hong Nhung