It's the dream of many Vietnamese football fans to watch stars like Nguyen Quang Hai strut their stuff against the best in Europe, but few know that one woman of Vietnamese heritage is already living out that dream.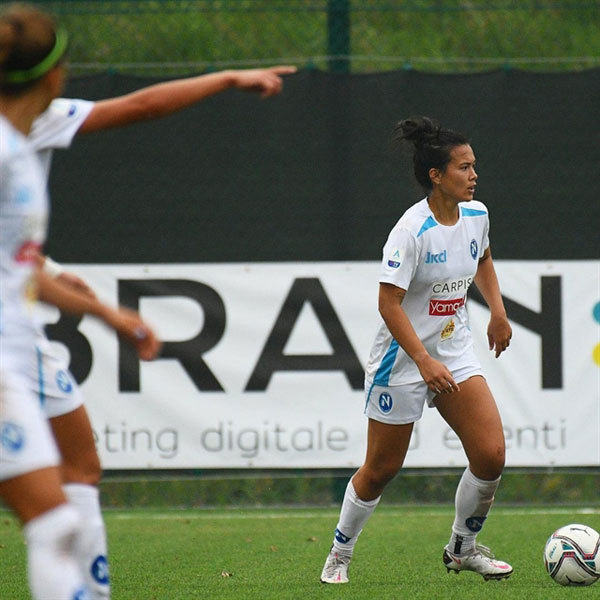 Alexandra Huynh on the ball for S.S.D. Napoli Femminile. Photo from Alexandra Huynh's Instagram page
Vietnamese Australian footballer Alexandra Huynh recently signed for S.S.D. Napoli Femminile in Italy to compete week in and week out against the best Serie A has to offer and harbours dreams of one day playing for the Vietnamese women's national team.
Huynh arrived in Italy in early October after ending an eight-year spell with the Western Sydney Wanderers, who play in Australia's top women's league. Prior to that, Huynh turned out for the Newcastle Jets in Australia as a teenager before playing for Colorado and Troy universities in the US.
While the newly-promoted Napoli are rooted to the bottom of the Serie A table and struggling against better-funded men's team-affiliated clubs like AC Milan and Juventus, Huynh is enjoying the challenge of playing in the football-mad city that recently mourned the passing of the beloved Diego Maradona.
"Yeah, honestly, on the field. I love it. Like I love how physical it is," she told Việt Nam News.
"There's not as much like build-up play in Italy as there is in Australia. But in saying that there's a lot of like, raw talent here. And there are so many people, so many girls play football, and in Italy, that's just part of the culture, it's part of their blood," she added.
Football brought Huynh to Vietnam for her only visit in 2011 when she lined up for the Young Matildas Australian women's U19 team in the AFC U19 Women's Championship in HCM City, which also served as a qualifying tournament for the 2012 U20 World Cup.
"I think that it was very eye-opening because I've obviously never been to Vietnam before. It was really humbling. It was a really good experience, and I do really want to go back.
"But when you're 17 I don't think you really understand the impact of what that trip meant, you know what I mean? So at the time, I was just there to play football, I think I wasn't really too focused on anything else.
"But looking back, it made me want to learn Vietnamese, you know, maybe want to kind of learn a little bit more about my history," she said of the trip.
While Huynh hasn't made the step up to the senior Australia team, she's excited at the prospect of potentially playing for the up-and-coming Vietnamese team.
"I think it's very exciting where Vietnamese female footballers are at the moment, I think that they're at that stage where they really take the next step and ready to be more competitive in the Asian leagues.
"So I think, especially with the World Cup coming in 2023, and an extra Asian team qualifies, it's a super exciting opportunity."
The citizenship procedures for a person of Vietnamese heritage to become eligible for the team are daunting, as Czech Vietnamese goalkeeper Filip Nguyen has discovered, and while Huynh recognises that, she's enthralled by the possibilities of representing Vietnam. 
"I honestly just get goosebumps," she said when asked what playing for Vietnam would mean to her.
"I just think that it would make me feel content in a sense. Like, it's like exploring a part of me that hadn't really explored before," she added.
Having been around the top levels of the women's game in three countries, Huynh knows a thing or two about what Vietnam need to do to go to the next level and qualify for their first World Cup.
"I think just the biggest thing that separates great programmes from good programmes is just investment. And it comes down to, doesn't matter what level it's at, whether it be grassroots or national team, it all just comes down to investment.
"So it's like how much money are you willing to invest in that team? What resources are you willing to invest, what facilities you're willing to invest?" she said. VNS
Peter Cowan

Czech-Vietnamese goalkeeper Filip Nguyen has accepted a call-up to the Czech national team, ending his pursuit of a place in the Vietnamese national team.