A photograph depicting an aerial scene of fishermen casting their nets on the sea taken by Vietnamese photographer Nguyen Phuoc Hoai has been won the Merit Award at the All About Photo Awards 2021.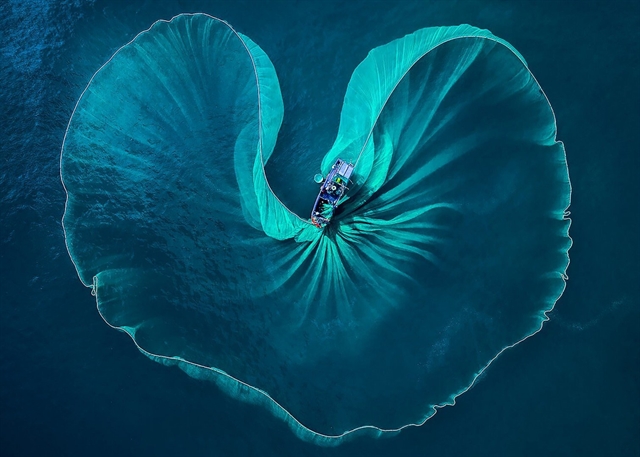 Heart of the Sea by Nguyen Phuoc Hoai.
The picture was taken near Yến Islet in the central province of Phú Yên and features fishermen working on a small boat, with their fishing nets spreading around the vessel.
By chance, the nets form a giant heart shape on the background of the blue sea, which is why the photographer named it Heart of the Sea.
"The heart shape also symbolises the generosity of the boundless ocean for humans," Hoài said.
"After spending a day offshore, the fishermen will head back with their boat loaded with the gift of fish and other seafood."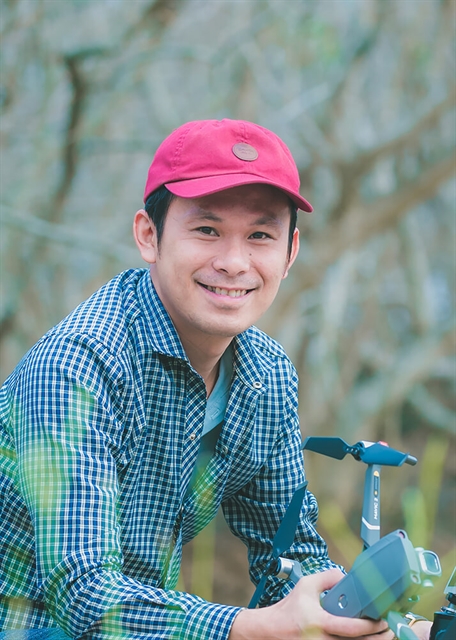 Photographer Nguyen Phuoc Hoai. — Photoall-about-photo.com
The Heart of the Sea been listed in the Travel Photographer of the Year 2020 -- 'People of the World' category.
It also was among the finalists of the category 'Bring Home the Harvest' of the Pink Lady Food Photographer of the Year 2021.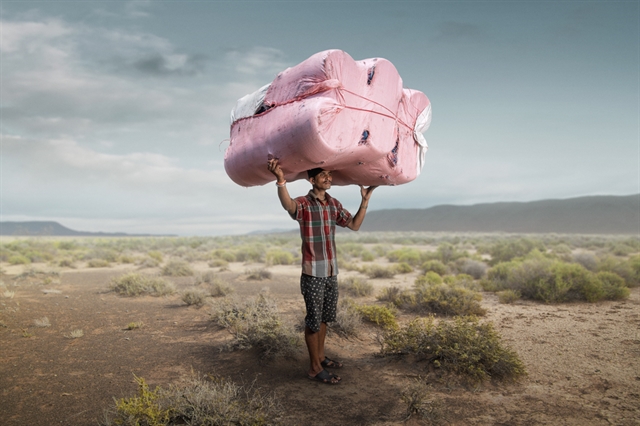 'Porter' byTom Price from the UK.
The Photographer of the Year Award, worth US$5,000, was won by photographer Tom Price from the UK for the photo Porter, featuring a porter in Kolkata, India carries a load on his head. The photo reflects a life angle of migrant workers.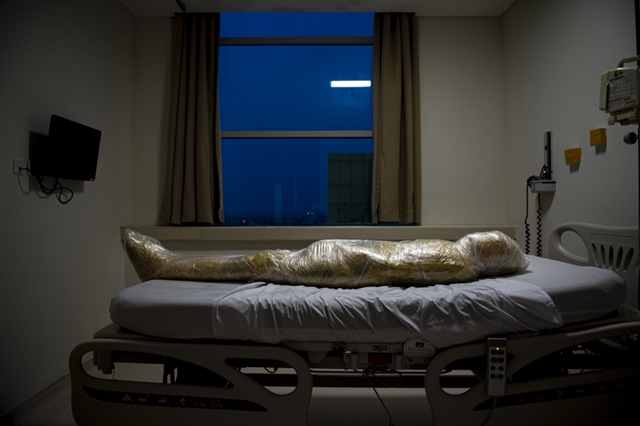 'The Human Cost of COVID-19' by Joshua Irwandi from Indonesia.
The second prize, worth $2,000, was given to the photo The Human Cost of COVID-19 by Joshua Irwandi from Indonesia. The photo featuring a 'mummy-like' body of a COVID-19 patient on their hospital bed, is a painful yet dreadful image of the current global pandemic.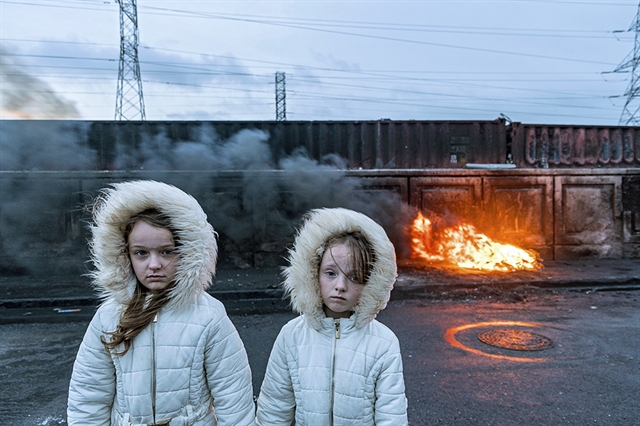 'Kathleen and Bridget' by Joseph-Philippe Bevillard from Ireland.
The photo Kathleen and Bridget by Joseph-Philippe Bevillard from Ireland won the $1,500 third prize. The photo features two sisters, who are among the nomadic indigenous ethnic group called Irish Travellers, standing outside a bonfire in Dublin.
The annual All About Photo Award organised by All About Photo – an online magazine dedicated to showcasing the work of photographers around the world, this year received entries from 23 countries and they were judged by a panel of 10 experts.
All winners will have their work published/showcased on the websites Lenscratch, Daylighted's digital traveling exhibition worldwide, All About Photo Winners Gallery and featured in the printed issue of AAP Magazine "Special Edition All About Photo Awards 2021". — VNS

Local photographers Nguyen Huu Thong and Tran Viet Van have won the first prizes in the Food at the Table and Street Food categories in the Pink Lady Food Photographer of the Year Awards in the UK.

A photo by Vietnamese photographer Ninh Manh Thang has won a gold medal in the child category of the Three Country Grand Circuit 2020 international photo contest.