Archer Loc Thi Dao won a golden hat-trick at the 30th SEA Games. Now she wants a berth at the Tokyo Olympics in 2020.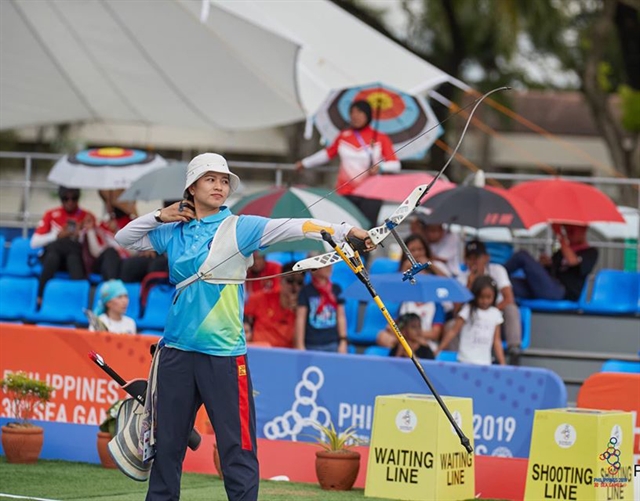 Lộc Thị Đào competes in the women's individual recurve final at the 30th SEA Games. — Photo courtesy of Lộc Thị Đào
Under the hot weather at the Parade Ground in New Clark City, the Philippines, Lộc Thị Đào and her two teammates took turns to aim and shoot.
They were against strong rivals from Myanmar in the final of the women's team recurve archery final at the 30th Southeast Asian (SEA) Games.
The Vietnamese trio cruised to a 6-2 victory and the gold medal.
Hours later, Đào and Nguyễn Hoàng Phi Vũ competed in the recurve mixed final. They beat an Indonesian duo 5-1.
In her third final, Đào faced Pyae Sone Hnin of Myanmar in the women's individual recurve.
The final event was the toughest among the three. Đào went ahead to lead 4-0 before Hnin drew level 4-4 and they had to enter the final set, which Đào won with her last shot to take a 6-4 win.
The Tày ethnic minority woman jumped up and cheered with her teammates who covered her with the national flag. She laughed and screamed, thrilled and shocked at her success.
"These results were not as good as what I can do in training. I always dreamed of the day that I would win big. But winning all three golds in one day was beyond my imagination and even my coach's dreams," Đào told Việt Nam News.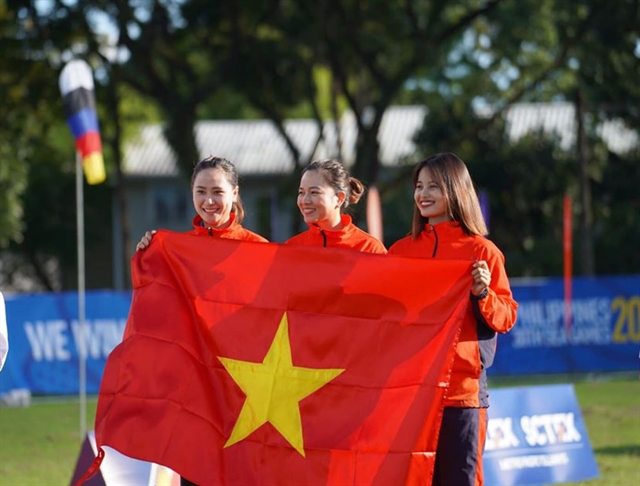 Lộc Thị Đào (centre) and her teammates on the podium for team gold medal. — Photo courtesy of Lộc Thị Đào
"I woke up the next day and only believed the truth when I saw my three golds on the table. It was even better than when I took Asian gold," she said.
"It was a dramatic final. But Đào showed her iron will and great technique to secure victory," said coach Bùi Trường Giang.
At 26 years old and with 11 years in archery, Đào is one of the most experienced archers of Việt Nam. The hat-trick of golds made her one of Việt Nam's most successful athletes at the 30th Games.
Apart from swimmer Nguyễn Thị Ánh Viên who pocketed six golds, Đào had one of the best medal hauls.
Born in 1993 in Bắc Giang Province, Đào was an all-round athlete from an early age and was chosen to train for basketball in Hà Nội in 2008. But when the 15-year-old arrived in the capital, the team was disbanded due to a lack of finances. She was introduced to different teams and decided to join archery because "it looked strange". 
She hasn't looked back since and is the nation's top archer. She won the national title first in 2011 and is still on top.
"I don't know when I fell in love with my bow. But it is now part of my life. I can give up anything but not my bow," said Đào. 
Her first national title also gave Đào a berth in the national team at the 2011 SEA Games in Indonesia where she won a silver in the team event.
Two years later at the Myanmar Games, Đào went one better with a silver in the team event and gold in mixed pairs. 
Her haul hit three at the 2015 Games in Singapore. This time, Đào made a bronze in mixed pair, silver in the individual event and gold in team. The same year, she secured three gold medals at the Southeast Asian championships.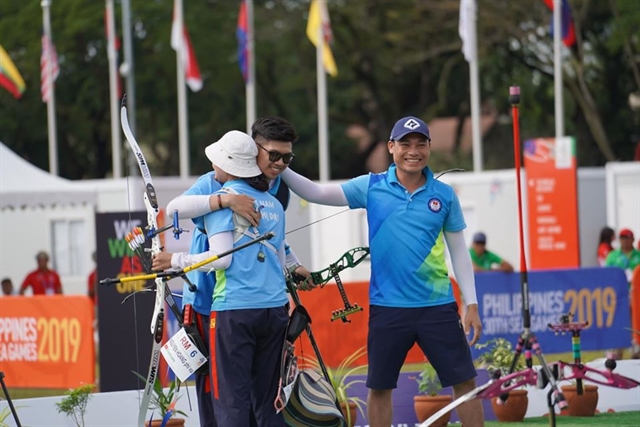 Lộc Thị Đào hugges Nguyễn Hoàng Phi Vũ after they win mixed pair event. — Photo courtesy of Lộc Thị Đào
In 2017, she took a bronze in the Asian championship and a gold in the Asian Cup but that year's SEA Games was a failure as she could only took a bronze in the mixed pair category.  
"In competitions, there are wins and losses. I just allow myself to be upset for one to two days before coming back to normal life, doing everything from the beginning," said Đào.
"I have to work hard every day. I have to improve my physique and technique.
"In archery, athletes also need to have feeling with the bow as well as an ability to predict the direction and force of the wind during shooting. We also learn how to control our feelings which is very important and sometimes decides matches," said Đào.
Currently, in an intensive training camp in South Korea, Đào is now targeting a spot at the Tokyo Olympics next summer.
She will have a chance to grab her slot at an international tournament in Germany in June.
"There are somethings that don't follow our plans you know. It depends on different elements. I can just do what I think is best and try my hardest," Đào said.
"But I will not force myself too much because then it becomes pressure. Competing with pressure will not bring a good result." — VNS
Thanh Ha