Vietnamese athletes on Thursday secured berths in five finals of the Asia Archery Cup, leg 1, in Bangkok, Thailand.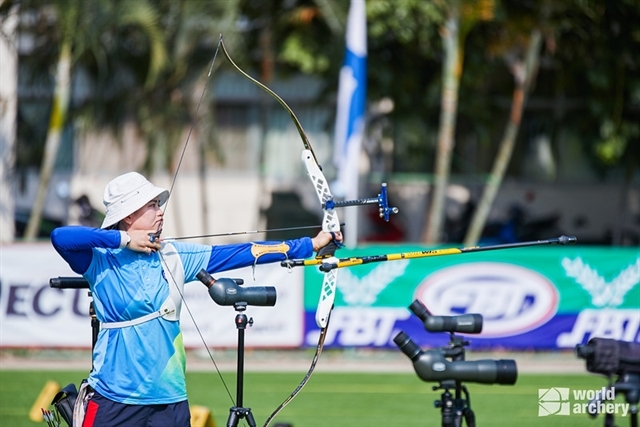 Vietnamese Lộc Thị Đào has entered two final matches at the ongoing Asia Archery Cup, leg 1, in Bangkok, Thailand. Photo worldarchery.org
Three-time Southeast Asian Games winner Lộc Thị Đào beat No 1 seed Inna Stepanova of Russia 6-4 in the semi-finals of the women's recurve individual event.
The No 4 seed will vie for a gold against No 3 Ksenia Perova, also from Russia.
Đào and her teammates Đỗ Thị Ánh Nguyệt and Nguyễn Thị Phương also made the final in the women's team event. They will face the Russian crew of Stepanova, Perova and Svetlana Gomboeva.
Lộc will also have a chance to take a bronze in the mixed pair recurve if she and teammate Nguyễn Hoàng Phi Vũ beat Kazakhstan duo Anastassiya Bannova and Sanzhar Mussayev in the third-placed match.
No 3 Thạch Phi Hùng will seek gold in the men's compound individual class. His rival is No 1 Anton Bulaev of Russia.
Hùng ousted his teammate Trịnh Văn Đức in the semi-final while Bulaev beat Akbarali Karabaev of Kazakhstan. The two losers will compete for a bronze medal.
Hùng, Đức and Nguyễn Văn Đầy then set up a final meet against Karabayev, Sergey Khristich and Rustam Karabayev in the men's compound team event.
The women's team also have a chance for a gold when they play Kazakhstan in the final.
All gold-medal matches are scheduled on Saturday.
The Asia Cup is from March 8-15 at the Archery Range at the Sports Authority of Thailand. More than 80 athletes have taken part here in both recurve and compound categories for men's and women's individuals and teams. VNS