Kim Dong Publishing House on March 11 released a new book dedicated to wildlife, Chang Hoang Da – Gau (Wild Chang and Bear), the first volume in a series about wildlife protection.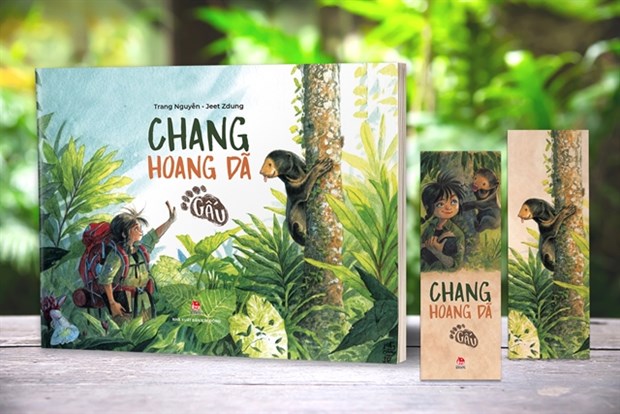 Cover and bookmarks from Chang Hoang Da - Gau (Wild Chang and Bear), the first volume in a series of books dedicated to wildlife.
The book contains stories written by Trang Nguyen and paintings by Jeet Zdung. It tracks the journey of Chang, a little girl with big dreams of protecting endangered wild animals. The book mentions many animals which are close to extinction. The journey starts when Chang meets Sorya, a sun bear who was luckily saved from traffickers by the Bear Rescue Centre. Chang is determined to return Sorya back to nature.
Together, Chang and Sorya are helping readers discover the pristine beauty of nature and the life of wild animals through 120 water-coloured paintings by Jeet Zdung.
The paintings are the result of a two-month field trip into the wild.
"The book is about wild animals, real experiences and facts about the species, as well as the friendship between people and wildlife as well as the hard work of activists to protect animals," said Trang.
"I hope that the book can touch readers' hearts and encourage and inspire people to dream and protect nature and the Earth's vitality."
"Some stories are really haunting and painful, for example the rhino Boka, who was slaughtered by hunters for his horn."
Trang added that all proceeds from sales would be spent on wildlife projects in Vietnam.
Trang Nguyen, whose real name is Nguyen Thi Thu Trang, was born in 1990 in Hanoi. When she was a child, she was confronted with the ugliness of the illegal wildlife trade, seeing chained up monkeys that were offered for sale on the streets, and bears that were held to extract bile for traditional Asian medicine. She decided to dedicate her life to wildlife in Vietnam. Trang finished her PhD in Biodiversity Management at the University of Kent, England.
In 2013, Trang founded WildAct, an NGO which focuses on monitoring illegal wildlife trade markets, and provides conservation education programmes for Vietnamese youngsters. At the age of 23, Trang received a scholarship for wildlife conservation from the University of Cambridge. Last year, Trang was named in the BBC's list of the top 100 inspiring and influential women around the world.
Jeet Zdung, whose real name is Nguyen Tien Dung, was born in 1988. He has won prizes for his illustrations. His works were introduced at the Cartoon Festival organised by the Wallonie – Bruxelles Delegation in Vietnam in 2012.
The 120-page book is printed on eco-friendly paper. It's available at bookstores nationwide for 160,000 VND (7 USD)./. VNA/VNS

Over 1,500 cases of violations of laws on wildlife protection were discovered within the 2013-2017 period.
Director of the Centre for Natural Resources and Environmental Studies Trinh Le Nguyen talks on Vietnam's efforts to eliminate the wildlife trade