Author Nguyen Nhat Anh shared many insights about his career.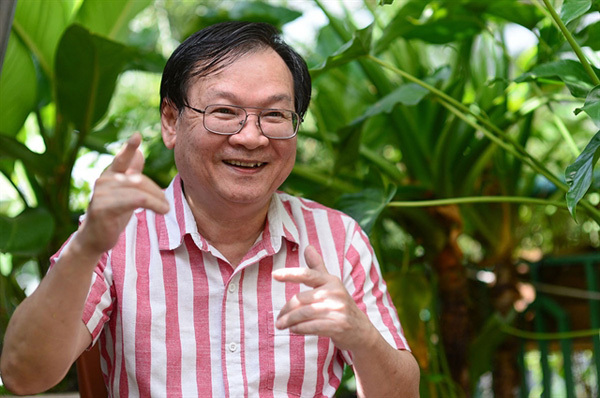 Author Nguyen Nhat Anh. Photo courtesy of tuoitre.vn
You once said that you had many ideas for adult books. In your latest book Con Chim Xanh Biếc Bay Về (The Blue Bird Flies Back), it can be seen that you can definitely write for an older audience. From now on, will you write stories about adults, not just about the world of childhood, as you usually do? 
Characters in this book are students or graduates that are looking for a job, which means they are still young. However, compared to most of my previous books, characters in Con Chim Xanh Biếc Bay Về are more mature and are beginning to face adult-related problems. 
For me, the adult world has a special attraction and more open topics that I can write about. There are more "ups and downs" that can be written and more "flavours" to the story. But as you can see, adult characters in my books always have traces of childhood characteristics. Childhood in general and the topic of childhood in particular has a great influence on me, so there is no way that I would only write stories about adults. That might change in the future, but only when I suddenly get inspired. 
Currently, there are many writers writing for adults, while the number of writers writing for children is very limited. If for some reason I turn my back on my young readers, I would feel like I'm "betraying" them. That is something I cannot do.
In your opinion, what are the differences between adults and teenagers?
The most different thing is that adults face more life obstacles and experience more dramas and emotions. They have doubts about success and failure, love and hate, gain and loss, good and bad, right and wrong.
How the two generations fall in love differently demonstrates another point. While teenage girls would wonder about avowals of love, adult women are always looking for something permanent, like proposals.
At a young age, life is simply black and white. When they grow up, they will see that there is a grey colour in life.
What are some social issues that you are considering writing about in the near future?
I am interested in writing about social issues, but to be able to do it efficiently is another matter. Literature is not the same as journalism.
A book author cannot write everything, because his or her ability is limited. A writer will usually like to write and write well about topics that they are most fascinated with and are closest to their creative ability.
Someone once asked me "Why don't you write about this topic or that topic?" I think I have to have more life experiences to be able to write all the topics that others demand.
A writer has only one life. And in that limited span of time, they can only focus on doing well in what interests them and what they believe they can do best. A writer cannot understand everything and have expertise in all subjects. Each writer has his or her own strength, understanding and experiences.
I am inspired by the topic of childhood because I always love and miss my childhood. My childhood was not only about the sky and the river, dragonflies landing on the branches of chili peppers, but also friends who were far away and loved ones who passed away. I miss everything and I want to keep my feelings in the books.
Your Tôi Thấy Hoa Vàng Trên Cỏ Xanh (Yellow Flowers on the Green Grass) and Mắt Biếc (Dreamy Eyes) has been on the big screen; Thiên Thần Nhỏ Của Tôi (My Little Angel) performed on the theatre stage; and now Làm Bạn Với Bầu Trời (Make Friends with the Sky) introduced to the theatre this January. What do you think about the value of the theatre in bringing your work closer to the audience?
It would be good to have multiple cultural and entertainment pieces of mine introduced to the public, especially young audiences. With each work transformed into a movie and a play, my audience will have a great opportunity to enjoy it again in different forms. Same ingredients, but with different cooking methods and different chefs. But the dish would have different flavours.
Many people tend to buy books, display them on the shelf, and give them to their friends as a gift without reading them. What do you think about that?
If that is true, I would be more happy than worried about it. Giving a friend a book is more meaningful than giving a material gift. Just like displaying a bookcase in the house is better than displaying a wine cabinet.
Even when I had yet to become a writer, I enjoyed visiting bookstores and immersing myself for hours in books. Sometimes, I visited a bookstore to just look, since I didn't always have money to buy them.
Whenever I go to my friends' house and find that they have a bookshelf in their house, I really admire them. Buying books for display or as a gift, regardless of any reason, is a great way to promote books, especially in an era where we perceive that reading a book is not a common hobby.
Furthermore, books create a healthy atmosphere. If you don't read it now, you will touch it one day. If you continue not to read them, your father, mother, brothers, sisters, nephews or friends will eventually read it some day.
I know there are famous writers who have lost inspiration. What is your motivation that helps you write over the years, despite the fact that you are already famous as a writer with a rare record in the number of books published? 
I like writing, simple as that. I don't lose my inspiration or my motivation. When I write, I feel alive. I still tell my friends that I write because I love writing.
Of course, there will be a day when the God of time tells me, "Take a rest, man!" That will be when I don't have enough strength to do the things I love anymore. But what else can I do? Just hope that he will not find me as long as possible.  VNS/Tuoitre 

HCM City-based Tre (Youth) Publishing House has signed a five-year copyright deal with best-selling author Nguyen Nhat Anh, one of Vietnam's most prolific children's book writers.

"Ticket to Childhood", a novel from Nguyen Nhat Anh renowned among Vietnamese teenagers, has recently been introduced to young Japanese readers.