Director Dinh Tuan Vu won big at the 21st Viet Nam National Film Festival (VNNFF) which took place in Ba Ria – Vung Tau Province from November 23-27. He takes Minh Thu behind the scenes.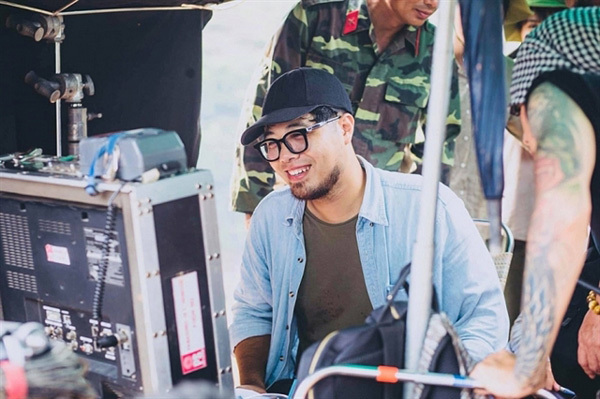 ACTION: Director Dinh Tuan Vu at work. Photo thegioidienanh.vn

Dinh Tuan Vu has established himself as a talented young director.
At the age of 30, he recently received the Silver Lotus Award for Truyền Thuyết Về Quán Tiên (A Legend of Quán Tiên) and the People's Choice Award for Chú Ơi Đừng Lấy Mẹ Con (Please Don't Marry My Mother). Since his debut And He Will Return in 2013, he has made seven feature films and won many prizes. Among them, Cuộc Đời Của Yến (Yến's Life) received the Grand Festival Prize at the World Premieres Film Festival in the Philippines in 2016.
Congratulations on your success. You must be on cloud nine. Have you landed yet?
Who wouldn't feel happy to receive these awards? I am more than happy. When you devote 100 per cent of yourself and those efforts are appreciated, it's wonderful.
Inner Sanctum: You are known for making rom-coms, so why did you decide to make A Legend of Quán Tiên, a historic film about female volunteers on the Truong Son Trail?
I think all directors want to test themselves in different genres. I have made some rom-coms, now it's time to try new things. It's lucky that I was asked by Hong Ngat Film Studio to take part in this project. It was serious and challenging.
What attracted you to the story?
It's adapted from a novel of the same name by the late author Xuan Thieu. I read it many years ago but was still haunted by the plot.
The film tells the story of three young women who are all volunteers. Living together in the jungle to support logistics work and build roads, they have to cope with fierce and life-threatening situations every day. The three women form a strong bond and an unlikely connection with a mischievous gibbon.
I feel thrilled and amazed to have made a film as a tribute to those who sacrificed childhoods and lives for the nation.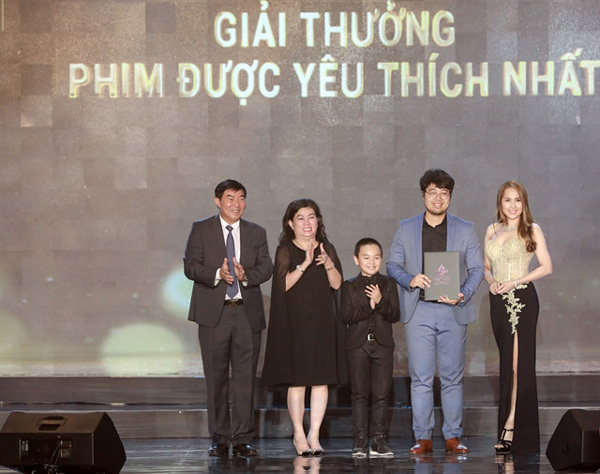 ACCOLADE: Director Dinh Tuan Vu (second from right) and the film crew of Please Don't Marry My Mother receive the People's Choice award at the VNNFF. VNS Photo Minh Khanh
 
You were born after the war, so what were the advantages and disadvantages of making this film?
I had a chance to work with various veteran filmmakers such as producer Nguyen Thi Hong Ngat, playwright Doan Tuan and director of pictures (DOP) Vu Quoc Tuan. I think I am a good listener and learner, so we respect each other at work. The young actresses and I studied a lot about the war to prepare for the film.
As a young director, people may think that I will have fresh perspective on making films. Actually, a director will always have fresh angles, no matter how old they are.
The advantage of being a young director is the ability to approach and apply new technology.
Can you share some interesting memories about making A Legend of Quán Tiên?
The film was shot between forests and mountains in the central province of Quang Binh. We overcame many troubles from rain and insects to blood-thirsty leeches. Transporting the props and equipment was difficult due to the complicated terrain.
But let me tell you something fun about our special actor – Wild Cock. Designer Dao Manh Hung bought a wild rooster at the market. In a scene, he sits on a branch and soldier Ku Xe shoots him for food. We had to feed him corn and rice. Sometimes, when we needed silence and concentration, he started crowing. That made us all laugh and relax. One time, a member of the crew joked we could eat him when the film was finished. Hung strongly opposed that idea. "No, filmmakers don't eat actors," he said.
When the project finished, Hung brought the rooster to Hanoi.
What do you think about the lack of historical/war films in Vietnam?
Actually, there have been a few films about the war made in recent years. I think no matter what genre the film is, romance or history, as long as it has good quality, it will be welcomed by the audience.
For history and war, filmmakers need to focus on finding suitable locations. In my opinion, the location is one among key factors for making a film successful. Many directors focus on actors and costumes, and ignore finding a good location.
In Yến's Life, I searched for locations throughout the northern region because I wanted to find new angles for the film. It's hard to find an old house and village to fit the story, which takes place in the previous century. The fact is the rare old houses in rural areas are often surrounded by modern buildings.
We had to combine different locations to make the village as you can see in the film. We found a good house in one place, and a banyan tree with a well nearby in another.
You've had the chance to take part in many important film projects and you've won many prizes. Life seems to be easy for you.
You see many roses all the way, right? Actually I see many thorns.
I was born into a family of art workers. My grandparents and parents are artists. My mother, Ngo Phuong Lan, was former director of the Cinema Department. Now she has retired, so I feel free to share the difficulties of being her son.
There are rumours that I received many film projects because of her, and my films were popular thanks to her influence. People doubt my talent and devotion. I have a feeling that no matter how I try, people will assess and judge me on my biography before watching my films. I've had to work under that pressure. Gradually, I've got over the rumours and focused on my work.
I have to work two or three times harder than other directors to prove myself.
Looking back at your career, do you have any regrets?
My team and I have tried our best on each project, so there is nothing to regret. I am always my own worst critic when I watch my films in post-production.
What are your future plans?
I want to make art-house films like I See Yellow Flowers on Green Grass directed by Victor Vu. I am looking for opportunities to improve my skills in countries where the cinema industry is developed such as the US or South Korea. - VNS

Quang Binh, which served as the setting for American blockbuster film Kong: Skull Island, is once again in use as a natural studio.   

The biggest event of the national cinema industry will be held on November 23-27 in Vung Tau City, southern province of Ba Ria–Vung Tau.