An exhibition of Belgian comic books is being held on Nguyen Van Binh Book Street in District 1, HCMC from today until April 26.
Vietnam does not have a comic book "industry" 
Vietnamese comic books struggle to rise as market expands
Parents worry over content of children's comics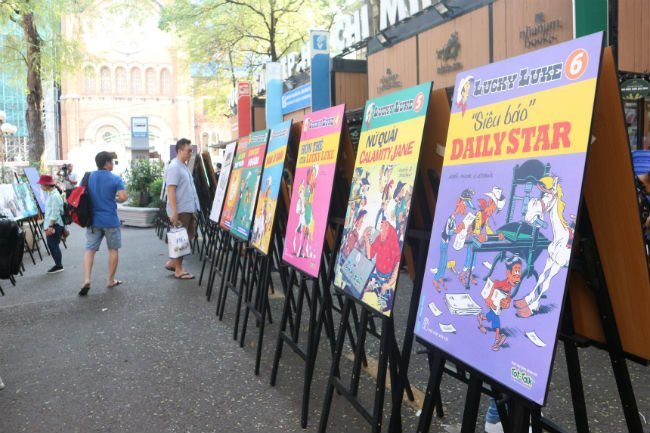 Visitors look at some works at the exhibition on Belgian comic books on Nguyen Van Binh Book Street in District 1, HCMC - PHOTOS: COURTESY OF THE ORGANIZER
The exhibition features 75 wood prints, with 10 of them created by renowned Belgian painter Dany and about 60 others used for the covers of books from Wallonie-Bruxelles (French Community of Belgium) which have been translated and published in Vietnam.
Some of the books were written by great authors such as Maurice Maeterlinck, who won the Nobel Prize for Literature in 1911, detective novelist Georges Simenon, and contemporary writers including Amélie Nothomb, Jean-Pierre Orban, and Nicolas Ancion.
Popular characters in Belgian comics such as Smurf, Tintin, Lucky Luke, and Spirou, as well as the covers of several other children's books are also introduced at the exhibition.
The opening ceremony of the exhibition was held on Nguyen Van Binh Book Street on Sunday, April 21 as part of the Vietnam's Book Day. The event also honored the jazz culture of Wallonie-Bruxelles with a short performance.
Painter Dany is visiting HCMC to attend the exhibition and work with lecturers and students of the HCMC University of Fine Arts in Binh Thanh District from April 22 to 24. Particularly, a professional exchange between Dany, the university's lecturers and students, and professional illustrators is taking place this morning.
The Belgian artist has also selected 29 of his wood prints for an exhibition titled "Share the Legacy: The Art of Comics with comic book artist Dany", which is being held at the HCMC University of Fine Arts from today until May 3. SGT