The Viet Nam Writers Association has presented awards to eight literature works as the best pieces of 2019.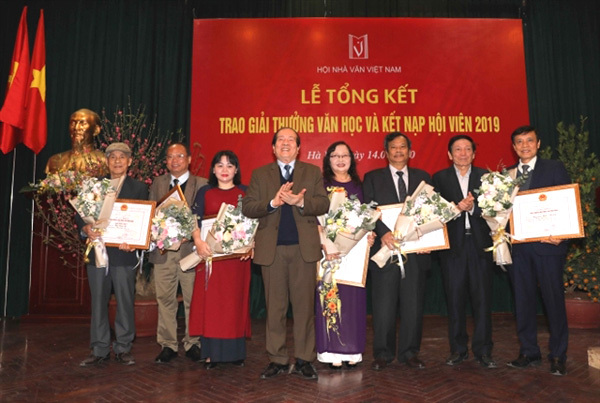 Poet Huu Thinh (middle) and award winning authors at the award ceremony held in Hanoi on Tuesday. — Photo thethaovanhoa.vn
Poet Huu Thinh, chairman of the association, said on Tuesday the jury was extremely impressed with the works this year, especially the short story collection Quán Thủy Thần (Shop under the name of God of Water) by Nguyen Hai Yen (from Hai Duong) and a journal collection titled Trụ Lại (Staying Here) by Ho Duy Le (from Da Nang), which won special prizes.
"Anyone reading Tru Lai will discover a museum of literature with valuable materials on the brave people and revolutionary land of Quang Nam – Da Nang," Huu Thinh said.
"I remember reading a book by famed writers, in which they forecast that the 21st century is the century of documentary literature, journals or chronicle pieces.
"That's why the association gave an award to Ho Duy Le's journal as a literature work. If you read this piece, you will remember it. I think it's necessary for anyone to understand the Vietnamese people and country, and to those who want to understand national tradition and values of the present," he said.
Mentioning the short story collection by Nguyen Hai Yen, Thinh said this was a fresh discovery for the association this year.
"Though this is only Yen's second book, her contributions to Vietnamese literature are not small," he said. "There have been many pieces on land reforms, on cracks (disputes) in society, but no writers have mentioned the process to fix the cracks, to heal social 'injuries'."
"Yen explored the issue in a short story collection. She has bridged the gap between yin and yang, life – death, temporality – eternity, loss – win, bringing one's heart to others' world," he said. "I found this kind of ideology before Yen, from no one else but great poet Nguyen Du."
Nguyen Du (1766-1820) wrote The Tale of Kiều, in which he cried for the pains of people living around him; but his Văn Tế Thập Loại Chúng Sinh (Funeral Oration for Dead) is a cry for all dead people.
"Our great poet did not only cry for people living around him but also showed grief for them when they passed away to another world," he said. "Of course Yen is not Nguyen Du, but I think this female writer has followed Nguyen Du's tradition to bridge the gap between yin and yang, between limited and unlimited.
"I highly appreciate an innovation by a teacher at a secondary school," he said.
Thinh said there were 20 entries submitted to the jury, much more than the previous year.
"All of the entries are of high quality, but the jury considered only three authors according to the regulation," he said.
The association on this occasion added 56 new members.
Here is the list of this year's prizes:
Special prize: Trụ Lại journal collection by Ho Duy Le; Quán Thủy Thần short story by Nguyen Hai Yen
Poetry: Bay Trong Mơ (Flying in Dreams) by Tran Quang Dao and Nguồn (The Root) by Tran Quang Quy
Theory –Critiques: Defining and Explaining Literature Phenomena by Phan Trong Thuong; Vietnamese Literature Characteristics by Ly Hoai Thu; Ideology and Style of Writers: Theory and Reality by Tran Dang Suyen. — VNS
The winners of the annual Best Book Awards 2019 were announced on Sunday in HCM City following a five-month vote by readers.