Pilot Nguyen Dan An and his brakeman strongly push their sled off the start line. They jump in and crouch low to reduce drag before An guides the sled at high speeds between walls of ice till the end of the track.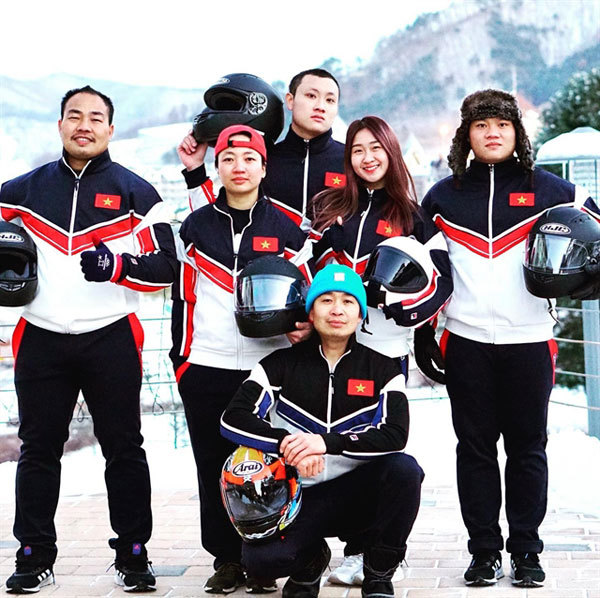 Vietnam national bobsleigh and skeleton team athletes are training in South Korea for the Winter Olympics dream. Photo courtesy of Nguyen Dan An
These exhausted activities are repeated day after day in their five months training bobsleigh and skeleton in South Korea. It is for the only goal of winning a place at the 2022 Winter Olympics in Beijing, China.
If they make it, they would become the first-ever Vietnamese representatives at the Games in history.
Bobsleigh
Captain An first introduced bobsleigh to Vietnam in 2016 after two years learning about the sport.
"I happened to see a skeleton competition on TV in 2014," An told Việt Nam News. "Being a speed addict and an auto racer, I got curious and thought that I also could do it well."
Seattle-based An researched on how to get to involve in skeleton (one person) and tried to train with =the US national team.
Sadly he failed to make the grade but decided to go back to his roots and train and race for Vietnam.
"I found out that Vietnam has never been to the Winter Olympics in history and it made me even more motivated to keep going," said An who then took part in a bobsleigh and skeleton racing school in Utah and finished on top of the class.
In 2016, he flew back to Vietnam to meet and ask Hoang Vinh Giang, Vice Chair of the Vietnam Olympic Committee, to approve of his desire to represent the country in this winter sport.
Giang, who is the national pioneer in bringing many new sports home, obliged with joy and fully supported An.
An, nearly 40 at that time, returned home and started his training schedule, choosing powerlifting to improve his physique, and reported his progress to the committee.
Despite his age, An proved that he was still athletic and strong with his victories and set records in every powerlifting competitions in his state in the following summer months
However, working alone would never bring good results, so he started to look for teammates.
He went online and searched before picking Tran Thi Doan Trang, the national female top auto racing, and Tran Van Hoa, the SEA Games weightlifting champion, as the first members of the team.
"In bobsleigh, athletes must be fast and strong," said An who holds dual American and Vietnamese citizenships.
"They also have to be brave and not scared of high speeds. The pilot who sits in the front driving the sled must be good in racing while the brakeman needs to be physically strong to push the sled and pull the brake at the finish line."
After that, he found four more for his team. Three are from Vietnam and one is in the US.
With tremendous help from the Vietnam Skating Federation, which currently manages the team, six athletes are practising in South Korea under a six-month programme entitled New Horizon Sliding Champions while Vietnamese Hungarian Dan Klause who could not join them is training alone in the US.
They are sponsored by the PyeongChang 2018 Legacy Foundation, which was created in 2019. The foundation supports international sports events and sports development programs. The New Horizon Sliding Champions give Southeast Asian athletes opportunities to practice and compete to qualify for the Winter Olympic Games.
Hard work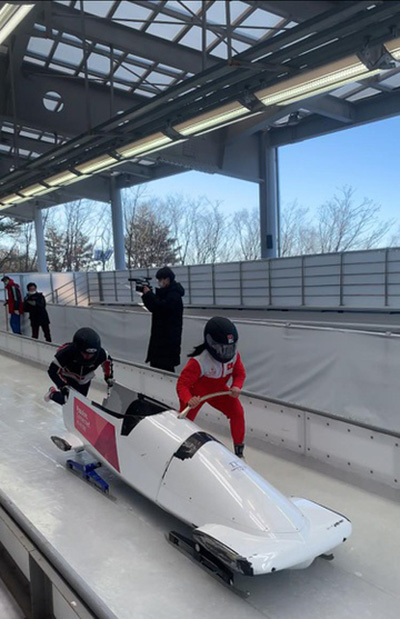 Tran Thi Doan Trang (right) has the most potential of all the bobsleigh athletes in Vietnam. Photo courtesy of Nguyen Dan An
An, who took a break from his job as an analyst with Boeing to focus on training, added: "We met with difficulties in the first day practising in South Korea because of the different way of training.
"It is like we learned a total new lesson. It was very tough but gradually I became more familiar with and adjusted to it."
Right now, the team are based on a mountain in Pyeongchang District which is 1,225m above the sea with a freezing climate and less oxygen which caused tiredness quickly.
"Language is another barrier that prevents us from doing the best job. But we got used to it," said An. 
 "Things are okay now. We all try our best although it is our first time living far away from home for such a long time since last September.
"It is also the first time we are not at home during Tet. I know everyone is sad and homesick but here we usually cook and party and have video calls home.
"We know how important this mission is and just want to give all we have to achieve the best possible results. It is exhausting but none of us will give up. The motivation is far greater than the hardship upon us. We will be home soon enough." 
The team have already tasted success, winning silver and bronze medals at a tournament last week.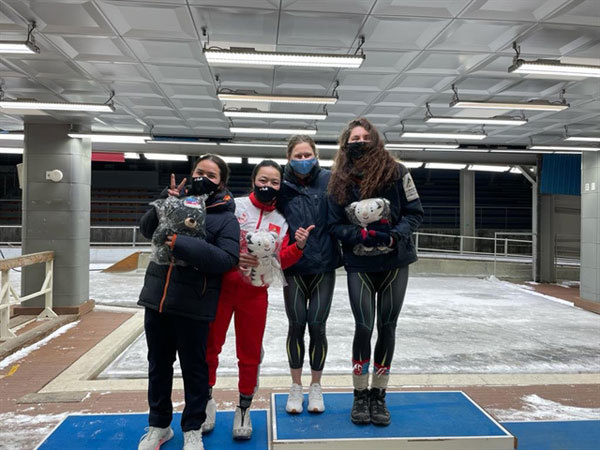 Tran Thi Doan Trang (second, left) and her teammate won a silver medal at a tournament last week. Photo courtesy of Nguyen Dan An
According to An, the result was good but it does not help athletes to receive points for international ranking.
The Olympic qualification tournaments will be organised from November to January 16, 2022. Athletes must compete in eight events on three different tracks and need to be ranked in at least five races on two different tracks during the qualification period.
"From the beginning, I knew my team can do well. After months of hard work, I think we have a chance to make it to the 2022 Games. Trang has the most potential one as she is a top athlete in the ASEAN based on her result (in South Korea)," said An.
To earn her slot, Trang who competes in the mono bob, a new event at the Winter Games, needs to be in the top 40 while the men's team must be in the top 45.
However, none of the Vietnamese players can take part in international competitions because Vietnam's membership application submitted to the International Bobsleigh & Skeleton Federation has not been approved.
The team will return Vietnam by the end of March and will do speed and strength training in the summer while searching for a chance to compete and sponsorships.
"I will build a sled on wheels in Vietnam to train and hope to obtain sponsorship from Boeing company next season," said An who added that the South Korean foundation will review the team's results and decide if they would continue investing next year.
"The sports are not well known to the general public. But they have been played for more than 120 years. Vietnam is a tropical country but so are Jamaica, Ghana and Nigeria who have competed in bobsleigh and skeleton for many years.
"I want to be Vietnamese bobsleigh representative at the coming Games. It would be an important participation of such a fast-growing country like Vietnam (to that competition).
"I believe that we, Vietnamese people, have the talent and physical aspect to be competitive in these sports. The most important thing is how bad we want to do it," said An who is still searching for more talented teammates. "I just also want to bring opportunities to the next generation." 
VNS

Nguyen Thi Oanh proved her status in Vietnamese athletics after she secured four gold medals in the four toughest categories of indoor events and set a new record at the recent National Athletics Championships.

The first Vietnamese athlete to clinch a spot in the country's 2020 Tokyo Olympics team, swimmer Nguyen Huy Hoang then suffered the disappointment of seeing the world's largest sporting event delayed by a year due to the coronavirus outbreak.