Hoang Ly is a Vietnamese visual artist, poet and editor. She earned an MFA at the School of the Art Institute of Chicago (SAIC), majoring in sculpture in 2013. She has exhibited widely in and outside of Vietnam.
Her sculpture Mật Mật Mật hay Những phân mảnh của Niềm tin (Honey Honey Honey or The Fragments of Trust) was bought by EMASI International Bilingual Schools to display at the EMASI Nam Long School campus in HCM City.
Nguyen Thuy Binh interviews her about career and the development of public art in Vietnam.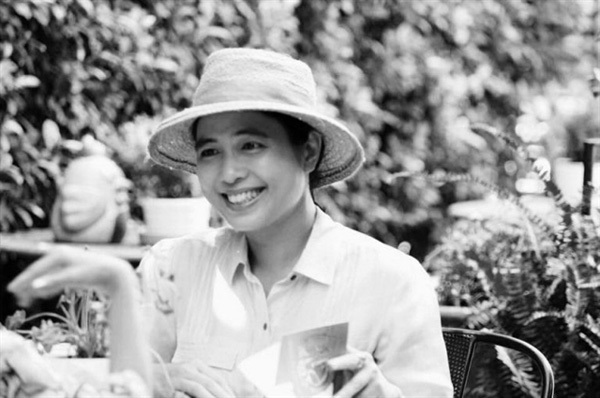 Artist Hoang Ly.
 
What does it mean to you to have your work bought for public display?
In Vietnam, many public sculptures are made by prominent artists on commission from the State or collectors to display in public or in resorts.
Mật Mật Mật hay Những phân mảnh của Niềm tin (Honey Honey Honey or The Fragments of Trust), in short Mật Mật Mật – Honey Honey Honey, is a conceptual artwork which is deliberately left open to human interaction.
Honey Honey Honey is my first work that viewers can no longer be passive onlookers but will actively participate in the artworks' realisation and become those who complete the purpose of the artwork.
It was placed in EMASI Nam Long School campus for students at different levels. They look and play with it. The school always welcomes people from outside to come in and look at the work.
I'm really happy because my work has become a part of daily activities at the school. Art nurtures the soul and dreams and encourages imagination and creativity. I love children and I believe that young generations will make the country better in the fields of economics, politics, culture and art.
Art and creativity help children improve themselves, creating a foundation for a humanistic and developing society.
How was Honey Honey Honey made?
Beginning in 2015, Honey Honey Honey included three editions and one artist's proof is a public artwork which belongs to an ongoing multimedia project with the same name.
The inspiration for the work came to me when I went to the northern mountainous province of Ha Giang with my mother. At that time, my mother had been diagnosed with cancer. I was very sad during the trip because I thought it would be the last time my mother and I travelled together. Luckily, the diagnosis was wrong.
I was also impacted by the Formosa disaster which polluted the sea in central Vietnam in 2016. The work was made in 2016 and completed in 2017.
Honey is mật in Vietnamese and has three meanings: the first meaning is honey or sweetness, the second meaning is bile, proverbial for its bitterness, and the third one is top secret or confidential.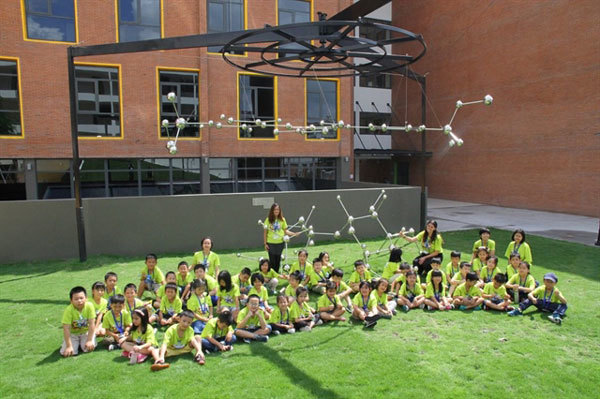 Mật Mật Mật hay Những phân mảnh của Niềm tin (Honey Honey Honey or The Fragments of Trust) was placed at the EMASI Nam Long School campus in HCM City. Photo emasi.edu.vn
 
The philosophical significance of the work is certainly difficult for students to understand. What does a public artwork need from the audience?
I think the important thing is feeling. I usually observe everything through the eyes of a child. When children cannot read they look at everything thereby deciding whether a thing is beautiful or ugly.
Later, if they really want to learn more about something they will ask questions. I hope the first experience of my viewers will be the same.
But contemporary art, including conceptual art, is no longer centred on the concept of beauty or ugliness. If there are works that the viewer does not like then it may be the concept of the work conveyed or the work reflects the mood and the mind of the viewer.
Honey Honey Honey is both conceptual art and interactive art. If it is separated from the context and without explanation, it is simply a nice block.
With this work, if you have a basic knowledge of chemistry you will identify the work in the shape of chemical molecules. When you are curious and dig deeper you will see that the sculpted block below is the most stable form of white sugar. The movable body above is the most sustainable form of yellow food.
I see the viewers, including adults and students, have been impressed by the work in two ways. Some of them said the work made them think about the stars and when they spin the molecules they seem to be lost in the stars.
Others find the molecules and wonder why they are molecules. But the important thing is that it makes the viewers curious and inspires them to interact without me or the guide board. When the viewers interact with the work it is activated and becomes fully meaningful.
What do you think about public art? Are there many artists working in public art in Vietnam?
Public art is composed by the need to express the thoughts, criticism and imagination of individual artists. It is not for collectors but for all the people who want to have interaction.
Public art is not only for people to see passively but also inspires people to have active interaction. Audience interaction will complete the work.
I was asked by curator Bill Nguyen and media producer Fabiola Buchele how I would define public art when they visited Chu Lai Open Economic Zone where the public artwork Thuyền Nhà Thuyền (Boat Home Boat) was being made and assembled at the Chu Lai – Truong Hai Company.
Besides aesthetics and concepts, which every artwork has, I think public art engages and opens the possibility of transforming space.
There is an important dimension of public art that incites and provokes audience interactivity, particularly towards the environment in which the artwork is placed and the location where the audience has come to view the work.
Public art serves not only to enhance a physical space but also to create conversations and discussions allowing viewers to take ownership of the piece in any way they see fit.
I hope that more and more Vietnamese artists will get involved in public art as well as the State and urban investment groups because public art is an integral part of modern cities.
You did performance arts in France, HCM City and Hanoi. How do people react to your performances?
I had durable performance art entitled Ôm Cây, Ôm Người Ta Yêu Thương, Ôm Chính Mình (Hugging The Trees — Hugging Your Loved Ones — Hugging Yourself).
It is a part of the multimedia ongoing project about Cây Và Di Sản Văn Hóa Thiên Nhiên (Trees and Natural Cultural Heritage). I initiated the project in 2015 in Plum Village in southern France to respond to Hanoi authorities' decision to cut down 6,700 trees.
I performed with 25 other people in Ton Duc Thang Street in HCM City from 4.30am to 7.30am at the end of March in 2016. The participants read my invitation to perform on Facebook.
At that time, nearly 300 big trees in the street were planned to be cut down to build the Thu Thiem Bridge. Today, the trees have been cut down.
With this project, I regard the road which we pass every day as a live museum/live stage or gallery of life.
Performers are people passing in the road. They are also audience members. The trees are audience members and performance artists because to me trees are people.
I placed the project's public art entitled Cây Ký Ức — Hy Vọng (Hope — Memory Tree) at the corner of Ton Duc Thang and Le Thanh Tong Street last December. It is the place of the last tree being cut down.
In 10 days, the work was interacted with by people who lived nearby and people who passed by. They posted their photos on Facebook before the work disappeared.
After five years of hard work, I'm planning to hold an official exhibition on Trees and Natural Cultural Heritage in HCM City in 2020.
I made another one, Xin Chữ Cho Chữ (Requesting Words - Offering Words) in Hanoi in 2015. I went under the rain and read Bình Ngô Đại Cáo (The Great Proclamation of Triumph over the Wu Dynasty) written by Nguyen Trai in 1427 to people in the streets. And I requested from them a word which they remember the most or they liked the most from the literary work.
I prepared a board for people's writing. Some of them told me that they didn't know how to write and I helped them write. Some of them were ready to give me words but others shooed me away.
Could you tell us about your recent work?
Recently, I attended the 9th Asia Pacific Triennial of Contemporary Art at La Moneda Culture Centre in Chile. The exhibition includes artworks by 19 artists from Asia-Pacific countries.
I brought to the event a painting series entitled Cảnh (The View) and installation No 21 Tro (Ashes).
I also introduced a model of Boat Home Boat at Việt Nam Culture Week - held for the first time at the Museu de São Roque and Santa Casa da Misericórdia de Lisboa, Portugal.
Museu de São Roque keeps and displays pieces of Vietnamese martyr Andrew Phu Yen's remains. He was the first Vietnamese martyr and young catechist to give his life for Christ.
The cultural week was held to celebrate the 100th year of the romanized Vietnamese script and pay tribute to Portuguese priest and missionary Francisco de Pina S.J. (1585-1625). He is thought to be the first person to romanize Vietnamese national language script.

Ly Hoang Ly is probably the first professional artist to exhibit her installation at a school in HCM City.
VNS