Amazing circus acts performed by artists nationwide will be presented during a circus festival held by the Viet Nam Circus Federation from April 27 to May 1.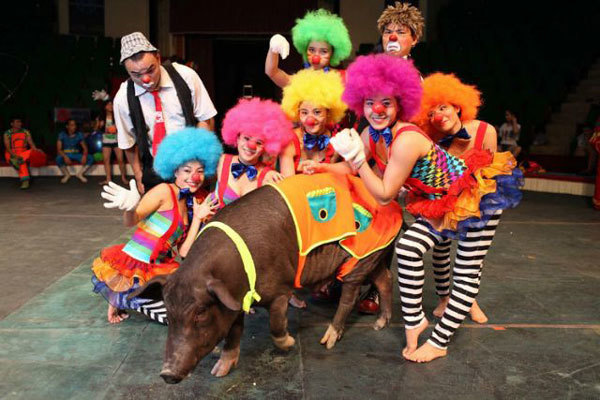 Circus acts performed by clowns and a pig promise to excite viewers during the summer. — Photo courtesy of the Viet Nam Circus Federation
Seven shows will take place at the Central Circus Theatre, 67-69 Tran Nhan Tong Street, Hanoi to celebrate World Circus Day (April 20).
"This is a gala event of circus performers from three regions of the country," said Ta Duy Anh, director of the federation.
"As many as 60 artists will parade on the streets and perform circus acts that have been awarded at home and abroad such as magic shows, acrobatics, unicycling, juggling and stilt walking."
Anh told Việt Nam News that the federation has been producing various programmes to meet the demands of audiences.
Apart from performances at the Central Circus Theatre, the federation also brings the shows to audiences nationwide with mobile theatres.
"Nowadays we face with many difficulties because many entertainment types have been adopted in Vietnam. We have been trying to produce more attractive programmes to bring the circus closer to people."
"The federation has received support from travel agents and event companies, they help connect us to a large audience," said Anh.
To celebrate 65 years since the Dien Bien Phu battle victory, the federation will host a show on May 5. Through the language of circus, the artists will revive the glorious victory over the French colonialism in 1954.
For young viewers on International Children's Day, the federation will present special shows from May 25 to June 3 with many acts featuring fairy tales and beloved figures for children.
VNS