An art show and concert commemorating the 129th anniversary of President Ho Chi Minh's birthday (1890-2019); 50 years of the country working to implement his will (1969-2019) and the Month for Children will be held in Hanoi on May 10.
Nha Rong Wharf – memorabilia storehouse of Ho Chi Minh's national salvation journey
Veteran spends 20 years collecting photos of Uncle Ho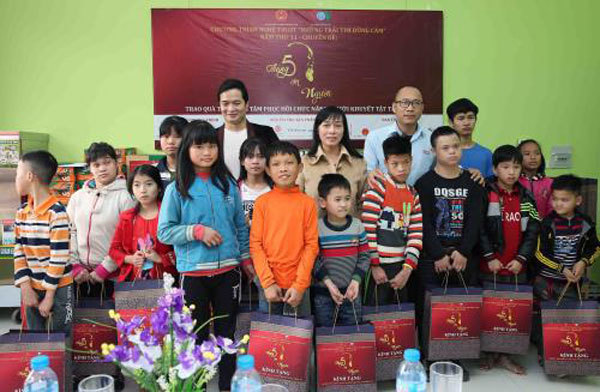 Organisers of the show present gives to needy children in Ba Vi District, Hanoi. Photo bnews.vn
The show is the work of the Ministry of Labour, Invalids and Social Affairs and national radio station Voice of Viet Nam.
The show is designed in the form of a poetic story, starting from the end of 19th century when Ho Chi Minh (then Nguyen Tat Thanh) departed from Nha Rong Wharf, in what is now HCM City, on a ship to go overseas to seek a way to liberate the Vietnamese people.
Various songs depicting his life dedicated to the country and people will be performed including Dấu Chân Phía Trước (Footprints Ahead), Miền Trung Nhớ Bác (Central Region Remembers Uncle Ho) and Bài Ca Hồ Chí Minh (Song on Ho Chi Minh) by well-known pop singers Trong Tan, Bui Le Man and Pham Phuong Thao.
Dozens of children from Ba Đình District's Culture Centre will perform two songs about their love for Uncle Ho: Em Mơ Gặp Bác Hồ (I Dream to Meet Uncle Ho) and Ai Yêu Bác Hồ Chí Minh Hơn Thiếu Niên Nhi Đồng (Who Loves Uncle Hồ More than Children).
At the show, the organisers will give grants to needy children in Ba Vi District in the western outskirts of Hanoi, and those in Thuan Thanh and Luong Tai districts of Bac Ninh Province and Nho Quan District, Ninh Binh Province. The total amount will reach VND500 million (US$21,700).
The annual show is the 11th of its kind. The organisers have used proceeds to provide free heart surgeries to nearly 100 needy children with inborn heart problems, build 20 houses for orphans, set up 1,000 savings accounts for needy children and victims of Agent Orange and give 9,000 gifts to poor children all over the country at total cost of VND25 billion ($1.1 million).
The show will start at 8pm at Au Co Art Centre, No 8 Huynh Thuc Khang Street, Ba Dinh District, Hanoi.
VNS