Preparations for the upcoming 8th Da Lat Flower Festival were underway and would be completed by November 30, according to officials.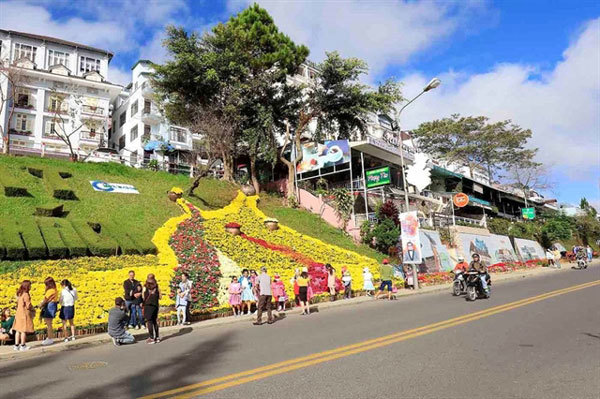 Le Dai Hanh Street in Da Lat. Themed 'Da Lat and Flowers', the biennial festival will take place next month in the Central Highland province of Lam Dong. — Photo dalatcity.org
Themed 'Da Lat and Flowers', the biennial festival will take place next month in the Central Highland province of Lam Dong. It will include various cultural, art and tourism shows to promote the city's image as the land of flowers.
The board announced at a press conference last Friday in Hanoi that this year's event would include 12 unique programmes, nine of which would be held in Da Lat City including the opening ceremony.
They will be accompanied by performances on large, 3D stages featuring local landscapes such as Xuan Huong Lake and Cu Hill.
They promise to have a special impression on visitors.
Flowers displays will be set up in central areas and five flower villages in Da Lat, aiming to convey messages about a "gentle, elegant and hospitable" city that is "safe, civilised and friendly.
Tran Thi Vu Loan, vice chairman of Da Lat's People's Committee, said the city was in final stages of preparing for the festival, which will take place from December 20-24.
Loan said the city was completing upgrade work on routes in the city centre, and fixing power supplies in where the event will take place.
"Preparations for the festival, including sanitation work and ornamental trees and plants, started in early 2019 with the participation of local communities. Flowerbeds and green trees have been nurtured in the central area where the main events will take place to prepare for the city to welcome both Christmas and New Year," said Loan.
A report from the organisers said Da Lat was a famous tourist destination, attracting visitors all year round, especially during cultural and tourism events, so regulations in this area must receive attention.
Details of services and prices should be mandatory, according to the report.
"If violations are discovered, authorities respond immediately," the report said.
Da Lat currently has about 24,000 hotel and guest rooms, catering for about 70,000 visitors per day.
The board has also implemented promotions focusing on improving local awareness of environmental protection and social security during the festival, stressing the need to prevent littering during and after the event.
It appealed to tourism agencies and companies to ensure visitors enjoy their time in the city by preventing overcharging and protecting the environment.
The highlight of the festival will be a Lam Dong Tea and Silk Culture Week to be organised in in Bao Loc District.
Speaking at the press conference, Le Trong Tuan, vice chairman of Bao Loc City's People's Committee, said the tea and silk culture week aimed to promote local trade, tourism and tea and silk production in the city.
The opening ceremony would feature the theme "B'Lao Shimmering Night", while the silk fashion show had been dubbed "Flying High-Rising Far". A workshop on the tea and mulberry industries associated with the socio-economic development of Bao Loc City would also be held, said the official.
A conference to promote links between vegetable and flower production, an international flower and bonsai exhibition, a Vietnam-Korea culture and art exchange programme, and a programme to honour Da Lat's architectural heritage are all on the agenda.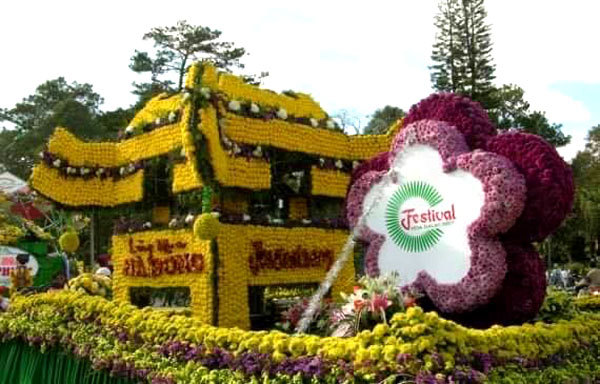 Flower displays will be set up in central areas and five flower villages in Da Lat. — Photo dalattrip.com

Ton Thien San, chairman of the People's Committee and head of the festival's organising board, said: "This will be the eighth festival Da Lat has hosted, and it's becoming known as the first festival city in Vietnam. It's helped to create great economic value and boosted the city's tourism development, honouring local horticulturists and encouraging the flower industry to grow."
"Over the years, the city's economy has grown by more than 10 per cent annually. The festival has attracted an increasing number of visitors. Last year alone, the city welcomed 6 million tourists while its population is between just 25,000 and 30,000 people," said San.
Lam Dong Province has a total area of 3,450ha of flower plantations for domestic use and global exports, with an output of 1 billion items per year.
In Da Lat City alone, about 5,000 households and more than 30 enterprises are engaged in supplying different species of flowers including roses, mimosa and orchids.
The Da Lat Flower Festival has been held every two years since 2005. It is regarded as an exclusive event that attracts large numbers of Vietnamese and foreign tourists.

The 8th Da Lat Flower Festival will take place from December 20 to 24 in Da Lat and Bao Loc cities, the Lam Dong province People's Committee has announced.

Bao Loc has a very cool climate so it is one of the lyrical destinations of the Central Highlands, besides the famous Da Lat.

Vietnam shipped to Taiwan (China) 14,200 tonnes of tea for over 22.5 million USD between January and September.
VNS