There are few things more attractive to the general public than a musical, and a genuine Vietnamese musical is an even more alluring prospect.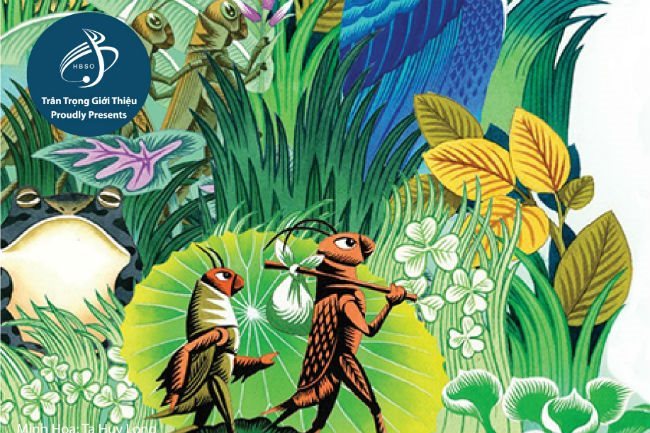 Diary of a Cricket's banner - PHOTO: COURTESY OF HBSO
Diary of a Cricket is a Vietnamese musical with a Vietnamese composer, based on a Vietnamese story, and both sung and spoken entirely in Vietnamese. It will be staged in a concert version by the HCMC Ballet, Symphony Orchestra and Opera (HBSO) at the Saigon's Opera House on Sunday, June 23, beginning at 8 p.m., and is likely to prove extremely popular.
The composer is Vu Viet Anh. Currently living in New Zealand, he is a master of the cross-over genre, composing both pop songs and orchestral and instrumental music.
His Sound of the Bells saw him awarded the title Talented Young Composer in 2007, his contemporary dance work Windows won him the Silver Medal at the National Competition of Voice-Dance and Music, and his compositions Sand Dunes and Golden received high acclaim in 2010 and 2011. Golden was Vu Viet Anh's first work for symphony orchestra.
Diary of a Cricket is based on a short story of the same name by the highly versatile Vietnamese writer To Hoai (1920 – 2014).
The work incorporates many musical styles, from jazz, rock and pop to the varied styles of Broadway musicals. When fully staged, it will offer all the visual possibilities of a modern theatrical piece, just as opera does in the classical tradition.
"I had the idea of writing a piece about the elements of childhood that persist in every adult," said the composer. "Then there are the themes that are contained in the original story – many of them alluding to problems that we face acutely today. There is the threat that humans pose to the natural environment, and the conflicts that exist within society, for example.
"And the greatest message is a call for a world at peace in which all misunderstandings are erased. Sometimes it seems that what we are searching for in all our life's adventures is already there at home, a peaceful garden by a pond."
Though performed in a concert version, the premiere of Diary of a Cricket had a very positive reception when it took place last December. The music combined an international flavor with the subtle rhythms of traditional Vietnamese folk song.
Taking part in this month's revival will be many celebrated HBSO artists such as Dao Mac, Ly Hoang Kim, Nguyen Duyen Quynh, Tran Thanh Nam, Phan Huu Trung Kiet and Vu Minh Tri. The HBSO Chorus and the HBSO Symphony Orchestra will complete the line-up.
The performance will be conducted by the promising young HBSO conductor Tran Nhat Minh.
Western musicals have for many decades, notably in the U.S. and the UK, succeeded in forging a distinctive style that is both popular and with its roots in aspects of the august classical tradition. Diary of a Cricket represents this style, but with strong Vietnamese elements added.
And although the work will be performed in Vietnamese, foreigners living in Saigon will also find much in the work to appreciate and enjoy, as they did at the initial premiere. SGT
Bradley Winterton