A draft of a national strategy for the development of Vietnamese culture to 2030, focusing on five key areas, has been compiled by the Ministry of Culture, Sports and Tourism.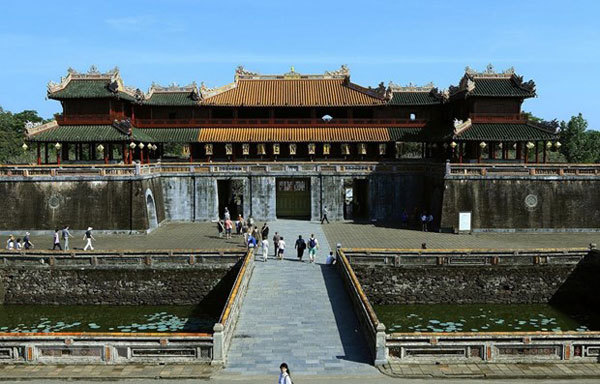 A view of the Meridian Gate, part of the Complex of Hue Monuments - a famous tourist attraction in Hue City, Thua Thien Hue Province. VNA/VNS Photo
These include the nature of culture; objectives of building and developing culture; motto, principles, and methods of building and developing culture; and the force that builds and develops culture.
"The setting of targets in the Cultural Strategy to 2030, including those in the field of cultural heritage, is very important and necessary for us to strive towards," said Do Van Tru, Chairman of the Vietnam Heritage Association.   
"First of all, it is necessary to come up with a solution to promote and prioritise investment for the world heritages that have been recognised by UNESCO."
"There are recognised heritages which have action plans but they have not been promoted well, or there is no action plan or solutions to preserve and promote values."
Tru also proposed preserving and developing national relics. 
The first priority, he says, should be to ensure that all special national relics are planned.
Priority should also be given to national relics in a state of serious deterioration and relics in remote and mountainous areas.
It is also necessary to have a roadmap for implementation in each specific stage and condition to ensure the implementation of that target is successful.
The strategy to 2030 also says that one hundred per cent of the provinces and centrally-run cities should have provincial-level museums.
This policy has existed for a long time and is necessary, he says. However, museum activities have not received much attention and investment. Many collections of artefacts of historical, cultural and scientific value have not been exploited and promoted to reach the masses.
The strategy should provide more specific tasks and solutions to promote the value of museums in the provinces and assign responsibilities to relevant units for implementation, according to Tru.
"The strategy also needs to take into account the practical bases of budget allocation for localities accordingly," said Tru.
One of the biggest challenges for Vietnam and other countries in the world is achieving a balance between development and preservation, according to Professor Truong Quoc Binh, former deputy-head of the Cultural Heritage Department.
"Heritage treasures bring economic benefits and other benefits to the nation and each locality," Binh said.
"However, it should be noted that heritages are the property of the nation and the people. Localities are given the right to manage them but not make profit from their revenue."
"Exploiting the value of heritage is reasonable and necessary but it is not possible to set the goal of making full use of heritage."
Public private partnership is an agreement between the State and private investors to jointly invest in public services and public works.
"The current public-private partnership in the field of cultural heritage in Vietnam still does not receive enough attention although this model has proven effective in other countries," Binh said.
Vietnam has more than 40,000 official relic sites according to the Law on Cultural Heritage including eight that are recognised by UNESCO. They are Hue Imperial City, Ha Long Bay, My Son Sanctuary, Hoi An Old Street, Phong Nha - Ke Bang National Park, Thang Long Citadel, Ho Citadel and Trang An Landscape Complex.
There are over 60,000 intangible cultural heritages including 13 heritages recognised by UNESCO.
Source: Vietnam News

Photos of the architecture of traditional Vietnamese villages are on display at an exhibition in Hanoi hosted by the Monument Conservation Institute.

The project to conserve and improve the special national relic site of the Dien Bien Phu Victory until 2030 has recently been approved by the People's Committee of the northern province of Dien Bien.