The drawings that have won prizes at the "European Characters in Vietnam" competition will be displayed at the German cultural center Goethe Institut in Hanoi from May 31 to June 2.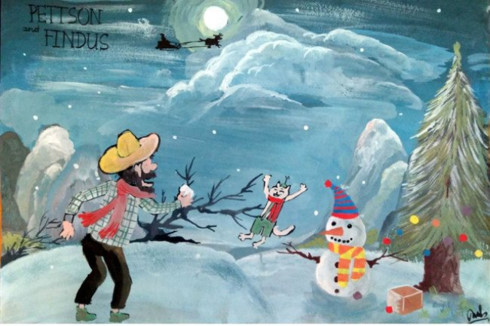 Nguyen Quynh Anh's second prize-winning painting features Swedish characters Pettson and Findus - Photo: Courtesy of organizer
"European Characters in Vietnam" is a creative competition which requires participants to illustrate and create dialogues for characters from European literary works.
It received about 1,500 entries and selected 108 best drawings (12 drawings per character) for the free-admission exhibition at Goethe Institut.
The characters include Don Quixote from Spain in the series "Don Quixote", Harry Potter from Britain in the series "Harry Potter", Heidi from Switzerland in "Heidi", Hero Smurf from Belgium in the series "The Smurfs", Hungarian person from Hungary in "Hungarian person", Medardo from Italy in "The Cloven Viscount", Le Petit Nicolas from France in the series "Le Petit Nicolas", Pettson & Findus from Sweden in "Pettson & Findus", and Puss in Boots from Germany in "Grimms Fairytales".
Duong Le Tue Minh from Nguyen Tat Thanh School won the first prize for his drawing titled "Conversation between Don Quixote and Sancho Panza" while Nguyen Quynh Anh from Ha Thanh High School won the second prize for her painting of Swedish characters Pettson and Findus.
Nguyen Duc Dai from Chu Van An School and Le Khanh Ly from Nguyen Tat Thanh School took the third prizes.
The competition aimed to inspire Vietnamese high school students to draw and write about European characters and improve their knowledge of European literary works. VNS

The 10th version of the European-Vietnamese Documentary Film Festival is set to take place in Hanoi and Ho Chi Minh city between May 31 and June 9.