An exhibition on the fashion industry opened in Hanoi to showcase, celebrate and support local designers and makers, as well as sustainable fashion brands.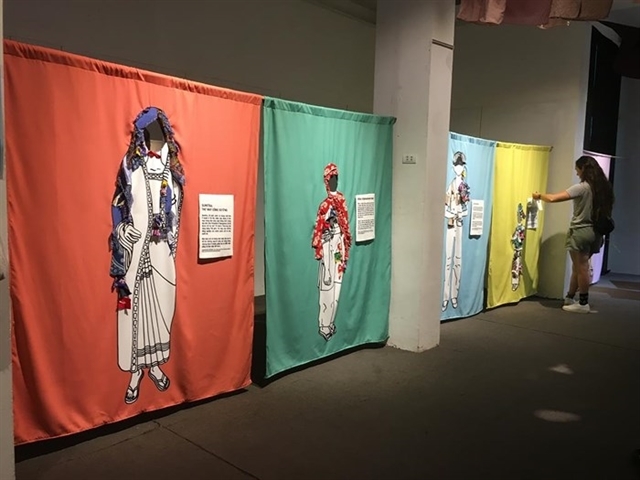 Visitors can experience a documentary photo series, inspiring short films calling them to action; to learn new skills through varied workshops, and visualise the impact of fashion through interactive installations. Photo courtesy of the museum
The exhibition is held in the framework of the global Fashion Revolution Week (April 22-28).
With the theme 'Who Made My Clothes?', the exhibition aims to raise awareness of the human cost and impact of the fashion industry, and to share actions everyone can do to help.
Talking about the exhibition, Ellen Downes, country co-ordinator for Fashion Revolution Vietnam, said it is held to honour local women who are revolutionising the fashion industry in Viet Nam and will provide tips and tools on how we can all help to make our wardrobes empower rather than exploit.
She mentioned the fact that fashion development and consumerism are growing rapidly. Too many garment workers, mostly women, are still underpaid, unsafe and mistreated, she said.
"We love fashion. But we don't want it to exploit people or destroy the planet," said Downes.
Fashion Revolution is a global movement that works for a more sustainable fashion industry. Fashion Revolution is a non-profit organisation with a presence in over 100 countries around the world. It is the first time the event has been organised in Viet Nam.
"Our vision is a fashion industry that values people, the environment, profit and creativity in equal measure. We do hope to raise awareness of the fashion industry's most pressing issues, advocate for positive change, and celebrate those who are on a journey to create a more ethical and sustainable future for fashion."
Featured businesses include Chula, Papa Shop, Gian Don Simple, Thao Nguyen Tailor and Chan Con Cong Vintage.
The exhibition displays installations by Eleanor Shipman, a documentary photo series by Lê Xuân Phong, British Council's Fashion Revolution short films series The True Cost directed by Kate Cox. All content will be in Vietnamese and English.
Participants also have a chance to join workshops on natural dyeing and drawing on white shirts.
The exhibition will run until April 28 at the Vietnamese Women's Museum, 36 Ly Thuong Kiet Street, Hanoi. VNS