Top singer Doan Thanh Lam released her new album entitled Nơi Gặp Gỡ Tình Yêu (Where Love Was Born) at her 52nd birthday in Hanoi last week.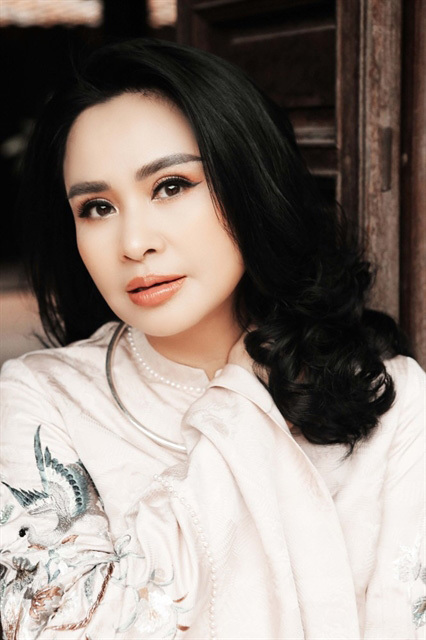 Singer Doan Thanh Lam. Photo courtesy of the artist
The album comprises 15 songs about love in wartime. This is her first album with these songs to dedicate to her parents - late composer Thuan Yen and traditional musician Thanh Huong. 
Tiền Phong (Vanguard) newspaper reporter Nguyen Manh Ha interviews her about the new album and her upcoming projects 
It's been a long time since you released new music. What can you tell us about the album?
I'm energetic for new ideas that I want to do. I will sing world music, have projects with indie artists and have a live show this year. 
The album has two CDs. It was arranged by Luu Ha An and Tran Thanh Phuong three years ago. 
It is difficult to make music. I need peace in my soul to sing well. Social distancing helped me calm down and the musicians were not busy. Finally, we recorded the album. 
This is the first time you have made an album with the theme of love in wartime. How did you manage to sing these songs?
When singing my feelings surge up and normally I relax. But with this album, my strong feelings were not as effective as usual. 
I had to carefully control my emotions to express old stories and my creativity in singing. 
Sometimes musicians ask me to sing again to meet their needs. They think that I put too much of my feelings into the song. However, it's fine. 
Was any song on the album especially difficult to sing?
There is a song that veteran Bao Yen and established Anh Tho sing well. I had never sung it. One of my friends suggested I sing the song because he likes it so much. 
It was not easy to sing this song because I didn't learn the notes by heart. I had to work with the musicians. They adjusted each note. When I sing right I put my feelings into the song. 
Another song was also difficult because it talks a lot about war. War is past already. I absolutely don't want to repeat lyrics about killing because I'm a Buddhist. 
I always pray to thank all people who sacrificed for a better life before I sing these songs. I know that all we have today came from loss and trauma.  
Why did you make the album now?
When I sing these songs on the stage I usually have a sacred feeling. These songs are strongly emotional and suitable for me. I haven't sung these songs because they are sung by other singers. 
They sing very well and I hesitate to sing. Life experience is very important. When I feel peaceful in my soul I can sing these songs. 
This was the right time for me to appreciate life and singing. 
Did composer Thuan Yen, your father, ask you to change your singing of his songs?
It was the easiest to sing my father's songs. He always pampered me and let me sing in my way. He wrote the songs based on central folk music. I sing these songs a little bit differently. 
I was taught by my mother to recite poems and sing folk songs. My father always played and sung folk songs at home for us. He sang low notes very well. I cannot sing well like him because I modernise folk tunes. 
I have been embedded with folk music thanks to my parents. It helps my singing style that combines modern and folk music. I'm not impacted by other artists from Thailand or Japan and even Whitney Houston. 
I want to say thanks to my parents who did not pressure me. 
I remember that sometimes I wanted to change the structure of the song and I made him angry. However, I convinced him. He believed I was knowledgeable enough to work to make the song popular. 
I think that discussions between us also helped him to make his songs more modern. 
You have a good background in folk music. Why don't you try singing world music or bolero?
An artist always wants to try different music genres. I like world music very much because it is free. Hopefully, I will have a world music project with my younger brother, musician Tri Minh. 
Bolero is very interesting. But I'm not good at singing this genre. To sing bolero needs gentleness but I'm too strong. 
Music helps me to express myself. I once suffered ups and downs in married life but I overcame it all with a strong will. 
For me, misery helps to open another opportunity. Bolero is really difficult for me to sing because it is always about sadness and depression. 
How do you keep growing as an artist after having success?
I learn from life, my colleagues and how they access the audience. I think that this helps me a lot. Sometimes, I need freshness from young colleagues. 
Recently, I listened to other music genres thanks to a friend of mine. He listens to young artists and indie bands such as Ngọt, Chilli and Da Lab. 
It changed my thinking a lot. Music doesn't need to be important. It is truthful and simple like a daily talk. 
I have an idea to work with young artists who are not popular. Hopefully, there will be a CD at the end of this year. VNS

An album of love songs by Vietnamese-American composer Lam Phuong, a famous artist in the south in the 1970s-80s, has been released in HCM City.