International filmmakers will hold workshops on cinematography during the Autumn Meeting, an international cinema event aimed at empowering young filmmakers in the region and providing opportunities for their projects.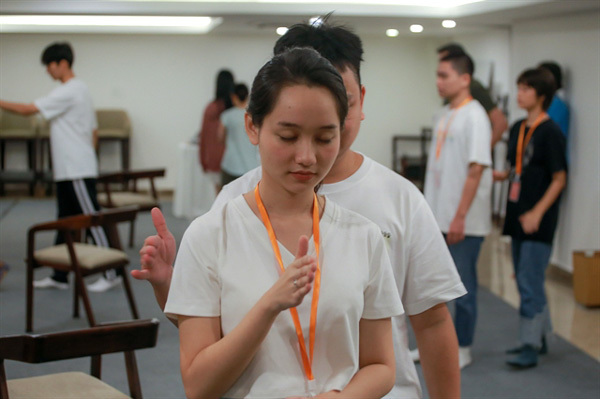 Actress Nguyen Truc Anh is seen at the Advanced Acting class in the framework of Autumn Meeting. — Photo courtesy of organiser
The seventh annual Autumn Meeting has opened in Hoi An and HCM City and will run until November 10, attracting more than 100 participants from Vietnam, India, Germany, South Korea, China, Japan, Cambodia, Thailand, the Philippines and Myanmar.
The event offers cinematic exchanges between international filmmakers and courses in basic acting, advanced acting, producing, directing, costume and design.
"It's for professional film producers and actors who have ambitions to develop their careers in cinematography," said director Tran Anh Hung.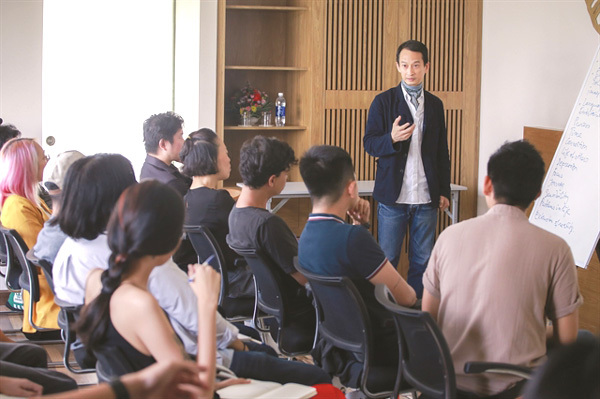 Director Tran Anh Hung holds a class. — Photo courtesy of the organiser

Hung is the only lecturer to have worked with Autumn Meeting since its first edition. He was an Oscar nominee and Cannes Camera d'Or winner in 1993 for Scent of Green Papaya. More recently, he directed the 2010 adaptation of Haruki Murakami's hit novel Norwegian Wood and Eternity (2016) starring Audrey Tautou, Berenice Bejo and Melanie Laurent.
Hung said he was happy to return to Autumn Meeting this year to inspire young directors from different countries.
"I'm happy to share, not only my knowledge and experience of making films, but also stories in my career and bánh mì (Vietnamese baguette), a delicacy of Hoi An," said Hung.
Hung started the class on November 3 with the question "What is art?" and the screening of The Dreamers, directed by Bernardo Bertolucci, starring Eva Green, as a way to help students find the answers for themselves.
Hung accompanied film producers and distributors who have significant experience and notable achievements in Vietnam and Asia to give the courses.
Other lecturers included actress Tran Nu Yen Khe (Eternity, 2016); French film producer Isabelle Glachant who directed Asian Shadow; South Korean actress Lydia Park (Hansel and Gretel, 2007); Thai producer Raymond Phathanaviranggon who has more than 20 years of experience in film production, and the founder of the Southeast Asia Fiction Film Lab (SEAFIC); Vu Phuong, an expert in the field of film marketing in Vietnam; and French actor Stephane Duclot (Vertiges, Boulevard du Palais).
The workshops attracted promising faces from Vietnamese cinema, including actress Nguyen Truc Anh who stars in Mắt Biếc (directed by Victor Vu); travel blogger Tran Quang Dai, actors Lanh Thanh and Vo Dien Gia Huy, who starred in Thưa Mẹ Con Đi (Goodbye, Mother) and actor Truong The Vinh.
Actress Anh, 21, hasn't been trained professionally, and that's the reason she attended the Autumn Meeting.
"Duclot's class is serious but not strained," she said.
"We learn to release our bodies and emotions methodically. I feel excited and elated with the lessons."
The Autumn Meeting also features sessions for young filmmakers to present their projects and seek investment.
Representatives from the World Cinema Fund, CJ CGV Vietnam, Vietnam Satellite Digital Television K+, Singapore Film Commision and Lorcano Film Festival's Open Door will attend the sessions.
Over the past five years, Autumn Meeting has provided opportunities for many film projects and young directors at international festivals. VNS

A special workshop located in District 9 in HCM City is creating Hollywood-style models of dinosaurs, ancient creatures and fictional characters that look so real they're downright scary.

Vietnamese filmmakers should focus on the editing process to avoid mistakes and professionalise their work, experts said at a seminar on the film industry held Tuesday in HCM City.
Minh Thu