Boxer Nguyen Van Hai will have a chance to show the world and his Australian opponent exactly who he is when he competes in his fourth professional match at the Victory 8 event in Manila, the Philippines, in May.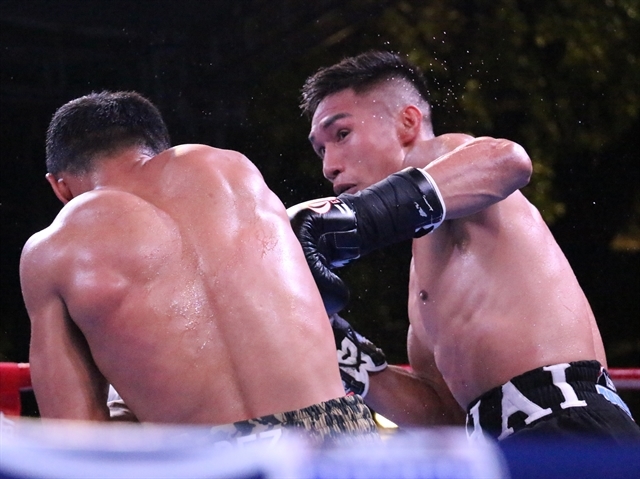 Vietnamese boxer Nguyễn Văn Hải (right) in action against Charly Suarez of the Philippines during the Victory 8 event in Hà Nội last October. Hải will fight for the WBC Australasian light welterweight title in May.
Hải, one of Viet Nam's top boxers, will fight Australian rising star Francis Chua for a World Boxing Council (WBC) Australasian title in the men's light welterweight (61-64kg) category.
The war of words for the bout has already begun, with the Australian asking: "who is this Nguyễn Văn Hải?"
The 10-round match is one of two core fights of the May 9 event which will feature nine other Vietnamese fighters.
Hải has recorded three wins in three pro matches with one knockout in his career. Chua meanwhile has bagged seven wins with three KOs in nine bouts, alongside one loss and one draw.
"To me, every match is important and I am always ready for all fights," said Hải who wants to inspire young boxers.
"I have researched and watched him carefully and I have had an overall grasp of what he's about. I'm really not worried about his experience and ability. I believe I will win this fight," Hải, who won a silver medal at last December's Southeast Asian Games in the Philippines, told Việt Nam News yesterday.

"I have spent a lot of time training intensively with my coaches while following a strict nutrition regime. That is all for the Manila bout."
Chua told the Victory 8 Facebook page: "I don't want to offend anybody here, but I am in this sport to fight the best. I didn't even know they did boxing in Việt Nam. It is the first time I have heard about it. I want to fight champions, but seriously, who is this Nguyễn Văn Hải?"
Speaking with World Boxing News, Chua said: "It's an exciting time in my career, and I see the Australasian title as a springboard for bigger fights. I don't know anything about my Vietnamese opponent, but I am sure that fighting him in Manila will be easier than fighting him in Việt Nam.
"For sure, I come to win and I expect to win, but will give him the respect that I give all my opponents. I will give the fans a great show," said Chua.
Asked about what Chua's comments, Hải said: "I consider what he said a challenge and it will be a strong push for me to win the fight. I, a Vietnamese boxer, am going to beat him. I will win to let him know Vietnamese boxers are as good as others in the world and who Hải is!"
Apart from Hải, Nguyễn Văn Đương, who secured a Tokyo Olympics berth early this month, will make his professional debut against Ariel Puton of the hosts in the men's lightweight (59kg).
Asian champion Nguyễn Thị Tâm, one of the top amateurs in the world, will fight Renz Dacquel of the Philippines in the women's flyweight (51kg). 
The Victory 8 event was first scheduled in HCM City but was moved to the Philippines due to the spread of COVID-19. It is currently scheduled to be held in a closed-door venue with a maximum of 100 spectators, with hopes 10 million people throughout Asia and beyond will tune in.
"We may have to do our event behind closed doors, but fans can be assured that this will be an amazing card of fights and that we will broadcast the show on the telecast and live stream," said Yến Trang, a Victory 8 spokesperson. VNS 
Other bouts at Manila Victory 8
Tạ Văn Thi vs Brendan Keer (England), men's cruiserweight (90kg)
Võ Thị Kim Anh vs Floryvic Montero (Philippines), women's flyweight (51kg)
Nguyễn Mạnh Cường vs Nathan Keers (England) men's light heavyweight (79kg)
Phạm Đức Đoàn vs Bobby Ibabao (Philippines) men's lightweight (61kg)
Vũ Thành Đạt vs Argie Toquero (Philippines), men's super lightweight (63.5kg)
Bùi Trọng Thái vs Lorenz Ladrada (Philippines), men's super bantamweight (55kg)
Nguyễn Văn Giỏi vs Richard Pumicpic (Philippines), men's featherweight (57kg).

Vietnamese boxer Nguyen Van Hai is scheduled to fight for the World Boxing Council (WBC) belt in a Victory 8 event which is scheduled to take place in the Philippines on May 9.

Boxer Nguyen Van Duong has become the fifth Vietnamese athlete qualified for competing in the coming Tokyo Olympics this summer.