Having missed a lot of chances, Hanoi FC tied 2-2 with April 25 Sports Club (4.25 SC) of the Democratic People's Republic of Korea in the first leg of the AFC Cup 2019 Inter-Zonal Final right on their Hang Day Stadium on September 25.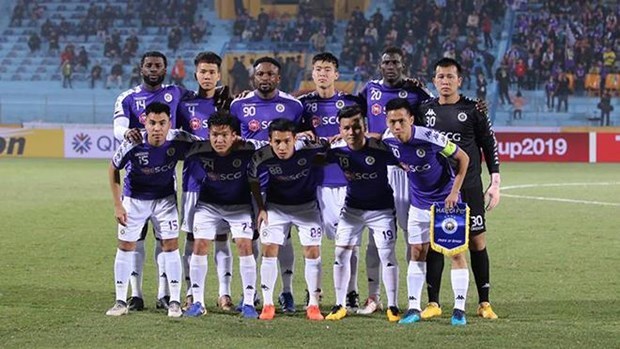 In the 3rd minute, Hanoi FC launched their first attack but could not go through 4.25 SC's defense.
In the 20th minute, in their first dangerous chance of the game, 4.25 SC got the away goal by captain Rim Chol Min from a messy situation in the box.
Right after conceding, Hanoi FC answered with a goal in the 21st minute. Papa Ibou Kebe sprinted powerfully on the right flank, past a few defenders of 4.25 SC and passed in for captain Nguyen Van Quyet to get a tap in. Although the opposition goalkeeper reached his hands on the ball, it still found the net.
In the 27th minute, Papa Ibou Kebe showed his great ball control as he received a lofted pass from Pape Omar and finished cleanly to get Hanoi ahead.
Two minutes later, 4.25 SC had a chance to equalise the score but the referee stopped their attack when he called for handball.
In the 37th minute, Pape Omar got a very good chance to extend the lead from a pass of Papa Ibou Kebe, but his shot stayed out the box.
Five minutes later, it was Pape Omar again with a chance on the left wing and once again his shot lacked accuracy.
Just one minute into the second half, Pape Omar had the third chance to score but once again he could not get the ball in.
In the 56th minute, Pape Omar scored, but the referee called off the goal because the ball touched his hand before finishing.
In the 87th minute, Nguyen Van Quyet lost the ball in the midfield and let 4.25 SC forward Kim Yu Song take a surprise shot from a very far distance that stunned goalkeeper Bui Tien Dung.
Hanoi FC dominated the game but still had to take the 2-2 draw as 4.25 SC got the away goal advantage.
Hanoi FC are ASEAN Zonal champions while 4.25 SC are the East Zonal winners. While it's the Vietnamese side's first appearance in the showpiece final, the DPRK side played in the same game last year, losing out to Altyn Asyr of Turkmenistan.
The two teams will play again in the second leg in Pyongyang on October 2./. VNA/VNN