Student Dang Viet Loc won first prize at a drawing contest held by the Centre for Scientific and Cultural Activities of the Temple of Literature.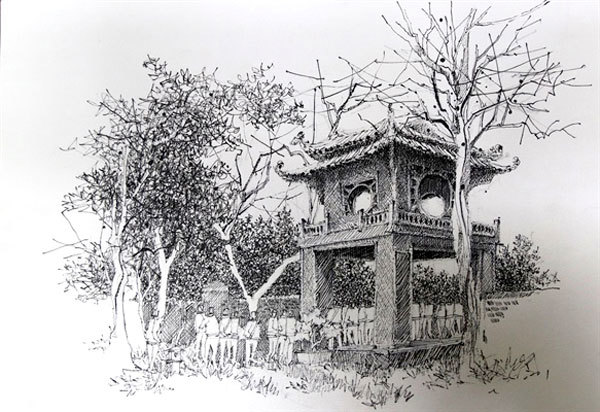 The winning sketch by Dang Viet Loc. 
Loc, from National University of Civil Engineering is honoured for his sketch entitled Khuê Văn Các (Khue Van Pavilion).
He was among the winners who received prizes in Hanoi last weekend.
The contest was launched two months ago by the Centre in co-ordination with UNESCO Office in Hanoi and the University of Civil Engineering aiming to show Hanoi's commitment to enhancing international co-operation among cities as a member of the UNESCO Creative Cities Network.
It was also an opportunity for students to show their creativity, feelings and viewpoints via sketches of the Temple of Literature's architecture, objects and statues.
Juror Tran Hau Yen The, lecturer from the Vietnam University of Fine Arts highly valued the creativity and talent of the contestants.
"The contest helps young students to express their feelings about the temple," he said.
"The drawings with a variety of materials and perspectives exploited the simple and familiar beauty of the historical relic which has fascinated tourists to Hanoi."
The contest received hundreds of entries which show different perspectives and beautiful angles of one of the most popular architecture in Hanoi.
They are very diverse, including Khue Van Pavilion, Van Mieu gate, Dai Trung gate, Thai Hoc courtyard, 82 doctoral steles - world documentary heritage, ancient trees and green spaces at the temple.
The organisers also awarded two second, three third and eight encouragement prizes to other artists.
"We hope that the contest will nurture a love for painting and popularise cultural heritage to the younger generation making contributions to traditional cultural value preservation and development," said the centre's director Le Xuan Kieu and head of organisation board at the awarding ceremony.
Apart from the awarded sketches, the organisers also selected 40 others which will go on display during the Lunar New Year.
The contest is helpful to fine arts students, according to architect Le Thanh Vinh, former head of Relics Preservation Institute.
"It is not only a drawing contest but it also a useful activity to promote heritage education and draw the young people closer to the heritage," Vinh said.
The Temple of Literature was built in the 11th century during the Ly Dynasty. It is known as one of the most important relics and popular tourist destinations, rich with history and culture of Hanoi.
It receives about two million visitors each year.  VNS

A book featuring more than 100 drawings about mutual understanding, tolerance and inclusion in the fight against COVID-19 was released on Thursday by UNICEF and the Ministry of Health (MOH).

An array of fantastic artworks made by students have been entered into a drawing contest launched by the Ho Chi Minh City University of Architecture, with lots of the pieces proving to be a heartwarming sight for viewers.