A monthly show on tài tử music has been launched by the HCM City Youth Cultural House on Sunday afternoon.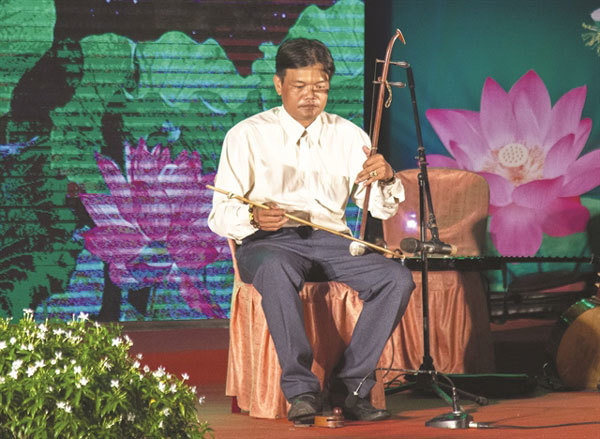 An instrumentalist performs on a cò (vertical violin with two strings) at the Kien Giang Province Tài Tử Music Festival in 2019. 
Ngày Hội Thầy Đờn (Day of Instrumentalist), which started on Sunday (March 8), is co-organised by the HCM City Television (HTV) and the Cultural House.
The show includes performances of tài tử music, vọng cổ (nostalgic tunes) and cải lương (reformed opera), and talks about the arts.
It features instrumentalists from 30 tài tử music groups from cultural houses in the city, who play traditional instruments, including the kìm (two-stringed guitar), cò (vertical violin with two strings), tranh (16-chord zither) and bầu (monochord zither).
The organisers will hold three special galas to celebrate the Reunification Day on April 30, Labour Day on May 1, and Vietnam Theatre Day on August 12 in the lunar calendar.
Director Thanh Bi, who initiated the programme, said: "Ngày Hội Thầy Đờn aims to help people understand the role of instrumentalists and brings the traditional arts closer to people and visitors."
Tài tử traditional music originated in southern Vietnam 100 years ago. It is the prototype for vọng cổ and cải lương, which is often performed during festivals and special occasions in the Mekong Delta provinces of Bac Lieu, Can Tho and Vinh Long.
The music is performed at traditional festivals, weddings and death anniversaries in the provinces of Can Tho, Soc Trang, Ca Mau and Bac Lieu.
In 2013, the music was recognised as an Intangible Cultural Heritage of Humanity by UNESCO. VNS

Circus and cai luong (reformed theatre) artists will combine to perform together for the first time in a recently launched project.

The Giay in Bat Xat district, Lao Cai province, have a rich culture that includes music and musical instrument. The Pi Le clarinet is a typical woodwind instrument of the Giay.