The HCM City Theatre Association on Friday granted awards to critically and publicly acclaimed theatrical works created in 2020 at an awards ceremony held in HCM City.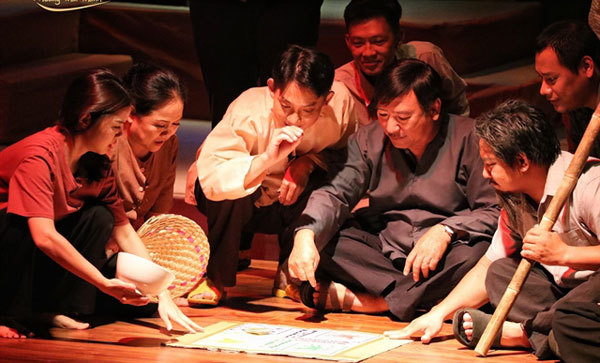 The Hoang Thai Thanh Drama Theatre's Mút Chỉ Cà Tha (Remote Isle) was awarded the A prize for best theatrical work in 2020 from the HCM City Theatre Association. File photo courtesy of the producer
The Hoang Thai Thanh Drama Theatre's Mút Chỉ Cà Tha (Remote Isle) was given the A prize for best theatrical work.
The play, written by Ngoc Phung and directed by Meritorious Artist Thanh Hoi, is based on popular writer Nguyen Ngoc Tu's short story Thương Quá Rau Răm about the life of people living on a remote isle called Mút Cà Tha, and their neighbourhood.
The association also awarded an A prize for the historical cai luong (reformed opera) play Lê Công Kỳ Án (Tales of Gia Định's Commander) produced by the Tran Huu Trang Cai Luong Theatre.
The play was written by Meritorious Artist and scriptwriter Huu Danh and Pham Van Dang, and directed by People's Artist Tran Ngoc Giau and Meritorious Artist My Hang.
The tragedy depicts the controversial life and death of Le Van Duyet, a national hero who contributed to the growth of South Vietnam in the 19th century.
In addition, the organiser gave B prizes for the dramatic play Búp Bê Không Biết Khóc (Dolls Don't Know How to Cry) produced by the Hero Film Entertainment Limited Company, and the circus play Mekong Show by the Phuong Nam Art Theatre.
A series of four short plays by the HCM City Small Theatre received a B prize. The plays include Keo của Kiệt (Miser), Tình Yêu Bùng Binh (Love at a Roundabout), Của Trời Cho (Gift from God), and Giấy Giới Thiệu Diệu Kỳ (Magical Introduction Paper).
People's Artist Tran Minh Ngoc, chairman of the HCM City Theatre Association, said: "All five theatrical works made a deep impression on audiences, and were highly appreciated by critics."
He said that amid the COVID-19 pandemic, theatres in HCM City have faced difficulties, but have tried to remain open and ensure the safety of the audiences. Directors found new ways of staging and invested a lot of effort to make the performances effective.
"We hope the awards contribute to creating more positive energy for theatres to continue staging new works in 2021," Ngoc said.  VNS 

For the first time, veteran theatre artists are on a par with young actors at the 2020 Mai Vang (Golden Apricot) Awards, one of the country's most prestigious art awards presented by Nguoi Lao Dong (The Labourer) newspaper in HCM City.