The HCMC Ballet, Symphony Orchestra and Opera (HBSO) will present an evening of chamber music, and other music for string instruments at the Saigon Opera House on May 4.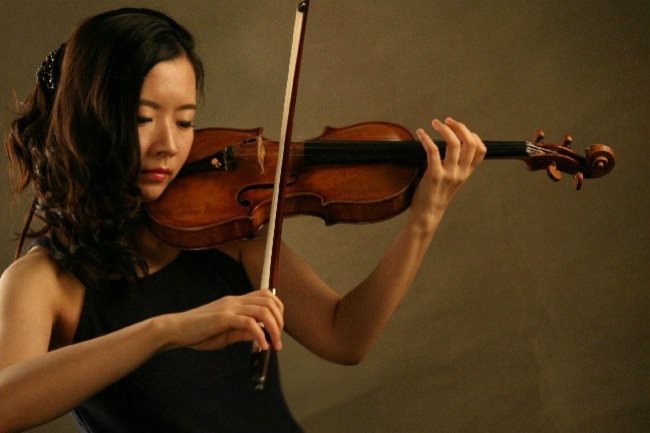 Violinist Kyungwon Baik from the National Orchestra of France is one of the artists that will perform at the concert - PHOTO: COURTESY OF HBSO
The featured composers are Mendelssohn, Brahms and Tchaikovsky, three of the greatest creative artists of the middle of the 19th century, the high point for classical music all over Europe.
Only string instruments - violins, violas and cellos - will feature in this special event.
The concert will feature guest soloists from the National Orchestra of France (L'Orchestre National de France).
First comes Felix Mendelssohn's String Symphony Number 4. This will be performed by the HBSO Strings Orchestra.
As well as his four symphonies for full orchestra, Mendelssohn wrote 12 "string symphonies", all written between the ages of 12 and 14.
Written at such a young age, these string symphonies are full of life-enhancing exuberance and inventiveness. Number 4 is in C Minor and lasts around nine minutes.
This will be followed by Johannes Brahms's String Quartet Number 2.
Brahms is not best known for his string quartets, but they are full of interest and re-pay repeated listenings.
Brahms waited to the age of 40 before publishing his first two quartets. He revered Mozart's six quartets dedicated to Haydn, and hoped to produce a smaller number of "passably decent" ones.
The second quartet is in the traditional four movements, with the last movement based on a Hungarian folk dance.
The first, third and fourth movements are in the key of A Minor, while the second is in A Major.
The soloists in this quartet are violinists Nguyen Hiru Khoi Nam and Kyungwon Baik, plus Emmanuel Blanc (viola) and Pierre Vavasseur (cello).
An intermission follows, after which there will be Tchaikovsky's String Sextet: Souvenir de Florence ('Memories of Florence').
It's sub-titled "Memories of Florence" because Tchaikovsky sketched one of its melodies while on a visit to Florence, Italy.
It is a work for two violins, two violas and two cellos. It has the traditional four movements.
The work was premiered in 1892, a year before the composer's death, aged 53, in 1893.
The soloists in Saigon will be Nguyen Huu Nguyen and Le Minh Hien (violins), Pham Vu Thien Bao and Vincent Filatreau (violas), and Pierre Vavasseur and Jerome Lefranc (cellos).
The phrase "chamber music" means music written to be performed in a room. "Chambre" is the French word for "room". Of course, it can also be performed in a concert hall or, as in the case of this event, an opera house.
Chamber music has the attractive characteristic of persisting across the ages even while other musical forms appeared to be dominant. It may not have been as fashionable in the mid to late 19th century as it was in the time of Haydn, Mozart and Beethoven, but composers continued to write quartets and sextets, as HBSO's exciting program demonstrates.
Tickets for the concert are from VND300,000 to VND650,000, with a special price for students of VND80,000. The event begins at 8 p.m. SGT