Hung Thinh Corporation yesterday signed a three-year contract to pay part of the salaries of head coach Park Hang-seo's as well his assistants.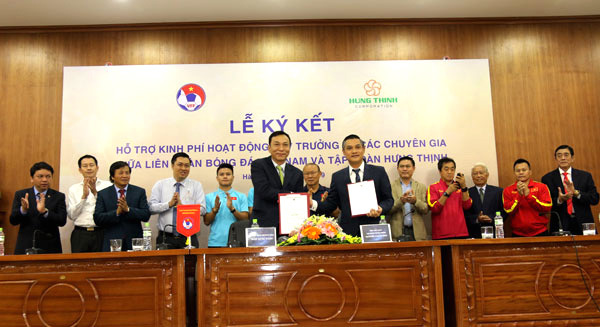 Vietnam Football Federation's Vice President Tran Quoc Tuan and Hung Thinh Corporation's vice chairman of board of directors Nguyen Van Cuong (right) at the signing ceremony in Hanoi on Tuesday. Photo courtesy of VFF
The deal was signed with the Vietnam Football Federation (VFF) in Hanoi for 2020-22.
The South Korean extended his contract with the VFF last week. His salary was not revealed but it is said to be about US$50,000 per month.
"Football is the king sport. Recently Vietnam's football has strongly developed and reached remarkable achievements which has inspired the whole nation, especially the youth," said Nguyen Van Cuong, Hung Thinh Corp's vice chairman of board of directors, yesterday.
"Park has played key role in guiding Vietnam national teams to a higher level. He has also created the team's unity and brought home brilliant victories, pushing Vietnam up in Asia and the world.
"Park deserves to enjoy a higher salary and it is Hung Thinh's honour to take care of part of the salaries for him and his assistants.
"I hope in the future, other enterprises will join hands to support the VFF and national football. I hope that with our help, Park and his teams will have more success, especially a berth in the 2022 World Cup and the SEA Games goal medal," Cuong said.
Hung Thinh Corp specialises in real estate with 17 years of experience. The company has been a regular sponsor for Vietnamese football.
Yesterday, the company representative presented the national team VND1 billion as promised after beating Malaysia 1-0 in their 2022 World Cup qualifying match last month. Midfielder Nguyen Quang Hai also received VND200 million for scoring the only goal of the match.

Park Hang-seo has extended his contract to coach Vietnam's national and U23 football teams until 2022.

Vietnam's national football team's head coach Park Hang-seo has been nominated for the title of Best Coach in the AFF Awards 2019, which will be held in Hanoi on November 8.
VNS