Japanese sculptor Mukai Katsumi never knew Vietnamese nature could bring him endless inspiration until he participated in an annual art residence project in the northern province of Vinh Phuc.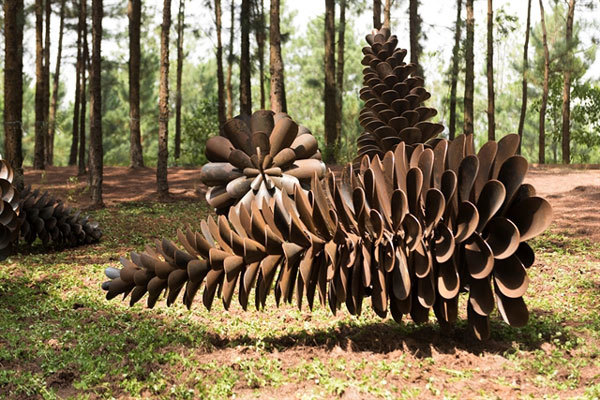 PRICKLY: Sculptor Floyd Elzinga from Canada created her artwork Potential in the shape of pine cones, which are "a symbol of revival and immortality". Photo courtesy of Vu Hong Nguyen
This is the third time the 83-year-old artist has joined Art in the Forest (AIF), a project initiated by artist Vu Hong Nguyen in 2015.
"In its fifth edition, we feel more energetic than ever to join hands to create a contemporary art museum for paintings and an outdoor sculpture park in Vietnam," he said.
Katsumi has won plaudits from both audiences and other artists thanks to his creativity and devotion to art.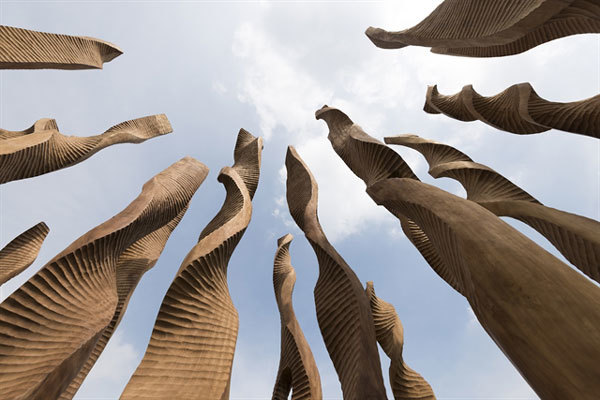 A sculpture entitled Sound of the Earth by Mukai Katsumi. Photo courtesy of Vu Hong Nguyen

In 2016, he created a 26-tonne sculpture made from iron wood, Forest of Sunlight, which was inspired by nature. In 2017, the Family sculpture was made with teak wood, inspired by people. This year, he presented Sound of the Earth, a combination of 12 wooden poles.
"People can come and feel the breeze blowing through the grasslands or the whispers of insects and flowers," he said.
"They can hear interesting sound by knocking on the wooden poles."
Aiming to create an art space to represent Vietnamese art development and connect international artists, painter Nguyen and Flamingo Holding Group launched the AIF at the Flamingo Dai Lai Resort in Vinh Phuc Province.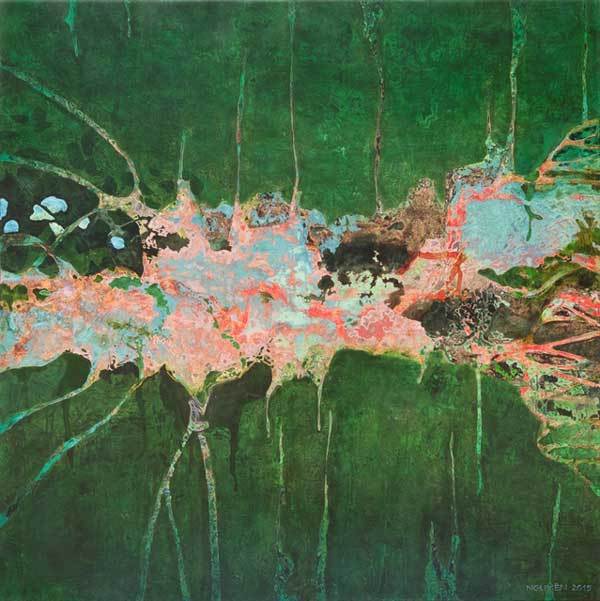 Mach Song (Vein of Vitality), a lacquer work by Vu Hong Nguyen.

The project has drawn many significant Vietnamese and foreign artists.
With the theme "International Lacquer Painting and Sculpture," the AIF 2019 features 68 artworks created by 17 international and Vietnamese artists, the largest number since its establishment.
International artists at the AIF for the first time include Ariel Moscovici from France, Floyd Elzinga from Canada, Jang Yong-san from South Korea, Sha Sha Higby from the US, Nobuyuki Takana from Japan, and Daniel Pérez from Spain.
Katsumi is one among several familiar faces who have participated in previous exhibitions, together with Vietnamese sculptors Dam Dang Lai and Le Lang Luong.
They will work for three months at the resort on their own projects and showcase different styles, telling their own stories and messages.
This year marks the first time a performing artist has been involved.
Higby wowed audiences with a performance at the opening of the AIF 2019 on October 26. She performed with a combination of sculptures made from paper, iron, fabric, wood and paint accompanied by dance techniques.
"I love creating those tiny beautiful things. My artwork is made up of numerous theatres. Each movement creates thousands of exciting narratives," she said.
"When I perform, I look like a moving theatre myself. It's special when I find inspiration from the sculpture of Katsumi. I turn his artwork to a stage for my performing art."
In her space at the AIF exhibition, Higby displays some installation works and videos.
Artist Nguyen couldn't hide his pride when talking about the AIF.
"We have spent half a decade to reflect Vietnamese contemporary art in the integration process," he said.
"The project is dedicated to bringing contemporary art closer to the public and create an admirable art space for the next generations.
"We hope to make it a cultural destination, an educational venue on aesthetics for now and for the future.
"After five years, now we have dozens of sculptures at large scales, galleries in colourful containers set up in the forests. The art space is well furnished with lighting, air-conditioners, glass doors and seats where visitors can stop for a drink and observe nature."
Art critic Nguyen Quan highly appreciated the quality of the art at the AIF exhibition.
"It's a great job, hats off to the initiator and artists involved in the project," said Quan.
"Many years later, when people want to contemplate good artworks of Vietnamese and international artists, they can come to the AIF exhibition," he said.
"In a space of pine trees, a beautiful lake and pure atmosphere, the artists expressed their unique ideas about human and nature with diverse styles.
"However, these artworks are not accessories which beautify the properties of the resort. They, actually 'live' in harmony with the nature and the surrounding environment.
"People don't look at the artworks only, they can knock on wooden sculptures to hear the sound, feel the coolness of iron and walk through an art installation. That's the way the artworks harmonise with people and nature." VNS

The 5th "Art in the Forest" (AIF) exhibition has opened in the lakeside area in Flamingo Dai Lai Resort, promising to bring audiences an impressive collection of the best in art.  
Minh Thu