The first International Magic Festival 2019 will open in HCM City next week to celebrate the 44th anniversary of Reunification Day on April 30 and Labour Day on May 1.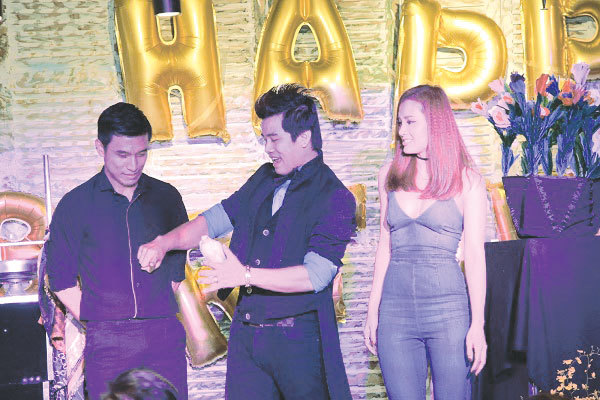 Magician Nguyen Tuan Minh of HCM City will introduce his art at the first International Magic Festival 2019, which opens in HCM City on April 26. — Photo by Ngoc Han
The event is organised by the HCM City Youth Cultural House and MTV Magic Company, in co-operation with the USA-based International Brotherhood Magicians (IBM) and International Magicians Society (IMS).
It is expected to attract dozens of veteran and young magicians from many countries, including Malaysia, Thailand, Indonesia, India, China, Japan, the Philippines and the US.
Featured artists will be Tony Hassini of the US, Shoot Ogawa of Japan, Wilson Lai of China, Lee Jei Min of South Korea and Cassidy Lee of Singapore.
Ten young artists from state-owned and private art troupes from Vietnam will also be featured.
Many performances of variuos magic styles will be staged during the three-day event.
"I hope the festival will attract crowds so that magicians can develop their art," said magician Nguyen Tuan Minh of HCM City, a member of the IBM and IMS, who will perform at the festival's closing ceremony on Sunday.
Minh began his professional career in 2010 and has won several prizes at local and international circus festivals.
"The tastes of Vietnamese youth now are Facebook, Instagram, video games and cinemas. Circuses with acrobats and clowns and magic shows have taken a back seat," said Minh.
"For only a 15-minute performance on stage, magicians have to sometimes spend a decade practicing the circus routine," he added.
In 2017, the HCM City Magic Club opened, and since then, has attracted more than 40 magicians, most of whom work for traditional art theatres and circus troupes.
The club offers shows and training for children and teenagers, while poor students and children from open houses and shelters receive free courses.
Last year, two rural magicians were honoured at the 3rd National Magic Festival 2018 in HCM City.
Magician Le Tuan Anh of Quang Tri attracted crowds with his performance in a show called Một Thoáng Hương Chăm (A Flavour of Chăm Culture).
He used female dancers in Chăm clothing to dazzle the audience.
Tran Vinh Thinh of Ben Tre entertained his fans with magic tricks using hats, cards and doves.
Both shared the Golden Medal with three artists from HCM City and Hanoi, after beating 33 artists from 16 State-owned and private art troupes during the event.
The first International Magic Festival 2019 will open on April 26 at HCM City Youth Cultural House, 4 Pham Ngoc Thach Street, District 1.
VNS
RELATED NEWS
National Magic Festival 2018 to open in HCM City
Provincial artists honoured at National Magic Festival 2018