A web drama series on love and family issues starring famous actors including comedians in HCM City will be released on YouTube next week.
People's Artist, theatre actress and director Hong Van perfoms in Mẹ Mẹ Con Con (The Game of Love), a web drama series featuring love and family issues. The work will be on YouTube on December 17. Photo courtesy of the producer
The show, Mẹ Mẹ Con Con (The Game of Love), focuses on the features of a wealthy family.
Its story is a long journey of reparation as the mother of young businessman Nhan tries to make things right with her only son. The tumultuous relationship between mother and son, siblings banding together through trials and tribulations, and children never giving up on their parents, are highlighted.
The film stars famous theatre actress Hong Van as Nhan's mother. 
Van performs with young artists such as Vo Dang Khoa, Kha Nhu and Kha Ly, graduates of leading art schools such as the HCM City University of Theatre & Cinematography.
Veteran comedians Minh Nhi and Dai Nghia are also featured.
"My young colleagues helped developed my career in a new and very different way from my path. I wanted to try a new form by using YouTube to expand my art among young people," Van, who is also a theatre director and producer, said during the film's launching ceremony in HCM City. 
"I believe releasing web dramas on YouTube is a good way to save money on production and province audiences with art."
Van began filming after the second part of her first web drama, Đại Kê Chạy Đi (Run Run, Đại Kê), was released on YouTube in July. The work revolves around the daily life of a sick mother, a chicken seller, and her adopted son named Dai Ke. 
The film's first part, released in April, earned more than 25 million views for six episodes, while the second part of nine episodes has attracted 245,741 views. 
Đại Kê Chạy Đi helped increase the number of subscribers to Van's YouTube channel, Hong Van Entertainment, to 593,000 from 300,000.
"Van's film offers useful aspects to audiences, particularly youth, after the laughter," said Tran Manh Tan, a fan of Dong Nai Province.
"Our film, Mẹ Mẹ Con Con, highlights traditional values in the family in urban life. We decided to launch the film before the Tet (Lunar New Year) holiday because we hope young audiences will think about their family after watching," said Van, who has been in the industry for 30 years.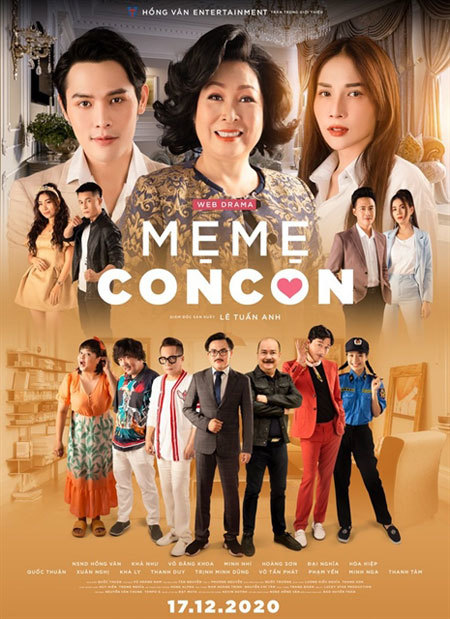 The poster for web drama Mẹ Mẹ Con Con (The Game of Love), a new production by director Quoc Thuan, starring famous actors from HCM City. Photo courtesy of the producer
"We have worked hard to make each episode a lesson with images, sounds and music that provides audiences with ideas about their traditional culture and lifestyle," the 54-year-old said. 
Van began her career as a theatre actress at the HCM City 5B Small Theatre after graduating from the HCM City College of Theatre & Cinematography (now HCM City University of Theatre & Cinematography). 
She now owns two drama troupes, Hong Van Drama Troupe and Phu Nhuan Drama Troupe, both leading private theatres in the region. Her troupes have offered training courses in performance skills targeting young talents over the last eight years.
The first episode of Mẹ Mẹ Con Con, directed by Quoc Thuan, will be released on YouTube on January 17. VNS
Thu Anh 

Idol Tỷ Phú (Millionaires), a new web drama featuring urban youth, has been released on the POPS Drama channel and POPs entertainment platform.

Even after dozens of years, family-oriented dramas continue to be supported by most TV viewers.