Choi Si-won, a member of the boy's group Super Junior of South Korea, will join UNICEF's #StopBullying campaign in Vietnam.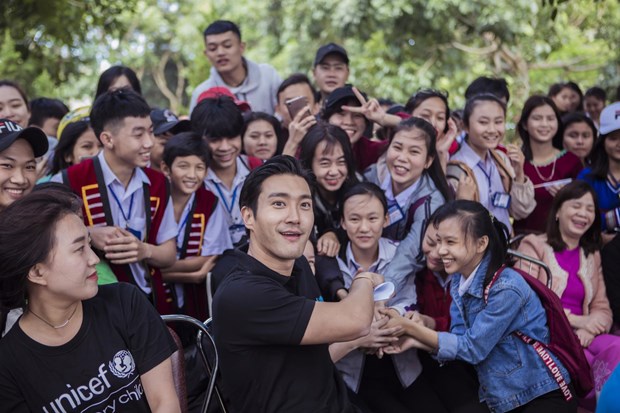 RoK artist Choi Si-won (centre, first row) at an event of UNICEF in Vietnam (Photo: UNICEF Vietnam)
The campaign looks to raise awareness of young people on bullying and to engage them on how to develop solutions to end this problem.
It will be Choi'sthird visit to Vietnam and this time he will be accompanied by actor Park Jae-min.
As part of thecampaign, the artists will join school children in the central city of Da Nangon October 2 to discuss issues related to violence against children, includingbullying.
They will also attenda music concert performed by school children in an effort to promote thepositive role of learning music at school.
At the UNICEF YouthTalk, the artists will listen to Da Nang students talk about how bullying isaffecting them and what form of support they need from their peers, caregivers,teachers, school personnel, and the community to feel safe.
The event is also toinspire young people across Vietnam to speak up about bullying and to findsolutions together.
The same day, the "Forevery child" music concert will bring together 50 children performing on stage,including children with disabilities, to highlight how music providesopportunities for children to find their talent and to grow their ability toexpress themselves in different ways.
UNICEF Representativeto Vietnam Rana Flowers said with the kick-off of the #StopBullying campaign,UNICEF seeks to hold schools accountable for creating a zero tolerance toviolence approach, as well as encourage all children to stand together, tospread kindness not abuse, to take actions that promote support and caring intheir schools.