LS Holdings Group will sponsor both national V.League 1 and V.League 2 tournaments in the 2020-21 season.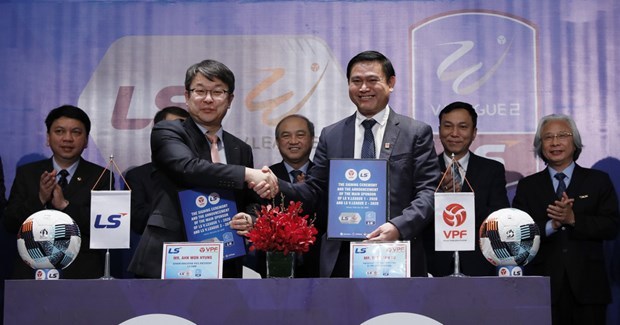 VPF Chairman Trần Anh Tú (right) and LS Holdings representative Ahn Won Hyung at the contract signing ceremony in Hà Nội. — Photo of VFF
The South Korean group on Thursday signed two one-year contracts with the Việt Nam Professional Football Company (VPF) in Hà Nội.
Further details of the contracts were not revealed. But LS Holdings representative Ahn Won Hyung said the two sides had worked together to develop a suitable budget for the tournaments. The contracts are valid for one year, but LS Holdings pledged to have a long-term support plan for Việt Nam's football.
It is the second year in a row that LS has supported the premier league V.League 2, while it is the first year for the V.League 1, which will be named LS V.League 2 and LS V.League 1, respectively.
The V.League 1 will gather 14 clubs and there are 12 in the V.League 2. These competitions will kick off in early March, several weeks later than schedule due to the ongoing coronavirus outbreak.
LS Holdings is one of the biggest manufacturers of electrical equipment, electronics, energy and materials with their products available widely around the world, including in Việt Nam. — VNS