Mao bookstore is the oldest bookstore on Dinh Le street, associated with the childhood of generations of Hanoians.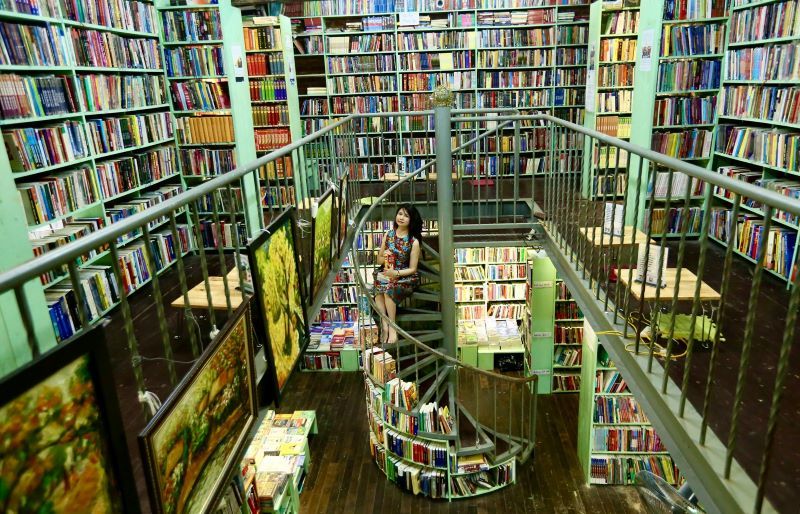 Stepping into Mao Bookstore is like straying into another world of color and text. Books are everywhere, on the table, on the shelves, and on the stairs up to the rooftop, readers could stay here all day long for their reading passion.
Starting with just a small table offering books at the intersection of Dinh Tien Hoang and Dinh Le streets in the 1990s, the married couple, Pham Thi Mao and Le Luy, are considered the "founders" of the busy book trade in Dinh Le street today.
The bookstore of memories
After a few years, they bought a small apartment on the second floor at No. 5 Dinh Le to open Mao Bookstore. "It was just like yesterday," Mao said. "There were only a few state-owned bookstores in the early 1990s so we decided to open a private one."
Along with cooperating with publishing houses, the couple also partnered with printing companies to publish many books, contributing to the diversity of the bookstore and attracting different kinds of readers.
Among them, one of the most notable books was "Almanac - The world civilizations" which was always sold out when it was released and republished, according to Mao. More and more readers came to Mao Bookstore and others were inspired to copy the business model in the place, making it the busiest book street of the city today.
At the bookstore, you are surrounded by thousands of books. On the right and the left, over the head and on the floor, you can pick a book right next to you with one finger. Book genres are diverse, from classic international and Vietnamese fiction and non-fiction publications to the world's best sellers, textbooks, kid's picture books, anime and English books.
"Back in the 1990s, I found many books that I couldn't find at other bookstores. Moreover, Mao is always nice. She helps me find the book I need. She even placed order books which are not available at the shop for me as well as recommends new ones," he told The Hanoi Times, "Moreover, the prices here are also cheaper than other places."A bookworm, Tran Binh, a 65-year-old retired teacher, usually goes to different bookstores in the city to search for his favorite books. He came to Mao Bookstore from the first days of its opening and since then has become a loyal customer.
Meanwhile, Huong Giang, another 35-year-old loyal customer of Mao Bookstore, recalled first visiting the place when she was just seven-year-old when her parents brought her here to buy her first Doraemon manga copies.
"Since then, whenever I need a book, I come here. It's not only a normal bookstore but also a childhood memory. Mao and her husband have also known me since I was a little girl. They are like my relatives," she told The Hanoi Times before adding that she had a bookshelf at home where most of the books were bought from Mao Bookstore.
A new reading destination
Recently, Mao Bookstore has been renovated, adding a new reading corner for customers inside the bookstore. "The goal of the renovation is to create a nice old space which maintains the 1990s' style of the house and the bookstore and provides more area for books so that customers can look up more easily, as well as offer a good free reading place for book lovers," Le Ngoc Anh, daughter of Mao and Luy said.
Accordingly, the bookstore turns into a special library, attracting more and more people every day, especially young people, thanks to the fine architecture and decoration.
One of them, Thuy Anh, a 21-year-old student of Hanoi University, said that she usually came here on weekends to see newly-released books, or just brought one with her to read here.
"I like the vintage space of Mao Bookstore a lot. I feel like I'm turning back time to another world of the past. The spiral staircase in the middle of the store also makes it more stylish than other bookstores around. I also enjoy sitting there reading or taking selfie photos with my friends sometimes. It's very tranquil here and I love the smell of books as well," she told The Hanoi Times.
Decades have passed by and Mao Bookstore has been still a favorite address for bookworms to discover the world of knowledge or look for a tranquil place to escape from the busy life out there.
Source: hanoitimes
President of Venezuela Nicolas Maduro has invited Vietnam to attend the 17th International Book Fair of Venezuela (FILVEN 2021) as a guest of honor.