Truong Ngoc De has become the first Vietnamese martial artist to attain the Black Belt's ninth dan, the highest level in taekwondo.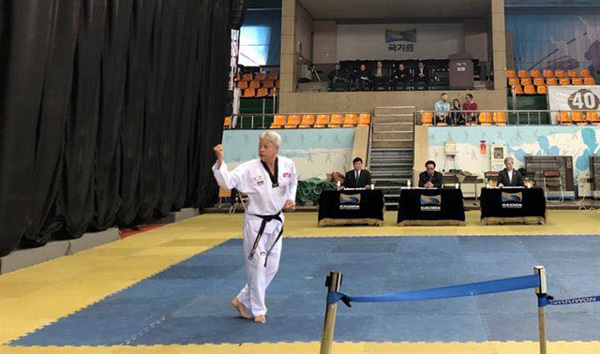 Master Truong Ngoc De presents his performance at the promotion test. Photo vothuat.vn
Vietnam Taekwondo Federation President De passed his promotion test at the Kukkiwon, the World Taekwondo Headquarters and home of the World Taekwondo Academy, in Seoul, on Monday.
The 62-year-old is also the first non-South Korean master earning this dan to date.
Another Vietnamese Nguyen Thanh Huy, the national team coach, also successfully took his eighth dan certificate, together with six other masters from different countries.
Participants must take park in performance test and present their thesis about the martial art.

Vietnamese martial artists have won 35 gold medals after three days of competition at the 2nd Asian Open Taekwondo Championship held in HCM City on August 17, the final day of competition.

Vietnam won a gold, silver and bronze medal at the Roma 2019 World Taekwondo Grand Prix which closed in Italy on Sunday.
VNS