Nguyen Phu Nguyen's sparkling form has helped Hai Phong FC become the surprise V.League 1 leaders as the season is paused due to the pandemic.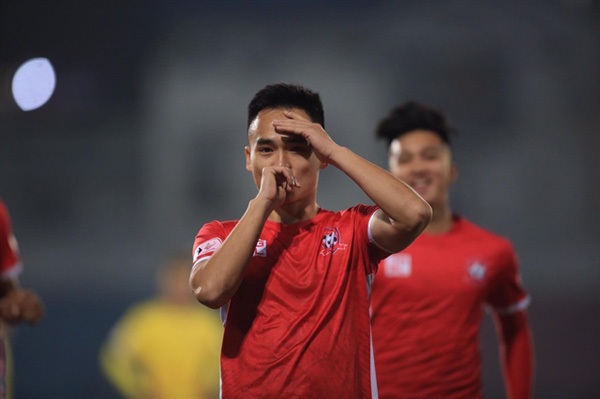 Midifielder Nguyen Phu Nguyen of Hai Phong celebrates his goal against Nam Dinh in the V.League 1. Photo bongdaplus.vn
The midfielder struggled to make an impact for Song Lam Nghe An (SLNA) but has shone for the northern port city team.
In their only two matches so far this season, Hai Phong defeated defending champions Viettel 1-0 and beat Nam Dinh 3-2 to rank first with six points in the top-flight. 
Good start
At the beginning of this season, the 25-year-old player moved to Hai Phong, but little was expected of the player as he didn't impress when on loan with the team in 2019.
But the second time he returned to Hai Phong, he won the trust of coach Pham Anh Tuan and has shone as a left midfielder with goals against Viettel and Nam Dinh.
In the victory against defending champions Viettel at Hang Day Stadium, Nguyen scored the only goal of the match by netting the rebound after Andre Fagan's shot was saved by goalkeeper Tran Nguyen Manh.
In the match against Nam Dinh, the former SLNA player added a goal to a classy performance in midfield.
With his dynamism and agility, Nguyen has helped Hai Phong's attacks become sharper and more unpredictable. Especially, when the foreign duo Diego Fagan - Jeremie Lynch is tightly blocked, Nguyen is a powerful and unexpected player of the team. 
Difficult time
Nguyen was a key player for SLNA when the side won the National U17 Championship in 2012 under coach Ngo Quang Truong.
Seeing Nguyen's good performance for the U19s and U21s, coach Nguyen Duc Thang selected him to compete for the senior SLNA squad in the 2016 V.League 1 season.
In his first season at the senior level, Nguyen played four matches and contributed one goal to SLNA.
However, in the following seasons, Nguyen was rarely used by coach Thang and only appeared in the V.League 1 2017 once and V.League 1 2018 twice.
The midfielder struggled with consecutive injuries and didn't have many opportunities to show his abilities. Even when coach Truong took over the senior SLNA team, Nguyen still couldn't secure a regular spot in the team.
In 2019, Nguyen moved to Hai Phong on loan contract but struggle for minutes, only making four appearances.
A year later, he returned to SLNA but was deemed surplus to requirements, despite being in good physical shape.
Midfielder Nguyen Phu Nguyen is playing well in the jersey of Hai Phong. — Photo www.baogiaothong.vn
Chance
Coach Park Hang-seo of the Vietnamese national team has complained about the lack of opportunities for young Vietnamese players in the V.League 1, particularly in attacking positions.
Nguyen is one example of an attacking player who has taken a rare opportunity and ran with it. Just how far he can take it is up to him.  VNS
After a long postponement due to the COVID-19 pandemic, top-flight league football in Viet Nam returned yesterday.