Talking about traditional Vietnamese clothing, people often think of the "ao dai" or "long dress" which embodies Vietnam's rich culture and history.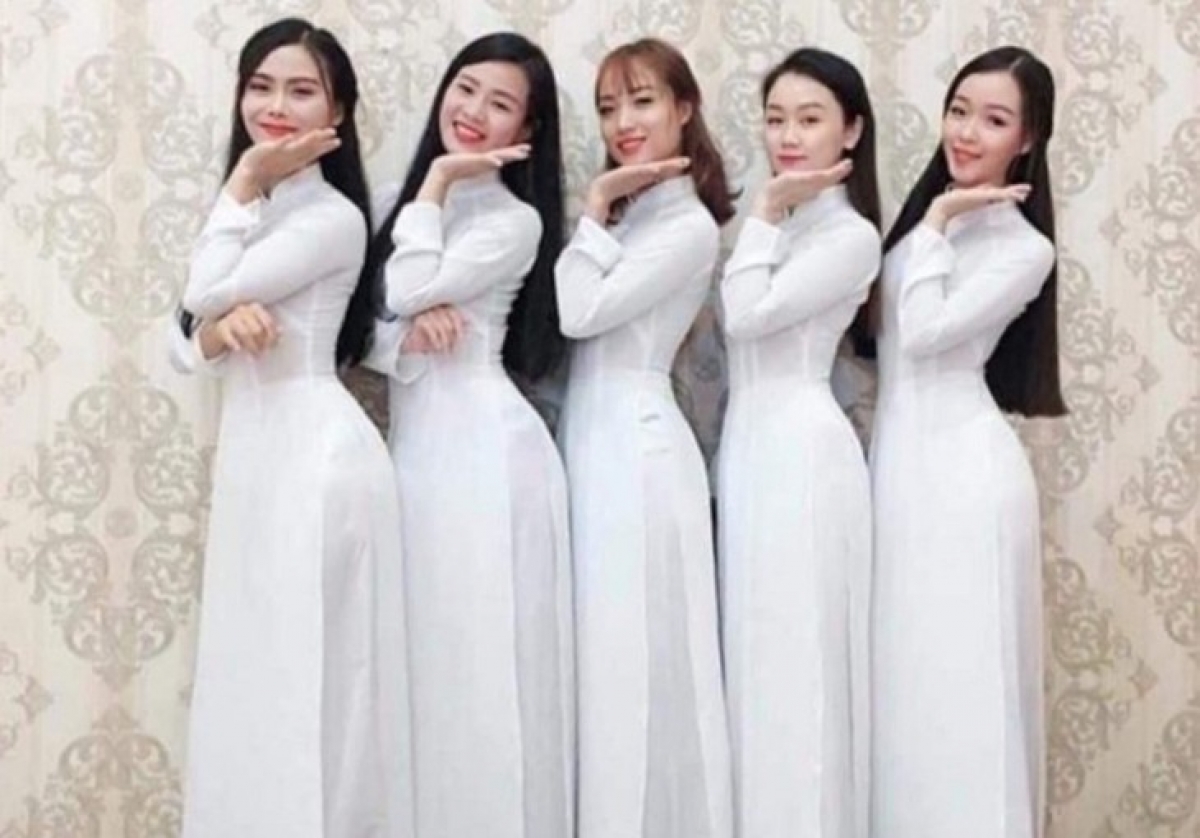 The traditional attire has been treasured and promoted from generation to generation and more should be done to preserve and develop it in the future.
The ao dai is Vietnam's national garment, worn by both men and women, but now most commonly worn by women. It evolved from the "ao tu than", a four-paneled aristocratic gown, worn by Vietnamese women long before the "ao dai". In its current form, it is a long, split tunic dress worn over trousers, fitting the curves of the body by using darts and a nipped-in waist.
Modern designers now make "ao dai" from different kinds of materials with innovative patterns and designs while still keeping its unique traditional style. "Ao dai" is often associated with paper fans, conical hats, and lotus flowers.
Actress Dinh Thi Thuy Ha said, "Because we love 'ao dai',  a friend of mine and I decided to establish an 'ao dai' brand called 'The Lotus House'. The long dress of Vietnam is very beautiful as it fits all women's curves. We women all love the traditional long dress which can be worn for both daily activities and important occasions like weddings, funerals, and conferences."
A traditional long dress should satisfy a number of criteria, including cultural standards, materials, and designs suitable for certain weather conditions. A modern long dress should help the wearer look elegant and charming while keeping all the traditional features. Numerous changes have been made to the long dress in materials, styles, and designs, said designer Pham Van Tuyen.
"A traditional long dress should be beautiful, yet convenient, light, and easy to bring with them anywhere, even on a business trip. There are two major kinds of materials for 'ao dai'. Luxury items are made from mulberry and lotus silk. 'Ao dai' made from ordinary materials are available at lower prices. Traditional culture should always be considered when designing long dresses," said Tuyen.
Nguyen Duc Binh, Chairman of Vietnam's Communal House Club, emphasised that Vietnam's traditional long dress is part of our daily life. I think this attire should be worn at school and in important ceremonies, contributing to  upholding national pride and patriotism.
Across Vietnam, space has been set up in museums, historical relics, trade fairs, and exhibitions to promote the national long dress. 
"Ao dai should be introduced on media platforms and social networks like radio, television, Instagram, and Facebook to widely promote it. More craft villages should be set up to produce materials for 'ao dai' and there should be more training for 'ao dai' makers. Artists, celebrities, leaders and influencers could promote the 'ao dai' by wearing it on important occasions," said Le Doan Thai Binh, a student at Vietnam's National Academy of Music.
Tran Thi Quoc Khanh, a National Assembly deputy for Hanoi said, "We've asked the Ministry of Culture, Sports and Tourism to devise a draft Law on National Attire and Flowers and have gotten support from many high-ranking leaders who are willing to wear 'ao dai' for their inaugurations."
The Ministry of Culture, Sports and Tourism is considering putting ao dai on the list of national intangible heritages and asking UNESCO to recognize Vietnam's traditional attire as an intangible cultural heritage of humanity. VOV

More than 500 women and girls in Ao Dai (Vietnamese traditional dress) joined a parade in Hanoi, showing off the beauty of the most elegant and graceful dress of Vietnamese women.