A series of events reflecting the festive atmosphere in northern mountainous regions is being showcased throughout January at the Village of Culture-Tourism of Ethnic Groups in Vietnam in the western outskirts of Hanoi.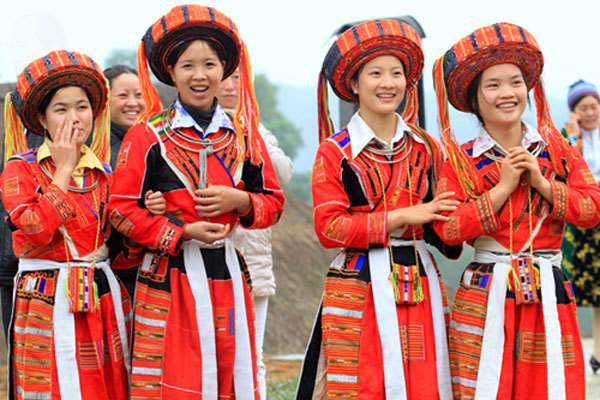 Spring customs of various ethnic minority groups in the north will be featured at the Village of Culture and Tourism of Ethnic Groups in Vietnam. — Photo baochinhphu.vn
Dubbed "Mountain Spring", the events include a new year's worship ceremony of the Tay and Nung ethnic minority groups in Thai Nguyen Province, which aims to wish for a peaceful and lucky year; as well as Lau Then folk singing, which is popular among the two groups.
Then singing is not a form of entertainment, but a part of the spiritual life of the group.
The artform has just been listed in UNESCO's Representative List of Intangible Cultural Heritages of Humanity.
Visitors will experience preparations for the New Year at traditional houses of Thái, Mường, Tày, Nùng, Dao, Mông, Khơ Mú, Ơ Đu, Ba Na, Tà Ôi, Cơ Tu, RagLai, and Xơ Đăng groups at the site.
They will decorate houses with portraits of President Hồ, together with the national flag at a solemn place inside their houses on stilts.
In the yard, wild peach blossoms and plum flowers carried from northern regions will be displayed, so that visitors can enjoy the spring atmosphere.
Visitors can try making chưng (traditional square glutinous) cakes for poor people.
Throughout the month, traditional dishes of the Kinh majority and ethnic minority groups are available at the site, like steamed sticky rice, grilled fish and various dishes made from pork.
Folk games like ball throwing, bamboo dancing, game of walking on poles, traditional dances, singing, performing gongs are available to entertain visitors.
The activities will draw some 100 people from 15 ethnic groups.
The village is located in Dong Mo, Son Tay District, 45km west of Hanoi Centre. — VNS

A series of cultural activities are taking place at the Vietnam National Village for Ethnic Culture and Tourism throughout this month featuring the unique cultures of ethnic groups across the country.

An ethnic market hailing from the northern border province of Son La will be held at the Vietnam National Village for Ethnic Culture and Tourism in the Dong Mo tourism area of Son Tay in Hanoi between April 27 and May 1.