Viet Nam Fine Arts Museum is displaying 39 works with the theme Điện Biên Năm Ấy (Điện Biên Moment In Time) introducing to the public paintings and sculptures to mark the 65th anniversary of the Điện Biên Phủ Battle Victory on May 7.
Dien Bien Phu victory, an everlasting epic
Inside the new Dien Bien Phu Museum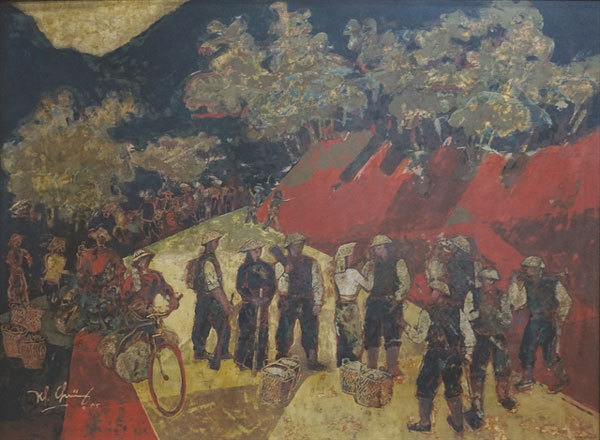 Before the battle: Lacquer-painting Đường Lên Điện Biên (Road to Điện Biên) by Tran Khanh Chuong.
The works are made of various materials such as lacquer, oil painting, silk-painting and sculpture by 27 artists during and after the Điện Biên Phủ military campaign.
During the years of the campaign, along with the Vietnamese soldiers, many artists took part directly in the campaign.
"With 39 works on many different materials, the exhibition recreates a heroic past, a precious vivid history lesson presented in painting which will be remembered, respected and passed on to future generations," said Nguyen Anh Minh, director of the museum at the exhibition's opening ceremony.
Among the artists, who took part in the national war of resistance against the French, was To Ngoc Van (1906-54). He was one of the leading artists of Vietnamese modern fine arts, graduating from the Indochina Fine Arts College.
Van was the first Vietnamese rector of the fine arts college established in the resistance zone in Viet Bac in 1950.
Through a series of Van's sketches, the fighting and the life of the Vietnamese soldiers and people were vividly depicted.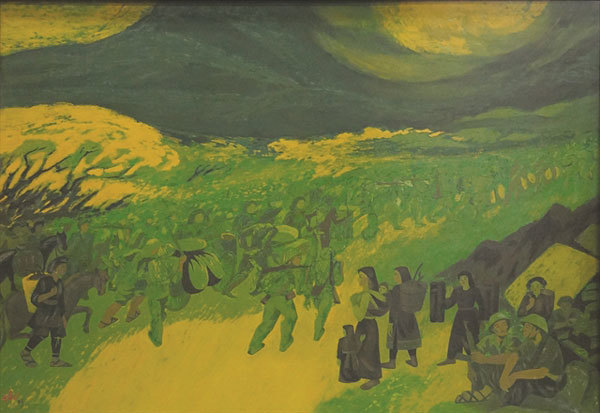 To victory: Lacquer-painting Đèo Pha Đin (Pha Đin Pass) by Cao Trong Thiem. — Photos Nguyen Binh


Six sketches by To Ngoc Van are really precious works despite their small size.
The sketches include Đèo Lũng Lô (Lũng Lô Pass); Bộ Đội Nghỉ Trong Hang (Soldiers at Rest in Cave); Chuẩn Bị Đi Chợ (Getting Ready for a Resupply Mission); Hoan Hô (Joyful Applause Following the Victory); May Áo (Making a Garment for One of the Troops); and Hành Quân Qua Suối (Marching Through Stream).
The artist used pencil and ink for all the sketches in 1951 and 1954.
The Dien Bien Victory is still very common by later artists such as the image of artillery soldiers in Pham Thanh Tam's Đẩy Pháo (Moving a Heavy Gun); image of art troupes performing in the resistance zone in Mai Van Hien's Tiếng Hát Mùa Chiến Dịch (Singing in Campaign Season) and the participation of civilians in the resistance zone in silk-painting Dân Công Kháng Chiến (Transport Volunteers) by Trinh Ngoc Lam.
Artists Le Lam, Vu Nguyen Ngoc Chi and Nguyen Phuc Khoi portray the images of President Ho Chi Minh and General Vo Nguyen Giap who led the Vietnamese army to glorious victory.
"I have uncles who were Dien Bien soldiers," said artist Chi. "One of them became secretary for General Vo Nguyen Giap. His stories about President Ho Chi Minh that I listened to at a young age inspired me and urged me to create artworks. There are many stories but the ones about the Border Campaign in 1950 are the most impressive."
Chi made a bronze sculpture entitled President Hồ 1954, measuring 71cm by 82cm by 30cm, in 2002.
The statue features President Ho sitting with a book and a pen in his hands absorbed in thought about the Border Campaign in 1950.
Điện Biên Moment In Time is also aimed at traditional and historical education and arousing and promoting the spirit of patriotism, according to Minh.
'This is also an opportunity to express gratitude to the soldiers who have made great victories so that we can have a peaceful life today," said Minh.
The exhibition runs until May 19 at 66 Nguyen Thai Hoc.
VNS