Book lovers have been offered opportunities to buy their favourites at surprisingly low prices on online bookstores at a time when traditional bookshops have been affected by the COVID-19 epidemic.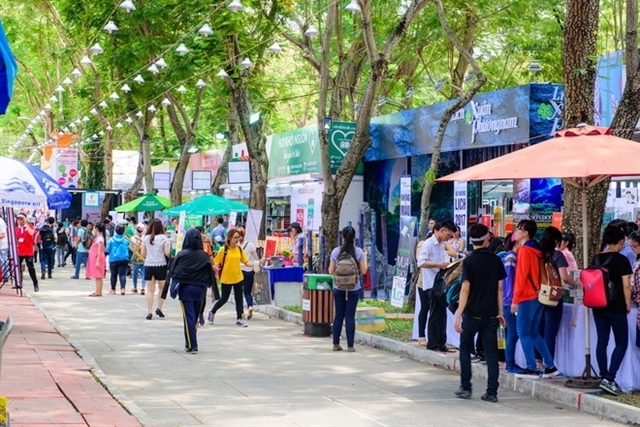 Book lovers search for their favourite books at an annual book festival held by FAHASA in HCM City.
Online bookstores have also taken the opportunity for trade promotions, with publishers and book distributors launching a dozen book promotion programmes.
The HCM City Book Distribution Corp. (FAHASA) has postponed its annual HCM City Book Fair 2020 and placed it online with price reductions of up to 70 per cent.
Other HCM City-headquartered bookstores such as Đông Á and Alphabooks have also offered huge reductions on their books. 
On the Tiki e-commerce site, Nha Nam Bookstore is offering special sales of 40 per cent in March. With these sales, Tiki has received many requests from readers as well as speculators.
This month, Tre Publisher has launched the sale of hundreds of books, offering price reductions of 30 per cent for FAHASA, Tiki and other distributors.
Meanwhile, distributors such as Chbooks and Phanbook have introduced many good books with price cuts of 30 per cent to 40 per cent, and a special book sales programme that offers the same price for all books on sale.
According to managers of book distributors, online book selling has helped distributors recoup investments on their books and create favourable conditions for book lovers amid the COVID-19 epidemic. —VNS

The HCM City Book Distribution Corporation is organising an online book fair at its website www.fahasa.com until March 29.

Prof Ha Huy Khoai, a famous mathematician and educator, believes that students should learn with e-textbooks because of the open access to many people.