An online concert connecting musicians from Vietnam, Germany, France and Ghana will be held on July 17.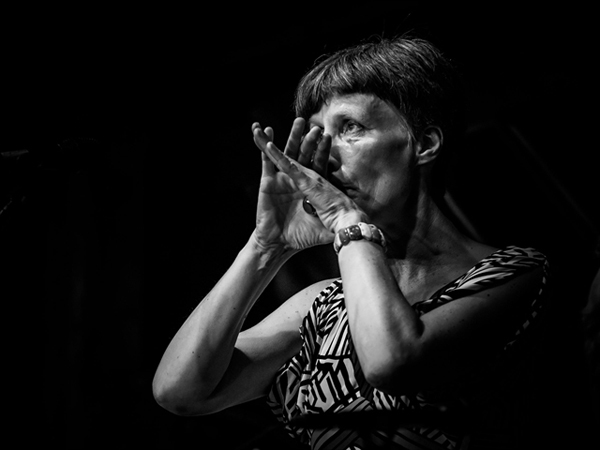 German artist Ute Wassermann will perform an online concert on July 17. Photo utewassermann.com
Entitled Drifting Intervals, the concert is a part of a music project that includes female artists Eva Zollner, Sesverine Ballon, Ute Wassermann, Ngo Tra My, and Luong Hue Trinh.
Under the project funded by the Goethe Institute in Vietnam, the artists have a chance to transcend limits to freely express themselves and their creativity.
The concert will feature pieces that express the artists' personal outlook on cultural exchange between Vietnam and Germany. 
It will be livestreamed via the Facebook page of the Goethe Institute, Hanoi, at 7pm.  
Two artists from Germany will perform at the concert. Accordionist Zollner is an internationally acclaimed accordion soloist who has appeared in projects ranging from experimental solo performances to concerts with renowned ensembles.
Wassermann is globally known for her many-voiced and extreme vocal sound language. Her methods to extend the voice include the use of bird whistles, lo-fi electronics, resonators and field recordings. 
Cellist and composer Ballon is from France. Her practice draws as much on key works from the repertory as on her numerous collaborations with composers.
From Vietnam, đàn bầu (monochord) artist My will perform Drifting Intervals by composer Trinh. My is one of leading soloists in Vietnam. She works in different fields teaching, performing and researching traditional, contemporary and experimental music. 
Trinh is a multimedia composer and electronics improviser. She earned a master's in multimedia composition from the Hamburg University of Music and Theatre. Many of her works have been broadcast on radio and performed live on stages in Asia, Europe, Africa and the US.
"It is my pleasure to invite these talented female artists from Germany, France and Vietnam for the experimental music concert," said Trinh, who is currently in Ghana for her work. 
"It's a part of the Reconnect project by the Goethe Institute in Vietnam," Trinh said. 
Reconnect is about translocal cooperation with meaningful online gatherings which provides a sense of human connection during the ongoing pandemic.
Under the project, Vietnamese and German artists in electronic, classical and new music, video art and performance will be funded for cooperation.  
Source: Vietnam News

A special online concert featuring Vietnamese electronic music artist Nhung Nguyen and Cedrik Fermont from Germany will be livestreamed from 7pm on July 5.

An online international symphony concert connecting Vietnam with the world was held on Sunday evening to support the COVID-19 Vaccine Fund, the largest-ever vaccination campaign in the country.