Vietnamese-Australian midfielder Martin Lo has joined Hai Phong FC for the 2020 season, giving him an opportunity to compete in the top-flight V.League 1 and for a spot in the national team.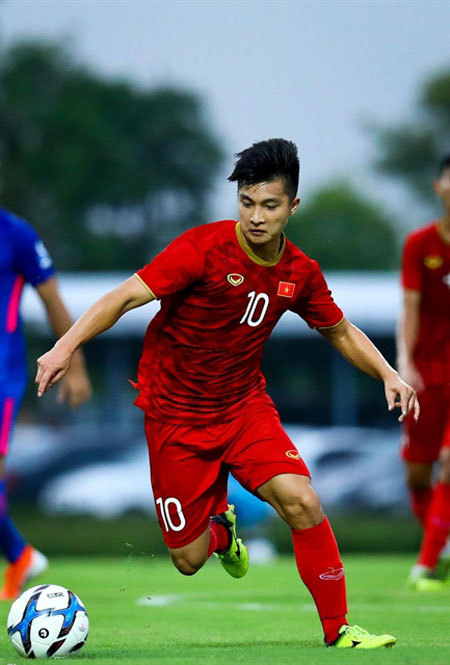 Vietnamese-Australian midfielder Martin Lo has joined Hai Phong FC for the 2020 season, giving him an opportunity to compete in the top-flight V.League 1 and for a spot in the national team.
Lo left V.League 2 side Pho Hien FC last month and signed a two-year deal with the northern port side.
"Hai Phong has been home to many overseas Vietnamese players. The club have good coaches and great supporters too," said Lo about his decision.
"There are also quality foreign players here and they have a similar style to me. This is a good condition to help me integrate well with the team," said Lo, adding that he also loved the atmosphere in the city.
Before him, other overseas Vietnamese players such as goalkeeper Dang Van Lam and defenders Dang Van Robert, Michal Nguyen and Adriano Schmidt played in Hai Phong.
Robert played for the national team under Japanese coach Toshiya Miura in 2014, Nguyen picked up a pair of caps and Lam is the current national team starting goalkeeper.
Coaches of the team like former head coach Truong Viet Hoang are open-minded in giving both foreigners and overseas players opportunities.
Hoang picked Lam as the No 1 keeper of the team, a key decision in the Vietnamese-Russian player's development, which led to a lucrative move Thailand's Muangthong United.
The club has needed a creative midfielder since the end of 2019 season when Le Pham Thanh Long and Luong Hoang Nam returned to Hoang Anh Gia Lai after their loan deals ended. The diminutive Lo seems primed to fill the gap.
The 23-year-old impressed his coach and teammates during training and a 1-1 friendly match against Pho Hien last week.
"Martin Lo is a smart player. He is dynamic and agile. He has good technique and a tactical mind," said coach Pham Anh Tuan.
"However he still has some disadvantages including his physique leading to his poor capacity to compete for balls (against large players)."
Midfielder Doan Ngoc Tan welcomed Lo and hoped to learn from his new teammate.
"Overseas players have grown up and trained in different environments. Coming to Vietnam they bring a new experience to us. I believe there is plenty to learn from them," said Tan.
"Their presence will also create competitiveness between them and us and among local players who all want berths in the first team," he said.
Step to the national team
In 2018, Lo left Western Sydney to return Vietnam and to try his skills in a new environment.
He joined Pho Hien in the V.League 2, secured a berth in the first team and helped his side finish second in 2019.
He also caught the eye of national team coach Park Hang-seo who called him up to the U22 squad to prepare for the 30th Southeast Asian Games and the recent Asian U23 Championship.
However, he could not make the final squads.
Lo said it was disappointing that he failed to make either team, but he wasn't discouraged.
"In 2020, I hope to have as many chances to play as possible and bring more success to the club in the V.League 1. If I can do it well I could earn a chance with the national team," said Lo.
"Competing for the national team would be a great feeling. Park must watch many players to select the best for his team and our duty is to show our best."
Lo said he dreams of reaching the success of goalkeeper Lam with both Hai Phong and the national team.
"Yes, it is my target now. Success will not come easily. Lam had to spend several years (showing his ability) and I need time too," he said. — VNS

Midfielder Martin Lo returned to Vietnam last year to develop his football career at the age of 21, and his efforts have paid off with a call-up to the Vietnam national U23 team.

Martin Lo is the only overseas Vietnamese player to have been named in the Vietnam U23 team ahead of their friendly match against Myanmar.